WWE Survivor Series: An In-Depth Look 24 Hours Later
November 22, 2011
Twenty-four hours after the conclusion of a pay-per-view that was advertised with as much hype as a WrestleMania, I still am pondering the good, bad and the ugly of this highly anticipated event.
Throughout the course of the day and with the help of a couple of pages of notes, I have been able to decompress some of the things that we saw last night at Survivor Series. So why don't we just delve into it!
Dolph Ziggler vs. John Morrison
United States Championship
To kick off the night, we had an intriguing match, with guys with two different sets of skills. I must say that I am glad that they chose the U.S. Championship match to kick off the show rather than the Diva's match because it was electrifying, getting the soldout Madison Square Garden crowd out of their seats to make this crowd electric, an atmosphere maintained the entire night.
The match itself was surprisingly good. It was a fast-paced match with "JoMo" taking control early, making Ziggler play his game, if only for a while. Morrison would lose his momentum after an attempted pinfall was foiled by Vicki Guerrero. The referee was able to catch her in the act and was ejected as result (Thank the Lord).
The match belonged to Ziggler from that point, imposing his will on Morrison. It should be noted that throughout the match, the MSG crowd was chanting for their hometown hero from Long Island Zach Ryder. Dolph was not happy with that and took it out on Morrison with a match-ending Zig Zag and a pin to follow. Zach Ryder would come out and spoil Ziggler and Guerrero's celebration (who came back after the pinfall) and put a beatdown on Dolph.
I took three things away from this match
1) It looks like an inevitability that JoMo is gone. According to WrestlingInc.com Morrison signed a contract that will keep him with the WWE until the end of the month, which seems to be a last-minute Hail Mary to keep him here, or the other option, he signed the deal so they could properly send him off. That being said, I hope that Morrison and the WWE can find a deal, because if given the chance, I think Morrison could do some big things in the WWE.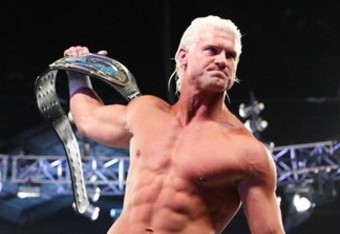 2) Zach Ryder is not going anywhere anytime soon. It may have been because of a partisan crowd that caused his extremely warm reception, but I myself, really do enjoy the guy. I think he appeals to the younger and the older crowd, and I think the WWE needs to ride the Zach Ryder wave as long as possible.
3) They missed a chance with Dolph Ziggler getting rid of Vicki Guerrero and becoming his own person. He could have easily said goodbye to her when he won the match on his own as a result of the ejection, and she came back out acting as if that it was was her title. Ziggler is getting better and better every week on the microphone, and this would have been the perfect time to give her the heave ho, giving him the chance to be his own self-promoter.

Beth Phoenix vs. Eve
Diva's Championship
If you have read any of my previous articles, you have seen that I really find that the ladies' matches are irrelevant, because they are just eye candy, and after this match, they are still just eye candy. Cool Mega glam slam by Beth Phoenix, but this was just an opportunity to catch up on Sunday Night Football. 
Classic Survivor Series 10-Man Tag
Personally, I thought that this match holds a tie for the most disappointing match of the night because they did not highlight any of the superstars that were on the fringe that could have boosted their superstar status.
It made sense that Ziggler was the first one eliminated because he pulled double duty, and Team Orton would subsequently take an early lead. Only a couple minutes later, Sin Cara would jump out of the ring and land awkwardly after clipping the ropes, ultimately rupturing his patella tendon. It did look like a legitimate injury, but honestly I thought the pace was not regained after that, it looked like the WWE superstars were left reeling after the loss of the high flyer.
The match did continue and Team Barrett dominated, eliminating Team Orton one by one, ultimately making it 4-2 with Orton and Sheamus and then only a few minutes Sheamus would be thrown out by not complying to the referees order. Orton tried to make a charge but the numbers game was too much.
I really thought that this would be a match that would try to boost up the popularity of a superstar such as a Mason Ryan, Kofi Kingston or even Sin Cara (unfortunate loss by the way), and not that this was a bad spot for Wade Barrett to become a force to be reckoned with and put his foot down. I think it would have been better to give a "face" personality a chance to build a foundation here. Mason Ryan was the one whom they missed out the most. He has been extremely fun to watch lately, and I think it would have been a perfect spot for him to become a hero.
Big Show vs. Mark Henry
World Heavyweight Championship
I have never been more bored with a Heavyweight Title match in 14 years of watching the WWE. This match was incredibly slow-paced and was borderline frustrating for this viewer at home. I saw some potential in this match, but I think we saw the height of its potential with the ring collapsing last month.
The Big Show dominated the match (aside from getting ran through the barricade), and Mark Henry, with a list-ditch effort, gave an illegal shot to the groin to end the match, even after a very funny moment from The Show, with a Macho Man Randy Savage elbow drop from the top rope.
You could tell the fans were fed up with this match early. Chants rained down, which included: "Daniel Bryan," "HBK," "Randy Savage" and "boooring."  They were the only redeeming quality of the match. I have no idea where this feud goes from here. It was such a sight for sore eyes that I think another superstar has to join the fracas, and the only one that makes sense is Daniel Bryan. Hopefully, he can prevail against the monster Mark Henry, and we can have someone to make this title relevant.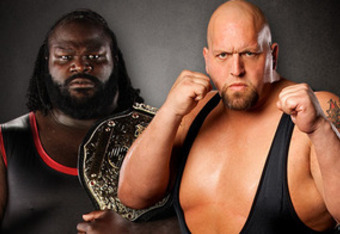 CM Punk vs. Alberto Del Rio
WWE Championship
Before the bell even rung, you knew this was going to be a great match with a proverbial hay-maker that was thrown by CM Punk hiring WWE Hall of Fame Ring announcer Howard Finkel to counter Alberto Del Rio and Ricardo Rodriguez.
This was a back-and-forth match the whole time, each gaining control at separate times of the match. Alberto Del Rio would get Punk into his signature arm bar, and Punk's chances looked grim. Punk hung in there, enough to counter with the devastating Anaconda Vice, and the champion tapped.
From there, it was jubilation. Punk did his version of the Lambeau Leap into the Madison Square Garden crowd which was as raucous as the crowd at Money in the Bank in Punk's hometown. This was a great match that provided us with the answer to who the true champion was.
There was no outside interference and nothing to mar the victory of CM Punk. I personally kept waiting for Laurinaitis to come out and find a way to snub Punk of the title, but the WWE knew better. 
Fasten your seat belt folks because CM Punk is going to provide us with a long run as the WWE champion, and he should not disappoint.
The Rock and Cena vs. Awesome Truth
For a match that highlighted the most charismatic tag team of all time, I will tell you that I can think of at least a hand full of much more charismatic tag teams. I know I am probably missing the point here because the promo was definitely advertising them individually, but honestly, this was the most predictable match of the night.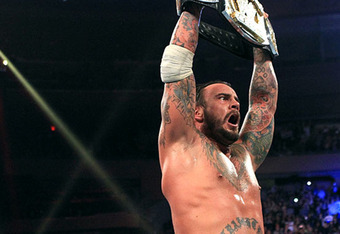 We knew this was The Rock's match from the get go. There was no way that "The People's Champ" would come back and lose in a Tag Team match of all things. The Rock set the precedent early, and you knew when he stood there next to the turnbuckle for so long, he was ready to explode which he did.
I am going to be honest with you, from an entertainment standpoint, I thought that The Miz was the most entertaining person in the ring. But to no avail, The Rock was too much for Awesome Truth getting in the signature Rock Bottom against Truth and the People's Elbow against The Miz, essentially ending the match.
The post-match interaction is where I thought the WWE dropped the ball. I would love to have seen some smack talk on the microphone, listening to these great entertainers go at it some more, but such was not the case, and it was essentially a battle of the fans.
The Rock won the crowd over hands down. John Cena just pouted; it was so un-entertaining, which was probably the point. He deserved a Rock Bottom.
The Rock was left basking in the glow of the camera flashes from the millions and millions of Rock fans, and we said goodbye to Survivor Series.
Overall, I was not disappointed with last night. I thought that there was more good than bad, and I thought that the only thing that needed to be done was accomplished—CM Punk defeating Alberto Del Rio.
I think it set up a great pay-per-view next month at Tables, Ladders and Chairs—one that I can't wait to tune into already.