Packers GM Ted Thompson Misses on Keeping James Jones over Cullen Jenkins
November 22, 2011
Kevin C. Cox/Getty Images
Ted Thompson has been an amazing general manager in his time with the Green Bay Packers. Without the fanfare and resume of Ron Wolf, Thompson was anything but a fan favorite in the beginning of his time as GM.
He had to make tough choices, deal with the Brett Favre scenario every year, and somehow revamp an old Packers team into a young team built through the draft.
He knew there would be growing pains, criticism and impatience, but he stayed the course, and in effect has constructed a Packers team that is the envy of the league.
Through his tenure with the Packers, Thompson has made his share of mistakes as has every other GM in the league. Letting Mike Wahle and Marco Rivera walk after the 2004 season was a short-term blunder, but it was Mike Sherman's fault as GM in allowing his 2 starting guards to become free agents in the first place.
Thompson's replacements, Adrian Klemm and Will Whittaker proved unable to play and were NFL castoffs shortly thereafter. Along with a bitter and distracted Brett Favre and overall old age, the insufficient guard play had much to do with the Packers 4-12 finish in 2005.
Thompson also "reached" for Justin Harrell as the 16th pick in the 2007 draft. Harrell was injured in high school, injured in college, and also injured in the pros. His work ethic was also in question when he showed up to his rookie camp out of shape.  
He was able to stick with the Packers until getting his release before this season due to having potential and the fact he was a first-round draft pick.
Perhaps Thompson's biggest whiff of all was keeping James Jones over the re-signing of Cullen Jenkins. As the offseason and lockout continued, the Packers came down to a choice of keeping their third option at wide receiver in Jones or spending the money on Jenkins.
The upside in keeping Jones was that he became a decent option for Aaron Rodgers and he was able to break tackles for a respectable YAC (yards after catch) of 6.1, which led the team. Rodgers was also vocal in his desire to keep Jones.
The downside to Jones was his drops, especially perfectly thrown balls that could have resulted in touchdowns. He lead the team in that not so auspicious category with five.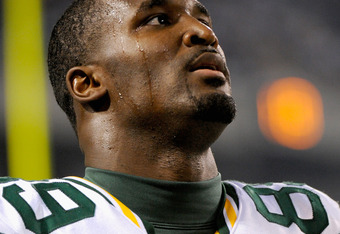 Hannah Foslien/Getty Images
Cullen Jenkins was also a solid contributor to the 2010 Packers team, netting a total of 7 sacks in only 11 games. Although he missed 6 games due to injury, he still was among the league leaders in sack totals for interior defensive linemen.
He generated much-needed push from the inside, allowing Clay Matthews and others access to opposing quarterbacks. Jenkins only real downside was the fact that he only played in four games in the '08 season and 11 games in the '10 season.
Having missed a total of 17 games in three seasons earned him the label of injury-prone. The fact that he turned 30 in January of this year also didn't help his case.
So in essence, Thompson had a choice to make. With Rodgers coming off an MVP performance in the Super Bowl pining for the team to keep his receiver, Thompson re-signed Jones and let Jenkins test the free agent market where he eventually signed as part of the "Dream Team" with the Philadelphia Eagles.
Although the Eagles have had their share of trouble, Jenkins has remained healthy and has been a menace for opposing offenses. He also has six sacks in 10 games, which currently is tied for the league lead for interior defensive linemen. He has no doubt been the biggest contributor in all of their free agent signings.
Jones, on the other hand, has had a very disappointing 2011 season with the Packers. Although he has four receiving touchdowns, he only has 21 catches, which puts him sixth on the team in that category. He has also been supplanted by Jordy Nelson as the third wide receiver option. Nelson has actually become the No. 2 option as the season has progressed.
For all the positives lauded on Ted Thompson for his role in building this Packers team, he must also take the blame for his decision to keep James Jones and let Cullen Jenkins go to the Eagles.
The Packers severely lack an inside pass rush which has lead to declining sack totals for Clay Matthews, and has allowed opposing quarterbacks a seemingly infinite amount of time to find a receiver.
They are on pace to become the worst pass defense in the team's 90-year history. Although the pass rush may improve with the return of Mike Neal, the choice of keeping Jones and allowing Jenkins to sign with the Eagles may be the single flaw in ultimately preventing the Packers from repeating as Super Bowl champions.