Eagles' Win over Giants Should Not Cause Fans To Believe in a Playoff Push
November 21, 2011
Patrick McDermott/Getty Images
Backup QB Vince Young wins one game, the defense shows up for three quarters and suddenly people think Michael Vick has to ride the pine and the Eagles are ready to make a run at the NFC East title.
Sigh.
Didn't Young toss three picks last night? And didn't the defense give up 153 yards in the fourth quarter?
I know, it's typical Wes raining on everyone's parade. Or it's just the typical truth most of you can't handle?
Wait, hold on. Yep, a stat just scrolled on ESPN and it said the Eagles were the first team to win despite their starting quarterback throwing at least three picks.
Put up the umbrellas. Sounds like we found the guy to hitch our playoff wagon to.
Look, I'm not going to sit here and say Vick is having a great year. I'd actually be willing to say Vick has looked awful and is currently the most overrated player in the NFL. 
None of it stops me from believing Young is the better option for the rest of this season.
At this point of the season, though, the Eagles don't have time for Young to grow into the offense. Vick has to find his game from last season in which the Eagles won six of seven games.
Too bad six of seven won't be good enough this year. 
And therein lies the sad reality Eagles fans don't want to face: The Eagles are not good enough to end the season on a seven-game winning streak.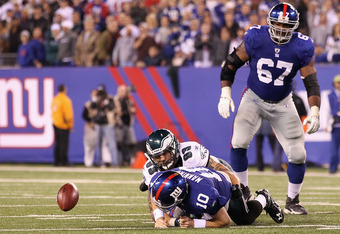 Al Bello/Getty Images
This team plays too inconsistently to win three games in a row, let alone seven. 
They let a pedestrian 49ers offense rally from 20 points down earlier in the year and then shut down the Cowboys and Giants.
They march up and down the field against any team only to inexplicably turn the ball over or stall inside the red zone.
That's what they do. They are an inconsistent mess constantly teetering on the edge of losing to a bad team. To think they won't go over the edge during the next six games is mind-blowing.
Only the Green Bay Packers and 49ers have a winning streak of seven games or more this season. NFL teams can't win that many consecutive games because they all have major flaws, face odd schedules and encounter bad matchups.
The Eagles are not above any of those issues.
Their sporadic play on both sides of the ball is clearly a weakness. And don't give me one good game against the Giants as a reason to believe the defense has turned the corner.
New York's offensive line was in shambles. At some point, the Eagles are going to face a respectable offensive line that will block somebody.
As for the scheduling problems, look no further than their trip to Seattle. Following incredibly emotional games against the Giants and Patriots, the Eagles have to travel west for a Thursday night game against the Seahawks.
That's an unbelievably tough trip, just ask New Orleans, which lost there in the playoffs last year, or Baltimore, which lost there this year with a normal week of rest. 
And when it comes to a bad matchup, look at New England this weekend. The Pats have tight ends that will rip apart the Eagles' linebackers worse than anything Jason Witten has ever done or could do.
I understand everyone wants to celebrate a nice win over the Giants, but why can't we just leave it at that?
Do we really need to lie to ourselves and think Young is going to help this team make the playoffs?