Aaron Rome Is Burning Up the Scoresheet
November 21, 2011
Chris Lomon - NHLPA.com
An early injury sent him to the sidelines before the season started, but it didn't dampen Aaron Rome's spirits. In fact, all it did was make him even more determined to have his best year yet.
The injury, which was the result of blocking a shot, was right up Rome's alley. It was exactly what his Vancouver teammates would expect from their physical defenceman, seeing him put his body in front of an opposing player's shot, even in a game that didn't count in the standings.
Unfortunately for Rome, the end result from that late September pre-season game was a broken finger and a minimum of four weeks on the shelf.
"You get past your first week of training camp, you start to look ahead at the regular season and then something like that happens," recalled Rome, who missed 14 games to start the 2011-12 campaign.

"It was unfortunate, the setback. But, it may sound cliché, but I tried to use it to my advantage. I was able to think positively and do extra work to make sure I was ready to go in my first game back" (via NHLPA.com).
And that he did.
In his return to action, on November 7, Rome, who was originally drafted 104th overall by the Los Angeles Kings in 2002, scored a goal.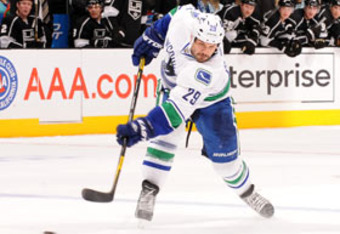 Six days later, in a game against the New York Islanders, he scored once and added two assists. In his next game, he netted another tally.
Known primarily for his stout defensive work, his offensive surge might have his fellow Canucks raving, but the native of Nesbitt, Manitoba isn't talking big about his impressive stats.
"I'm really not doing anything differently in terms of my approach," said Rome, who joined the Anaheim Ducks organization in 2004, beginning his professional career with their American Hockey League (AHL) affiliates.

"I'm getting those bounces you hope for and the puck has been going in. I haven't altered my style. I think things have just been going my way."
Rome was traded from the Ducks with Clay Wilson to the Columbus Blue Jackets for Geoff Platt on November 15, 2007. He is pleased to be contributing offensively, though he's not about to abandon other facets of his game.
For Rome, maintaining simplicity in his game is the key to his success.
"That's absolutely it for me," said the blueliner, who signed with Vancouver as a free agent on July 1, 2009. "When I'm able to keep things simple, that's when I feel I can be my most effective out there.

"I try and make that good first pass," he continued. "I want to be a physical presence and provide offence when I can. The main thing is to approach each shift with the same idea of doing something beneficial."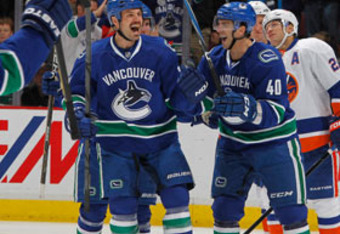 Rome, who played junior hockey in the Western Hockey League (WHL) from 1999–2004, relishes the opportunity to play on a multi-dimensional defensive corps.
"We have guys who can do a little bit of everything," said Rome, who earned WHL East Second All-Star Team honours in 2003-04. "Whether it's a hard shot from the point, great passers, physical guys, or guys that can score, we're lucky that we have ability. It's been pretty much the same group for the past while and it's a very close group, players who want to make a difference."
Rome is hoping it pays off with a happier ending than last year's Stanley Cup Finals, which saw the Canucks lose in seven games to the Boston Bruins.
And while it hasn't been a stellar start to the season, team-wise for Vancouver, Rome believes the pieces are in place to take another shot at delivering a first Cup to the city.
"The last thing you can afford to do is play yourself out of a playoff spot early," offered Rome, the third of four sons born to Dennis and Karen Rome, with all four brothers making it to the minor professional level.

"We have to find our groove and we will. We're playing well, but we have to buckle down. It's tough enough to get into the playoffs and we know what it takes to achieve that."
And the hockey world now knows that Rome isn't just a hard-hitting defenceman.
"Any time you can create some offence and it ends up helping you win a game, you feel good," noted Rome. "It was tough being out, but I didn't let it get to me. I just wanted to get back and do whatever I could to be part of this team."
He's certainly kept his promise...and more.