Manny Pacquiao vs. Floyd Mayweather: 5 Fighters Money May Face on Cinco De Mayo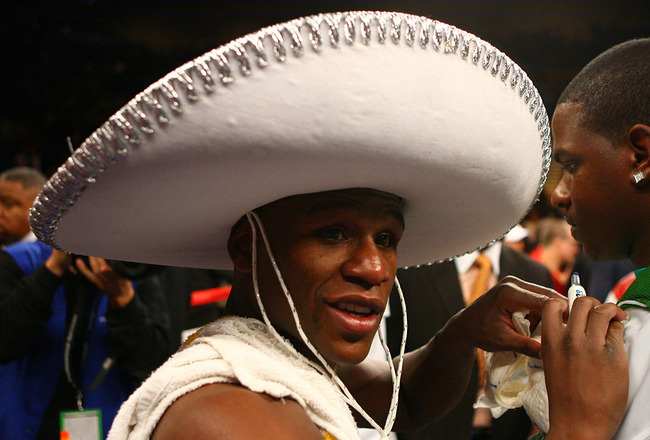 Floyd Mayweather Jr
Al Bello/Getty Images
Floyd Mayweather (42-0, 26 KO) is currently seeking an opponent as he waits for Manny Pacquiao (54-3-2-, 38 KO).
Pacquiao may or may not want the fight, and even if he wants it, the tough negotiations could end in a fallout over any of the vast terms that have to be covered.
Without Pacquiao, Mayweather needs a Mexican opponent that people would pay to see him fight on Cinco de Mayo. Who that opponent is will be hard to determine.
None of his options immediately stick out and scream, "BUY ME!" in any convincing manner. But with enough work, especially from HBO's 24/7, these five options for Mayweather could be sold.
Here are the five best opponents for Mayweather to face on Cinco de Mayo.
Who Won't Be on This List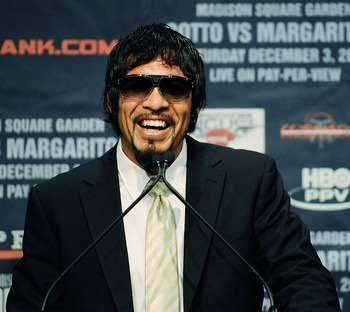 Antonio Margarito
Patrick McDermott/Getty Images
Antonio Margarito (38-7, 27 KO) was a battle with Miguel Cotto (36-2, 29 KO) on December 3, who he has defeated once before.
Cotto has a chance, but if Margarito should repeat his 2008 brutal beating of Cotto, don't expect Mayweather to take on Pacquiao's "leftovers."
Mayweather has criticized Pacquiao for taking on his leftovers and would likely frown on doing the same. Pacquiao broke Margarito's orbital bone last year.
Win or lose, Margarito may not even be able to fight any longer, and Mayweather will not face him even if he can.
Who Else Will Not Be on This List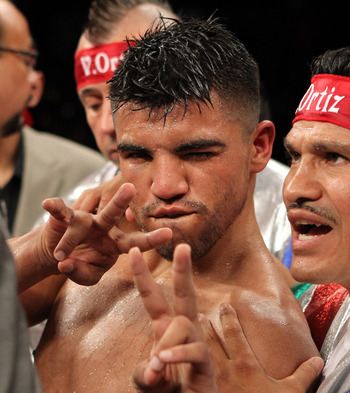 Victor Ortiz after the Mayweather debacle
Al Bello/Getty Images
Victor Ortiz (29-3-2, 22 KO) ruined a great moment to prove he belonged with the elite fighters in his division.
Mayweather finally gave a younger man a chance after all the criticism that Mayweather fought only older opponents, and this young man has possibly ruined it for any other young fighter after him.
In the fourth round, he was so frustrated with his inability to hurt Mayweather that he headbutted Mayweather in his lip.
Mayweather returned the favor by knocking him out with a two-piece when he wasn't looking. End of story. No rematch is necessary.
Ortiz has a rematch of his win over Andre Berto (28-1, 22 KO) January 28 next year. That'll be a step toward redemption.
Maybe after Berto and someone like Amir Khan (26-1, 18 KO), Ortiz could land a rematch but definitely not this Cinco de Mayo.
5. Robert Guerrero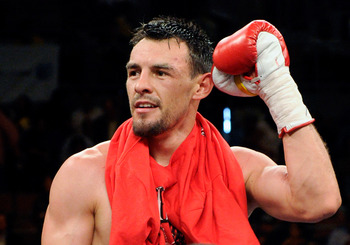 Robert Guerrero
Ethan Miller/Getty Images
Robert Guerrero (29-1-1, 18 KO) is a southpaw from the lightweight (135 lbs) division. He's 28 years old, an action-packed Mexican American and has a backstory that could sell him as the good guy to root for.
His wife has cancer, and he's been with her every step of the way. HBO's 24/7 cameras would render that struggle into a tear-inducing heartfelt look into a marriage growing stronger with adversity.
It might be hard to sell another young opponent after the Ortiz blunder this past September, but Guerrero's more serious attitude, strength in his marriage and aggression could sell the fight.
4, Erik Morales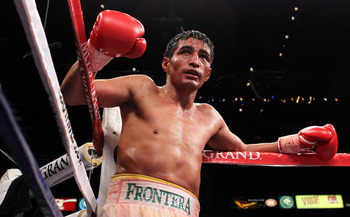 Erik Morales
Al Bello/Getty Images
Erik Morales (52-7, 36 KO) is a legendary Mexican warrior with a renewed career at the junior welterweight (140 lbs) level.
Morales has perpetually made history one weight division below Mayweather.
As Mayweather blazed a trail as the new kid on the block, Morales engaged in his trilogy with Marco Antonio Barrera (67-7, 44 KO) across the junior featherweight (122 lbs), featherweight (126 lbs) and super featherweight (130 lbs) divisions.
Mayweather and Morales are the same height, have the same reach and Morales is one year older.
With their parallel careers, as well as Morales' recent resurgence as an elite junior welterweight, an HBO 24/7 documentary can perform very well and the pay-per-view can sell some high numbers.
3. Oscar De La Hoya (Rematch)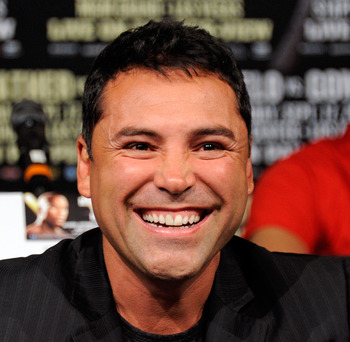 Oscar De La Hoya
Ethan Miller/Getty Images
Oscar De La Hoya (39-6, 30 KO) has been retired since 2008, when Manny Pacquiao (54-3-2, 38 KO) pummeled him for eight rounds.
De La Hoya says he's gone for good, but that doesn't mean much. He's toyed with the idea in the public before only to take on another fight for X amount of dollars.
De La Hoya is one of the few fighters who can come out for a double-digit million-dollar payday with virtually anybody.
Sugar Ray Leonard (36-3-1, 25 KO) is another popular fighter who makes millions with each fight. He found it hard to retire with the allure of the crowd, excitement, hype and money.
De La Hoya-Mayweather II five years later would be a big sell regardless of how uneventful the first match was. Just based off the star power, the match would make millions and possibly break records.
2. Saul Alvarez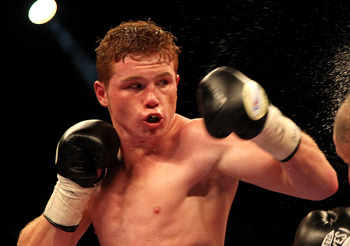 Saul "Canelo" Alvarez
Jed Jacobsohn/Getty Images
Mayweather was given his first big break at 21 years old by the 32-year-old Genaro Hernandez (38-2-1, 17 KO) in 1998.
Mayweather was a rising star, and Hernandez was an old Mexican warrior who had given the audience two decades of greatness in the ring.
Fourteen years later, the young American "Pretty Boy" has made himself into "Money." Mayweather will by 35 by the time the next Cinco de Mayo rolls around.
A 21-year-old Mexican star by name of Saul Alvarez (38-0-1 28 KO) is rising to the top of the light middleweight (154 lbs) division, a division Mayweather visited for a superfight five years ago.
Mayweather now has a chance to repay the favor to the Mexican boxing fans that their own Hernandez gave to him.
1. Julio Cesar Chavez Jr.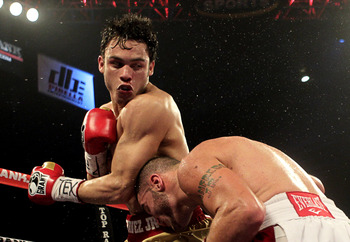 Julio Cesar Chavez Jr.
Bob Levey/Getty Images
Julio Cesar Chavez Jr. (44-0-1, 31 KO) is a rising star like his fellow boxer Canelo, but he is two weight divisions above Mayweather rather than just one.
Many criticized Mayweather for bringing Marquez up two divisions to face him, but what's a better way to prove skills win over size then to do it himself.
Chavez is learning with each battle, but nothing at this point in his career can prepare him for the skill level of a Floyd Mayweather.
So the challenge is balanced between both individuals. What one lacks in size is made up with skill. Would Chavez be too big for Mayweather? Or would Mayweather be too skilled for the son of a legend?
The suspense would break records on Cinco de Mayo.
Keep Reading