Philadelphia Eagles Need to Sit Down Michael Vick, Start Vince Young
November 21, 2011
Jim McIsaac/Getty Images
Watching the Philadelphia Eagles play last night, I noticed something different in the way that the team played.
Instead of playing with a haughty, prone-to-fail attitude, the Eagles played with swagger—real swagger.
The biggest difference was under center, where Vince Young dashed, darted and side-armed his way to lead the Eagles to victory.
It was certainly a breath of fresh air from Michael Vick's hackneyed gameplay style.
Young improvised his way to a win over the division-leading Giants and the most encouraging sign was how the Eagles played like there was nothing to lose.
There was no head-bowing after a blown coverage, interception or mistake—the expectation to be "the best team ever" was gone.
That's why the Eagles won.
Young played a completely different game style than Vick would usually play despite how similar they are in ability and other such quarterbacking attributes.
Not only that, but something about Young makes his team win.
There's no way to put a finger on it, but despite his immaturity, polarizing nature and "inability to lead," Young has "it."
Tim Tebow has "it" just like Aaron Rodgers has "it." I'm convinced Young does, too.
Young was able to move, slide around the pocket and play schoolyard football, routinely hitting receivers on the run or with side-arm tosses.
The former Titans quarterback encouraged his receivers on the sideline and had a hands-on approach to the game.
The numbers weren't pretty, but the Eagles are 4-6—there's no more "being pretty."
Young's biggest mistakes can be summed up to a lack of rapport with his receivers (i.e. throwing the ball to DeSean Jackson too late and it resulting in a Prince Amukamara interception).
With the playoffs likely out of reach, Andy Reid may as well let Vick fully heal and see what he's got with Young.
I know, the Eagles signed Vick to a long-term deal and need to have him out there to make it a worthwhile investment, but the team isn't gaining or losing any money by sitting down Vick and playing equally-interesting Young instead.
With a team like the Eagles, star players like Jackson and LeSean McCoy will be successful no matter who is under center and Reid should let his new quarterback feel out this offense.
Young did throw two touchdowns Sunday night and can be even more effective with more practice time.
If Reid stands behind Young as his No. 1 guy, the Eagles can develop a true offensive identity.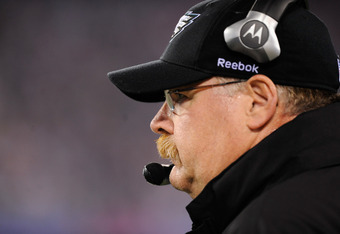 Patrick McDermott/Getty Images
One may think that Vick gives the Eagles an offensive identity, but this year he hasn't. No. 7 ran into the teeth of the defense too many times and got bitten.
Consider the facts: I'm not one to care about how many completions a quarterback throws or what the TD:INT ratio is if the signal caller is winning game (if you read that sentence alone, you'd think this article is about Tebow).
I care that, as a starter, Young is 1-0 and he deserves the chance to continue winning games.
The Eagles are 4-6 and the season is almost all but lost—why not give "VY" a try?