Nebraska Football: Michigan Recap, Iowa Preview
November 21, 2011
Gregory Shamus/Getty Images
Michigan vs. Nebraska Recap

Michigan beat Nebraska, 45-17. Not much really to dwell on after an embarrassment at the Big House.  Nebraska came out flat. The Huskers ended their Big Ten road trip the way they began it: getting blown out and only putting up 17 points. 
The special teams, one of the strengths of the team, made costly mistake after costly mistake.  Fumbles, penalties, etc. It was pretty much a perfect storm of miscues. But it wasn't just special teams.
There's plenty of blame to go around. Martinez, after two promising weeks passing, appeared to revert back to his old ways  And when the ball was there, receivers had costly drops. 
On defense, props must be given to Terrence Moore, who made one hell of a play on that interception.  Also, Lavonte David was flying to the ball as usual.  Not to say the defense was innocent.  Multiple arm tackles won't work against a mobile quarterback, let alone Denard Robinson. 
And since no one else likes to call out the refs, I guess I'll step up to the plate. I get it; refs are human and prone to make errors. But some errors were such egregious that it leaves questions in the back of one's mind. How about Michigan's first touchdown, when Dennard got shoved out of the road and then was called for a personal foul? Or maybe the roughing the kicker penalty? Or even the fumble by Robinson that was whistled dead way too soon?
Am I saying the refs cost Nebraska the game? Not at all. The loss was the Huskers' fault.  But the refs did have some questionable calls at best.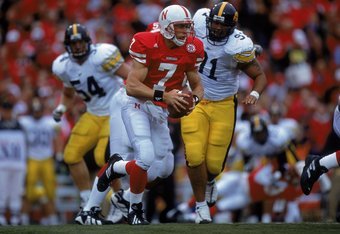 Brian Bahr/Getty Images

No. 21 Nebraska (8-3) vs Iowa (7-4)

What to Watch For

Iowa has had traveling woes all season. The Hawkeyes had lost every road game this season, until last weekend when they came out the victors at Purdue. Can the Hawkeyes keep that form, or will it be boom and bust on the road once again?

Biggest Question

Is this a repeat of the 2010 season, where Nebraska faltered late and in the postseason?

Projected Outcome

Iowa has many weapons on offense, including quarterback James Vandenberg, receiver Marvin McNutt and running back Marcus Coker. Don't overlook the Hawkeyes, which shouldn't be hard for the Huskers to do because they don't know who their next game is against.

The fact that the Hawkeyes have beaten every opponent who beat Nebraska in the two team's overlapping schedules and vice versa (Iowa beat Northwestern and Michigan but lost to Minnesota, Penn State and Michigan State), makes this a hard game to predict. Senior Day at Memorial Stadium, January bowl bid on the line, and a newly-formed rivalry? I'll take the Huskers. Final Score: 28-21

Interesting Fact

The Huskers and Hawkeyes are playing for the Corn Bowl Trophy. The trophy was voted on by fans of both teams. The Corn Bowl won out over a pitchfork, corn cob and a cornstalk sculpture. 

Bowl Projection

Yes, it's that time of the year. Teams are finishing up their seasons and those 6-6 or better will most likely be going bowling (sorry, USC). The Huskers can finish 9-3 with a win over Iowa this Friday.  So where do I think the Huskers are going? The Outback Bowl to play Steve Spurrier's South Carolina Gamecocks.