USC vs. Oregon: Photoblog of a Day at Autzen Stadium for Trojans vs. Ducks
November 21, 2011
Last week, I decided on an impromptu road trip to the week's biggest west coast college football game (Stanford hosting Oregon), and in the spirit of being slightly different, I managed to make plans ahead of time (promptu) with my brother to go to the biggest west coast game of this past weekend (Oregon hosting USC). Oh and both ended up involving the Oregon Ducks – weird how that works out sometimes.
In any case, in the interest of being multimedia-friendly, I've decided to present game day at Autzen Stadium and what my eyes saw using words and old-fashioned photographs. Unfortunately, it was pretty much impossible to capture with megapixels the decibels exploding out of the stadium, how professional Matt Barkley already looks, and the cardiovascular terror involved in a potential thrilling comeback in front of a national TV audience. Here's my best attempt: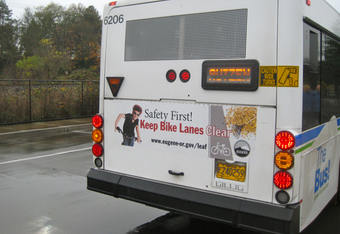 There's very little in the way of public parking anywhere near Autzen Stadium. Let the record show that I'm doing my part to support public transportation in the Pacific Northwest, six dollars at a time.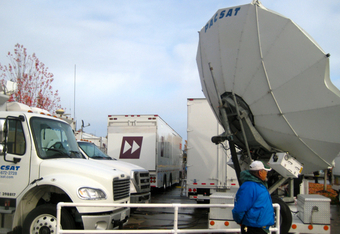 One of the first things we came upon was the group of satellite trucks and dishes. This gentleman appeared to be all that separated chaos and a smooth national television broadcast.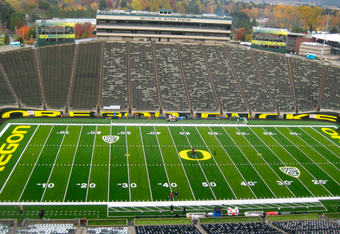 The stadium long before kickoff. On each seat was a commemorative Sports Illustrated Oregon issue. Each seat, that is, except in the Oregon student section (upper left). I get it -- by 5 PM on Saturday, literature of any kind is pretty much a lost cause.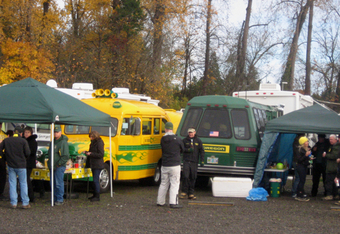 After seeing the stadium, we decided to wander around the Autzen lots and hope to scam food from people. We're like classy, tailgating raccoons.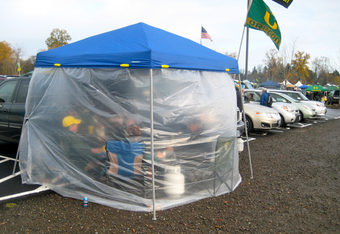 This tailgate had the brilliant idea to cover their seating and grilling area in some sort of plastic wrap for warmth. There were no survivors.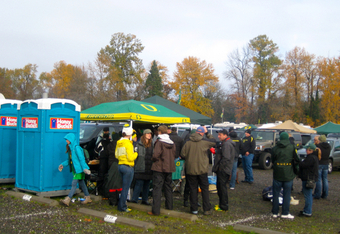 Good: Tailgating with friends and family on a beautiful fall afternoon in a picturesque tree-lined area.
Bad: You can't unsmell certain things that are happening that close by.
A popular move, not just in Eugene, has become to repurpose older vehicles for tailgate-specific awesomeness. I like to call this one "The Prefontaine."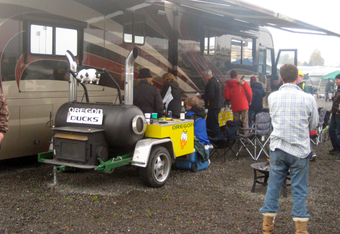 Eugene takes a hit here – the smoker looks good, the mobile home was beautiful, but the gentleman in flannel received some poor advice when he was told to tuck in his jeans into his furry boots. I'm thinking they don't do this at the Iron Bowl.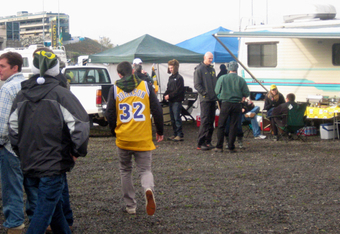 There were rumors that LeBron James, Dwyane Wade, Carmelo Anthony, and friends would show up to the Oregon game after playing a little bit in Oregon's new basketball arena the night before. Nobody said anything about Magic. Give me a ring, TMZ.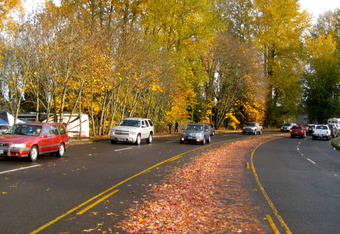 What's the statute of limitations on jaywalking? Whatever it is, I'm banking on being in the clear. I pretty much own MLK Blvd.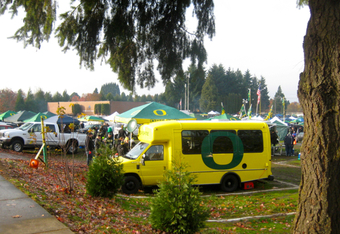 A repurposed … rental car courtesy shuttle? The jury's still out.
The Manbulance. I spoke with the owners and they told me about the painstaking efforts (physical and financial) that it took to assemble this dubiously street legal situation. Also, they only encouraged our inner tailgate raccoon by feeding us homemade bacon chili.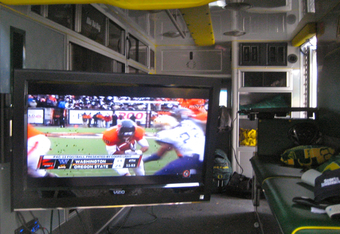 The TV in The Manbulance was turned to a game between the two teams that Oregon hates the most. I can best describe the atmosphere around the TV as not unlike a 70s TV show laugh track.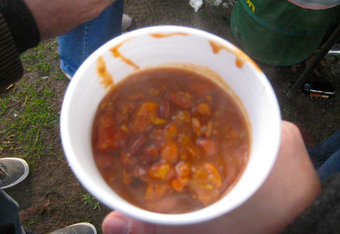 A little too close in on the bacon chili. Oh well.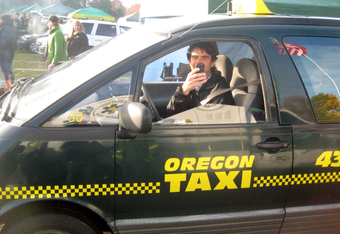 Things got a little weird.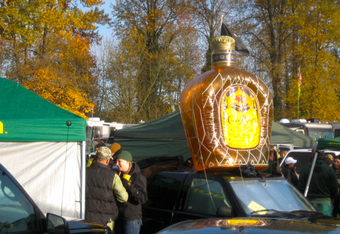 The subtext I'm getting here is that nobody should challenge how much this group likes their Canadian whiskey. You also have to admire the brand loyalty – when I tailgate, I generally opt for "whatever does the trick." Good for them.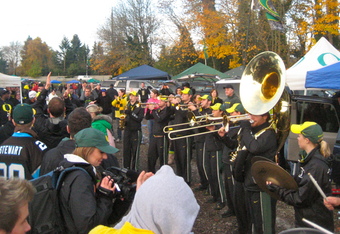 The band! They played the fight song, people clapped, everyone was happy, even ol' Frostedtips McPhotobomb in the front.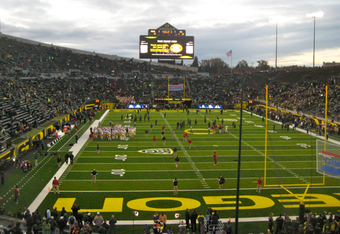 We decided that enough tomfoolery was enough and it was time to make it into the stadium. If memory serves, this was taken with something like 46 minutes and 21ish seconds before kickoff. Just a guess here, guys.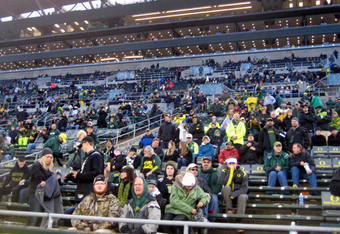 A quick shot from the Exquisite Facial Hair section. The EFHers are always out in full force for big home games.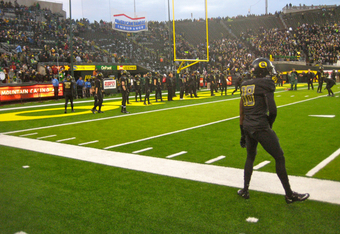 Nobody's looking, you're good to go, trust me.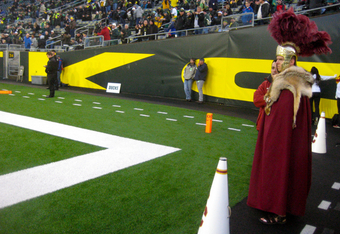 USC's Tommy Trojan, looking about as serious as anyone hopes to (while wearing sandals and some sort of cloak/pelt combo).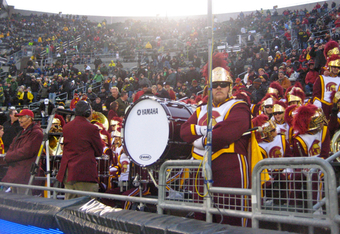 Guess what song they're thinking of playing when this photo was taken. Do it. Guess. You're right!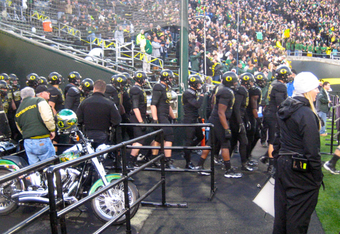 Oregon players filing out for warmups. That's the Harley they run out behind during the official tunnel intro.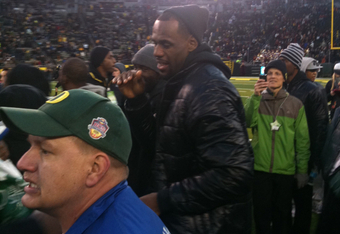 Hey look, it's LeBron! He appears to want to keep only a very specific part of his head warm! Cool!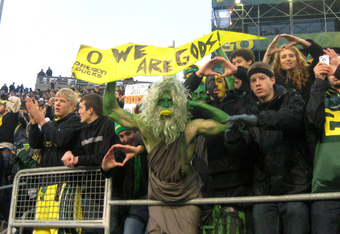 Yeah, I just… I don't know.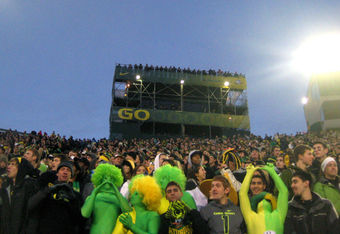 The usual front row green men, only now we know that their hand sign may very well mean "vagina." Thanks for nothing New York Times. Really.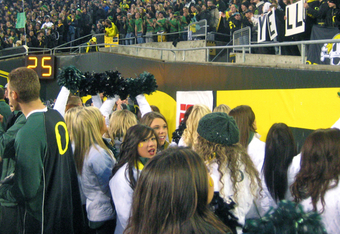 I felt obligated to document the presence of Oregon cheerleaders. Unfortunately, I'm spotted and realize I'm not nearly as smooth as I'd like to think I am.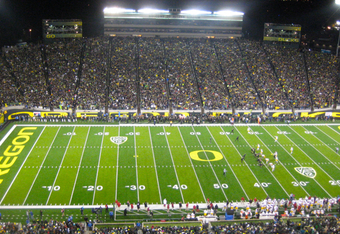 Actualy football!
By now, you've probably seen the game and have reached certain conclusions. Good for you.
If you missed it, here's what you need to know:
• Matt Barkley continued his outstanding ways and found one-on-one coverage deep. And short. And everywhere else.
• Oregon didn't seem to care for holding onto the ball in the red zone. It was an Irishing of sorts.
• USC's defensive line did plenty to disrupt Oregon's rhythm.
• Oregon WR/RB/KR De'Anthony Thomas has no interest in ever letting anybody touch him. The thinking goes that if you can't touch him, he can't fumble.
• Oregon coach Chip Kelly may have realized a few minutes too late how susceptible the Trojans were to various screen passes. You could almost hear Monte Kiffin muttering, "Don't screen, don't screen, don't screen, don't screen…" to himself in the visitors coaches' box.
• USC WR Marquise Lee (8 rec, 187 yds, 1 TD) is a true freshman. For his sake, you hope Matt Barkley comes back. For the Pac-12's sake, you hope Matt Barkley's getting hammered in a Redskins uniform at this time next year.
• The Trojan defense held LaMichael James to under four yards per carry. He's averaged over seven otherwise. Well played.
• The Ducks, beyond the badly missed field goal to tie the game in regulation, have very little in the way of a kicking game. Punting, yes. Kicking no. Seems like something that should be addressed.
Let's wrap this up…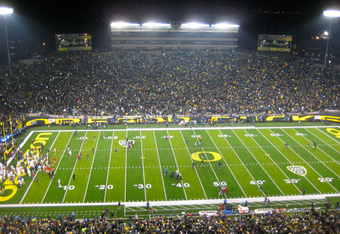 And that's game. I'm assuming that somewhere down there, Matt Barkley is gleefully waiving a sword.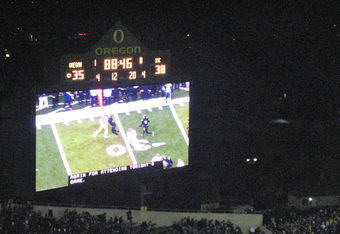 Thanks for coming. Enjoy your commemorative magazines.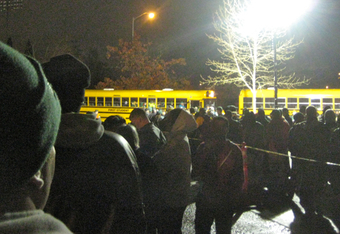 And finally, your circle of life shot.
Dan Rubenstein co-hosts The Solid Verbal college football podcast and can be  followed on Twitter here.