Mathias Kiwanuka: NY Giant Is Poster Child for Growing Problem with NFL OLB's
November 21, 2011
Patrick McDermott/Getty Images
While watching the Sunday Night Football game between the New York Giants and Philadelphia Eagles, I noticed a disturbing trend that is growing in the NFL.
The Eagles had just returned a punt all the way down to the Giants' 14-yard line and on the very next play, Vince Young found Steve Smith on a crossing route for a touchdown.
At least, that's what the untrained eye would have seen.
Watching the play closely, Smith runs a drag route through a "Cover 2" defense.
The Giants had been playing a loose Cover 2 the whole night and instead of funneling receivers to the inside, the Giants cornerbacks ran vertical with Eagle split ends.
On this play, the Giants' left corner Aaron Ross runs vertical with Eagle Riley Cooper.
Smith dragged across the defense, running right past Kiwanuka's face and catching the ball in stride. The former Giant Smith then turned it up and into the end zone for a touchdown.
Kiwanuka passed off Smith to a defender who wasn't even near the vicinity. This is a lapse in communication by Aaron Ross and, more importantly, thinking by Mathias Kiwanuka.
The linebacker's responsibility was either a curl-to-flat or hook-to-curl zone.
Either way, noticing no threats in his vicinity, Kiwanuka should have run with Smith and taken away the easy throw and touchdown.
That touchdown was Kiwanuka's fault.
This poor communication on Ross' part is overshadowed by the fact the Kiwanuka's coverage error marks a disturbing, developing trend in the NFL for outside linebackers.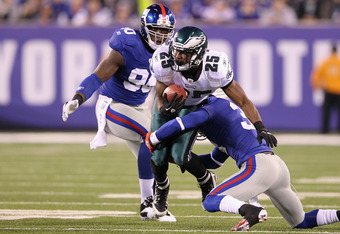 Al Bello/Getty Images
Defensive coordinators are content to sacrifice necessary coverage skills for pass-rushing ability.
Simply put, these outside linebackers can't cover.
Instead of standing up a defensive end and making him a 4-3 outside linebacker, defensive coordinators like Perry Fewell need to be aware that they need to put true linebackers in that spot.
Kiwanuka was beat in space by a quicker receiver and looked lost in his pass drop.
The young Giant "linebacker" is really a defensive end and belongs on the line of scrimmage with his hand in the dirt, rushing the quarterback.
I know, the Giants have Justin Tuck and Osi Umenyiora and Jason Pierre-Paul, but at least make sure that the guys out there to cover receivers can actually cover receivers.
The trend strikes me as disturbing because blitz-hungry coordinators are sacrificing ability in coverage and making the passing game too easy.
Kiwanuka's slow feet and lack of pass-drop skills marked him for failure and he became a liability in coverage.
It won't show up in the paper or the box score, but Kiwanuka was one of the reasons that the Giants lost this game.
It may sound like I'm ripping on Kiwanuka, but my real problem lies with defensive coordinator Perry Fewell.
Fewell doesn't understand that this big, cumbersome linebacker is not made to cover in space and is certainly not meant to be anywhere but the line of scrimmage unless he's in the backfield making a tackle.
Kiwanuka is a talented football player and I think he did a fantastic job against the run Sunday night. I just don't see him as a linebacker going forward, especially in this Cover 2 that the Giants like to run.
Look for this trend to continue as the season goes on and be on the lookout for pass-rushing linebackers misplaced in some sort of zone coverage for the rest of the year.