Robert Griffin III Should Win the Heisman Trophy—Not Andrew Luck
November 21, 2011
Sarah Glenn/Getty Images
Most fans and analysts seem to think that Andrew Luck is the front-runner for the Heisman Trophy. He's a great player who is almost guaranteed to be the top pick in the NFL Draft in April, but he definitely does not deserve to win the Heisman this year.
Robert Griffin III has been the best player in college football this year, and after leading Baylor to an upset of No. 5 Oklahoma this week, he should finally get some of the recognition he deserves. Right now, he should be the front-runner for the Heisman over Luck.
First of all, let's define the criteria for the Heisman Trophy. The Heisman Trust Mission Statement states that the trophy "recognizes the outstanding college football player whose performance best exhibits the pursuit of excellence with integrity." Essentially, the trophy should go to the best player in the country, as long as he has integrity. There is no mention of team performance in the statement.
Griffin has shown his "excellence with integrity" this season. He has completed 72.9% of his passes for 3,572 yards (10.63 yards per attempt), with 33 touchdown passes and five interceptions for a quarterback rating of 191.7. He has also rushed for 550 yards (4.1 yards per carry) and five touchdowns.
While Luck is having a great season, his numbers just do not come close to Griffin's. He has completed 70.3% of his passes for 2,937 yards (8.6 yards per attempt), with 31 touchdown passes and eight interceptions for a quarterback rating of 167.4. He has rushed for 133 yards (3.4 yards per carry) and two touchdowns.
In case you didn't notice, Griffin is better than Luck in EVERY category, and significantly better in most of the important categories. He is averaging a full two yards per attempt more than Luck, and his quarterback rating is 24.3 points higher.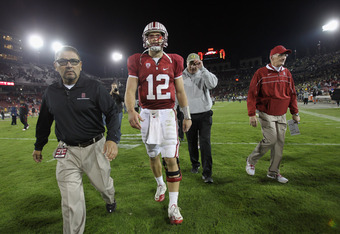 Ezra Shaw/Getty Images
Not only is he putting up better numbers than Luck; he is doing it against tougher competition. According to Jeff Sagarin's rankings, Baylor is ranked fourth in strength of schedule, having played seven top 30 teams. Stanford is 48th, having played just two top 30 teams.
Some of Griffin's best games have come against the toughest teams, such as TCU, Kansas State and Oklahoma. Luck has beaten up on the likes of Duke, Arizona and Colorado, who have a combined eight wins this season.
And his numbers still aren't nearly as good as Griffin's.
I've never been one to bring team performance into the equation when it comes to who should win an individual award, but it should be noted that Stanford is 10-1 this year, while Baylor is 7-3. That shouldn't be a factor when it comes to Heisman voting, but it inevitably will.
Luck will also be helped by the fact that he has been the projected No. 1 pick in the NFL Draft for about two years now. He was also a high-profile recruit coming out of high school. A lot of college football fans didn't even know who Robert Griffin III was until this season.
If Luck wins the Heisman, it will be solely because of his reputation and the team he plays for (unless Luck or Griffin's stats change significantly in the coming weeks).
There are other players who, in my opinion, are also more deserving than Luck, such as Case Keenum, LaMichael James and Russell Wilson.
Unfortunately, Luck will probably continue to be the favorite to win, and most likely will end up winning despite all of this.