Syracuse Basketball: How Will Allegations Against Bernie Fine Affect the Orange?
November 21, 2011
Jim McIsaac/Getty Images
Heading into it 2011-12 campaign, the Syracuse Orange men's basketball team will not only have opponents on the court to deal with, but it will be forced to deal with some very serious accusations off the court as well.
This week, news broke that Bernie Fine, a long time Syracuse men's assistant coach widely considered to be head coach Jim Boeheim's right-hand man, has been accused by two former ball boys of allegedly sexually assaulting them when they worked for the team in the 1980s.
Fine has vehemently denied the accusations, and head coach Boeheim has called them "patently false." The Onondaga County Sheriff's Department as well as Syracuse Police Department are undertaking a full investigation, while Fine has been placed on administrative leave.
In the meantime, the Orange will continue to compete for another Big East Championship and another deep run in the NCAA Tournament come March. It's possible they will be without Fine for an extended period of time, pending the two separate investigations.
One certainly has to wonder whether this will prove to be a distraction for Syracuse, as it must deal with far more intense media speculation in addition to their on-court opponents.
To remain focused on playing the game is sometimes easier said than done. Coverage of college basketball, especially in the Big East, is already intense as is. To heap extra scrutiny on these players is asking a lot, especially considering these guys are not that far removed from their teenage years. What's a team to do when such controversy seems to engulf it and its university?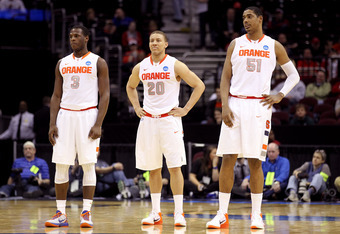 Andy Lyons/Getty Images
"We can't think about it right now," center Fab Melo said in response to questions surrounding such the allegations. "There's a season going on, so we just gotta play."
Ultimately, that's what it comes down to. The Orange still have to take the court, be it at the Carrier Dome or on the road, and it's the responsibility of not just the players to focus on basketball, but of Jim Boeheim and the coaching staff to ensure the players are not distracted by a storm of controversy that does not involve them in any way.
Unfortunately, the media scrutiny won't end until some kind of closure is reached. The university and the county will no doubt complete their investigations, but due to the statute of limitations both being long passed for both civil and criminal lawsuits against Fine, these allegations may have no definite resolution.
In the end, Fine will likely stand by his denial, and the two individuals may very well stand by their accusations. At this point, long after the incidents were alleged to have occurred, only those involved will know the full truth.