UFC 139 Results: Would Dan Henderson Fare Better Against Silva or Jones?
November 21, 2011
At this point, your jaw is probably still unhinged after witnessing Dan Henderson and Shogun Rua's epic fight Saturday night at UFC 139.
An absolute instant classic.
Neither guy slowed down or shut down, proving that will and a good chin can do wonders in a five-round UFC bout.  But beyond the obvious highlight-reel punches, a bloodied face and a stacked bank account, how exactly does Henderson stack-up against the likes of UFC champions Anderson Silva and Jon "Bones" Jones?
Regardless of what you may think a 41-year-old power wrestler is capable of against some of the world's best fighters, Hendo has enough left in the tank to make a run at one of these UFC work horses.
Silva is currently the best pound-for-pound MMA fighter in the universe, and Jones isn't too far behind him.  Both have similar unpredictable offenses that have proven deadly for nearly every top-contender in the middleweight and light heavyweight divisions. 
With that said, Henderson has always been regarded as one of the best fighters in the world, so why change that notion now?
Henderson has already faced-off with Silva for middleweight superiority back at UFC 82, ultimately losing in the second round via submission.  However, he was able to disrupt Silva on the feet to the point where he scored a take-down. 
The first round was ultimately a split, but Silva's ground game proved more worthy than Henderson's submission defense.
As far as Jones is concerned, it seems as if he's poised to run the 205 lb. division for the foreseeable future, but his chin has never really been tested.  Henderson landed some vicious strikes on Rua this weekend, ones that could have knocked the light heavyweight champion off his block. (Jones did toy with Rua back at UFC 128, resulting in him becoming the youngest UFC champion ever.)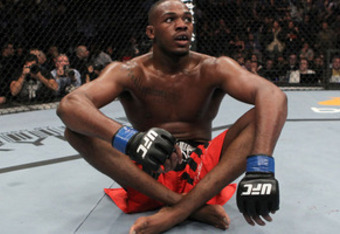 But almost every fan knows that the past doesn't necessarily tell the future.  Henderson had Rua rocked in the first round Saturday, earlier than Jones had done.  Henderson also took a bunch of shots stretching over five rounds, something that Jones really hasn't experienced throughout his UFC career.  
Think about it this way.  Over his past three fights, Jones has been exposed to a total of 30 strikes. 
Now that proves two things.  One is that Jones is that darn good.  To avoid serious damage from top-fighters like Rua, Rampage Jackson and Ryan Bader immediately secures his title as the most elusive fighter in the division. 
The other outlook is that Jones' chin and ability to offensively attack after being smashed in the grill hasn't been tested.  With Henderson being known as powerful striker, sometimes deliberately wild, his abilities could match up well with the light heavyweight champ.
On the other side of things, a rematch with Silva would be pretty damn entertaining.
After four years removed from their first battle in the Octagon, Henderson could fare better this time around.  Chael Sonnen proved that taking down Silva is the best plan possible, using wrestling and a crisp ground game to secure points by the bunches. 
Sonnen is one of the best wrestlers in the UFC, but so his Henderson.  Although, that was not the case Saturday as Henderson usually gets sucked into slug fests when it would benefit him more to bring the fight to the canvas.
So by standing and trying to land a heavy strike to Silva's chin, which has been impossible to do, Henderson's chances of capturing a revenge-win doesn't look so good. 
However, if the wrestler is able to bring Silva to the ground, similar to Sonnen's destruction of the champ at UFC 117, he may be able to secure a win early, something that would be much harder to do against a better ground specialist like Jones.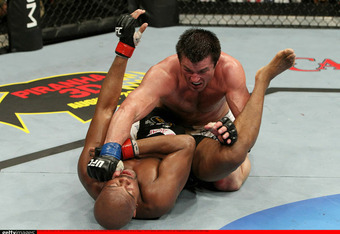 Whichever UFC champion you match Henderson against, they'll easily surpass him in the stand-up department. 
Jones and Silva are easily two of the most prolific strikers in the world, using unorthodox kicks and quick punches to unload on their opponents.  Now while Henderson posses a lot of power in his hands, his inability to swiftly move around the ring and throw strikes with consistency would realistically diminish his opportunities to knock either guy down.
By calculating how good Jones and Silva are on their feet, Henderson's chances of beating either one of them would seemingly come down to his ability to score takedowns.  Silva's ground game has been sort of suspect (at least what we've seen), while Jones' has proved helpful in the past. 
However, Silva is simply too good all-around to keep him on his back once you get him there, using his long reach to land strikes in the guard or lock in a submission using his top-notch Brazilian Jiu-Jistu.
What it would come down to is Henderson sticking to his game plan of bringing the fight to the mat.  While he does have the power to land a one-punch KO, Jones and Silva are too elusive on their feet to get into a tactical brawl with. 
So when you add into the mix that Jones is a stronger and bigger wrestler than Silva, it would likely benefit Henderson to take on the middleweight champion in a rematch for UFC gold.
Let's hope he gets a chance to prove me right, or wrong.