FYI WIRZ: NASCAR Fans Might Be Wary of a Hot Sprint Cup Garage Pass
November 20, 2011
It seems like the adage "Be careful what you wish for, you just might get it," pops up in many places throughout life. 
Here's a motorsports example.
Often when at a NASCAR race, fans will inquire about the hot pass dangling from a credentials lanyard. They know it means access. Usually fans want to know how to get a hot pass that would allow them into the Sprint Cup garage.
Some fans with sponsor and team connections gain access to the hot Sprint Cup garage, but they are among a select few. Other select fans obtain a cold pass which allows them into the Nationwide and Camping World garages and into the Sprint Cup garage before race car activity when the race cars are not practicing or qualifying.
Hot pass "in effect" times are generally 30 minutes before and after Sprint Cup practices and an hour before and after qualifying and race time.
All NASCAR garages have painted lines designating fire lanes through the garage for race car maneuvering. As the garage is a working environment, that space has to be reserved for moving vehicles.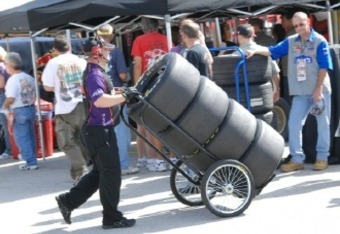 So why should a fan be careful what they wish for?
A hot pass into the Sprint Cup garage means dodging race cars as they dart in and out of stalls into fire lanes that lead to the track.
Getting a hot pass issued is a matter of need. Team members and drivers obviously have a need to be in the garage. Media must be accredited and apply well in advance of race day. Fans must be invited by teams, the sanction or sponsors. Those numbers are limited for real reasons.
The active NASCAR garage during practice, qualifying and race time is a very dangerous area. Being alert is essential to all on foot.
This reporter/photographer has had a dedicated Internet quest for more than 13 years and it took 10 years to get a NASCAR hot pass routinely.
Race cars aren't the only hazard in this active work environment. Crew members tow hand-trucks loaded with tires and equipment. They also pull wagons to deliver ice to cooling machines so engines can be brought down to acceptable temperatures.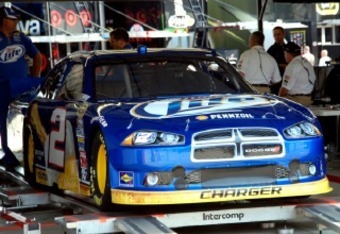 Mechanics may work on a cold car first thing in the morning, but for most of the day they must work on hot cars with hot parts. Ice plays an important role.
Despite the working environment many fans insist they would take their chances just to get into the garage where their favorite drivers roam.
One more point to ponder about being in the NASCAR garage. If a race car hits a non-team member or a hand-truck runs into or over a non-team member—it's not the fault of the driver or team member—it's the victim's fault.
So you still want to wish for a hot pass? Be careful, because if you get one you'll have to be extra cautious.
It's a lot easier to enjoy film and photographs from the comfort of your home or in the stands.
Many NASCAR tracks are removing old seating to install wider, more comfortable seats so fans can better enjoy a race.
For now, enjoy images from Homestead-Miami Speedway brought to you by a still camera via a hot garage pass.
FYI WIRZ is the select presentation of topics by Dwight Drum at Racetake.com.
Unless otherwise noted, all quotes were obtained from official release materials provided by NASCAR and team representatives.
Photo credit: Dwight Drum at Racetake.com