Cleveland Indians: How Jason Kipnis Helps the Indians Win the Division in 2012
November 20, 2011
Christian Petersen/Getty Images
Jason Kipnis, a 24-year-old from my alma mater, Arizona State, is a player who has gotten a lot of attention by scouts over the past year because of his position and his quick rise to the limelight in Cleveland. 
The majority of Kipnis' playing time at ASU was spent in the outfield, but the switch to play second base in the minors was a good one for both Kipnis and the Indians.
The second base position has become increasingly potent offensively over the past few years with such names as Cano, Utley, Uggla, Kinsler, Weeks and Pedroia laying their claim to the position. Kipnis should be able to add his name to the list of solid offensive second baseman.
Kipnis showed good power at ASU with 20 home runs in only 341 at-bats. His power numbers have continued to impress since he entered professional baseball in 2009.
In 972 at-bats in the minors, Kipnis has gone yard 29 times and has added 56 doubles and 20 triples. This shows that he will not be hitting 30 plus home runs a season, but proves he has the ability to put up 15 plus home runs a year with a few seasons over 20. 
One worry going into the 2011 season was how Kipnis would hold up at his new position of second base. In 1,041 defensive chances in the minors, Kipnis had 34 errors, which put him at a .967 fielding percentage. This leads me to believe that Kipnis will contribute much more on the offensive side of the ball than the defensive side, but that he will still be a serviceable defender for the Indians. 
2011 was an impressive year for Kipnis. He put his name out there in front of the fans in Phoenix in the 2011 futures game as he powered a home run off of Atlanta Braves top pitching prospect Julio Teheran in the top of the first inning.
Later in the year, he was called up to the majors and played in 36 games with the Indians. In those games Kipnis hit .272, had 17 extra base hits (seven home runs) and stole five bases.
If you stretch these numbers into a 162-game season, Kipnis would have 32 home runs and 23 stolen bases. While he won't necessarily produce at that clip over a whole season, it just shows that this young man has a good chance to put up a lot of 15/15 seasons going forward, and maybe even a few 20/20 seasons.
Best Outcome
Kipnis jumps into the lineup in 2012 and leads the Indians to a top 10 offensive year. He consistently puts up 15/15 seasons with average defense. In the prime of his career, Kipnis has three 20/20 seasons and makes the All-Star team twice. The Indians compete with the Tigers for king of the AL Central for many years with their young team.
Worst Outcome
Kipnis' BABIP decreases, causing his average to drop below .270 overall in the majors. He struggles to translate his doubles power to home runs and does not break 15 home runs most seasons. His shaky defensive abilities at second base really hurt him and the Indians, as he is one of the worst in the league. He is a below-average second baseman who eventually gets bumped out of the position by a future draft pick after five years of starting.
How The Indians and Kipnis Win the AL Central in 2012
Looking at the Indians' 2012 team as of right now, you realize one thing—they are young. The average age for an offensive player in 2011 was 27.8, and for pitchers was 26.4. With this known, young players like Kipnis, Lonnie Chisenhall, Matt LaPorta and Carlos Santana will be under a microscope to see if they can continue to improve in 2012.
In 2011, the Indians were right in the middle of the league in almost all offensive categories. As long as these young players play to their potential, the Indians should have a huge offensive season in 2012 and jump into the top 10 easily.
The infield could be very impressive with Asdrubal Cabrera coming off of a 25-home run season, Kipnis showing that he should be able to have consistent 15/15 seasons, Santana proving to be one of the best offensive catchers in the league and Lonnie Chisenhall showing promise at third base. Every one of these players has the chance to hit 20 home runs in a season and really raise the bar from 2011.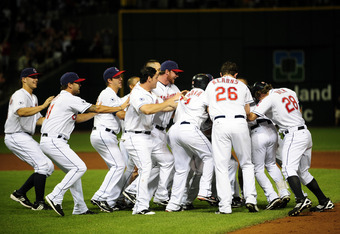 Jason Miller/Getty Images
The outfield is missing a piece going into 2012 that can hopefully be addressed through a trade or free agency. Michael Brantley solidified himself as an everyday player last year, and Shin-Soo Choo should bounce back from his injury and start contributing again right away.
Right now the third outfielder is going to be either Shelley Duncan or Ezequiel Carrera, who are not great options. One great add would be BJ Upton, if that is at all possible. Even with the lack of a solid third outfielder, Choo and Brantley add even more to the offensive lineup. 
The pitching staff of the Indians got much older when they traded for Derek Lowe. This trade could prove to work out as Lowe brings his sinker and experience to such a young staff. The rest of the starting five for Cleveland is also a little bit shaky but has tremendous potential.
Ubaldo Jimenez has nasty stuff, and if he can figure himself out he can be the true ace that many thought he was. Justin Masterson proved many right last year who thought that he could have a breakout season. His success should continue in 2012.
Fausto Carmona needs to keep the ball down in order to be successful, but one positive in 2011 was that he was still in the top 10 for ground ball percentage for starting pitchers. Josh Tomlin finishes off an average starting five. 
The Indians bullpen was solid in 2011, but there is one stat that worries me—the tribe was third worst in the league at letting inherited runners score.
Of the 226 runners that relief pitchers inherited, 80 ended up scoring. This means that 35 percent of runners on base when relievers came into the game scored. They need to be able to bring this number down. 
The Indians offense should be much better in 2012 and keep the team in every game. Kipnis will play a key role in the offense as his power/speed combo could really make him dangerous anywhere in the lineup.
It is going to be the starting pitching of the Indians that really determines if they win the division. Jiminez needs to pitch like an ace, and another pitcher might need to step up for this to happen. 
The Detroit Tigers will still have a fantastic team in 2012, so the AL Central race will certainly be one to watch next year.