Chelsea vs. Liverpool: Loss Shows Blues Need Cheick Tiote
November 20, 2011
Clive Brunskill/Getty Images
Having been linked with a £20 million move for Newcastle United midfield enforcer Cheick Tiote, it's clear Chelsea need the Ivory Coast international after their 2-1 loss to Liverpool at Stamford Bridge.
In fact, Andre Villas-Boas could do with a load of new players to resurrect his side's crumbling Premier League title aspirations, such as replacements for John Terry, Florent Malouda, Didier Drogba, David Luiz, Frank Lampard, Nicolas Anelka, Salomon Kalou and perhaps Fernando Torres come the end of the season.
But the one player who needs to have his regular starting place taken away is John Obi Mikel, with Newcastle's Tiote a tailor-made solution.
Against the Reds at the Bridge, Mikel didn't do his job well at all, i.e. break-up play, start up attacks and hold the ball to control the game's tempo.
It was his error which led to Liverpool's first (albeit receiving a horrendous pass from Petr Cech), while the Nigeria international barely put a tackle in all game, and was a non-factor throughout.
The Chelsea midfield didn't see a lot of the match defensively, with Reds boss Kenny Dalglish preferring to mostly use Craig Bellamy and Maxi Rodriguez on the wings.
However, Dalglish did also set his side up to attack occasionally through the middle, with Luis Suarez dropping deep and Dirk Kuyt making runs through the middle, while Charlie Adam was also given license to get forwards thanks to cover from Lucas Leiva.
But despite not having much to do defensively, when he was called into action, Mikel completely failed to live up to the task.
He was often bypassed by Liverpool's attacking players, barely made a challenge on any of them, and found it almost impossible to read his opponent's game.
And it's not just against Liverpool in which Mikel has struggled, with the 24-year-old displaying these mistakes in the vast majority of game he's played, last season and this term too.
With doubts over Michael Essien's long-term fitness, a new holding midfielder is of course needed, and Tiote is that man.
Mikel's inability to significantly break up play is reflected in the statistics, as he's won just 2.3 tackles per game, virtually one tackle per game less than the expected average for defensive midfielders.
Tiote on the other hand has won 3.2 per match.
However, the biggest indicator of Tiote's vastly superior ability to break up play (as well as his better reading of the game) is in the tally for key interceptions.
The Ivorian has made three key interceptions per game, while his Nigerian counterpart just per game, despite being in the optimum area to cut out a pass.
Newcastle's midfield enforcer is also a better player at clearing his lines, making more effective clearances per game, while he also has markedly better ability at closing down the opposition, blocking more shots per match.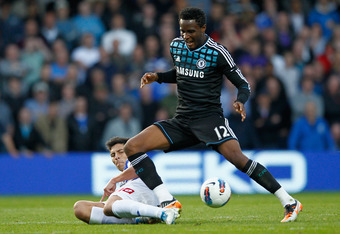 Paul Gilham/Getty Images
One area Mikel is better statistically than Tiote is in passing the ball, but as was the case against Liverpool amongst others, the Nigerian's more timid passing style means he's less of a factor in the game offensively.
With Cheick Tiote in the middle this season, Newcastle United have conceded just six goals in the nine Premier League matches he's played, at a rate of 0.67 goals per game.
With John Obi Mikel in the middle, Chelsea have conceded 13 goals in the 11 league games he's played, at a rate of 1.2 per game.
While John Terry and David Luiz haven't exactly been the most solid at the back this season, a large part of the blame for the Blues' leaky defence has to go to the man who's meant to be protecting the back four.
If Andre Villas-Boas wants his team to stop conceding as many goals as they do, it's clear he needs a new holding midfielder, one with a tenacity not yet seen in West London.
And it's clear the answer to his problem is in the North East, in the shape of that tenacious Ivorian called Cheick Tiote.