Philadelphia Eagles vs. New York Giants: We Have Seen Vince Young Do It Before
November 20, 2011
Patrick McDermott/Getty Images
I am fortunate enough to be heading to New York today, or should I say, upstate New Jersey, to watch the Eagles and Giants meet on Sunday Night Football.
The Eagles appear down and out, at 3-6, and pretty much finished.  The Giants are riding high at 6-3.  The Eagles are without Michael Vick and Jeremy Maclin.  The Giants are without Ahmad Bradshaw.  The Giants already beat the Eagles in Philadelphia about a month ago.
So why do I feel confident with Vince Young starting at quarterback on Sunday night?  Is it because Young is 2-0 all-time versus the Giants?  No, that's really not it.  Perhaps it is because I have seen this Vince Young movie play out before.
Two other times in Young's career, he has come in to start for a team with a losing record, and both times Young almost turned their season around.
In the other instances, he was taking over for an ineffective quarterback, and not an injured one.  However, the reality is, Vince Young came in and played well in the past.  I see no reason why he can't do it again on Sunday.
As a matter of fact, starting Vince Young might be just what the 3-6 Eagles need to do.  The team might rally around Young, and other guys will feel the urgency to elevate their game. 
It is also good for Young, who clearly has no future in Philadelphia.  A good outing today could lead to him getting a nice offseason contract as a starter in another city next year.  So Young knows what is at stake, even though his team is 3-6.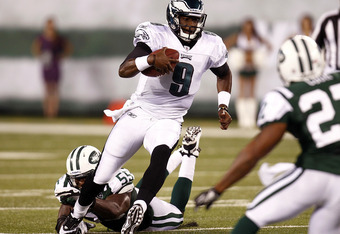 Jeff Zelevansky/Getty Images
Also, a solid performance and a win from Vince Young today could give the Eagles a spark that carries over into the upcoming weeks.  It could give this team some badly needed confidence.
Don't let the detractors fool you; Vince Young is a solid NFL quarterback. 
He has been to the Pro Bowl.  He has succeeded in the past and brought his teams back from the dead.  Young has a 30-17 career record as a starter.  He also has 12 game-winning drives in his career and seven fourth-quarter comebacks.
The point is, the Eagles have been struggling to find ways to win, and in Vince Young, they have a guy who does nothing but win.  The guy won a national title in college.  Vince Young is much like Tim Tebow; it may not always be pretty, but the guy finds ways to win.
That's just what the Eagles need to do tonight at MetLife Stadium.  They need to find a way to win.  Call me crazy if you want, but I think Vince Young will find a way to get it done. 
Why?  Because I've seen him do it before.