Juventus Dominates Palermo in 3-0 Victory, Regains Serie A Lead
November 20, 2011
Claudio Villa/Getty Images
International breaks are, by and large, anathema to me. Don't get me wrong, I love a great international competition. However, those mostly occur over the summer, with the exception of the African Cup of Nations every few winters.
So, international breaks are usually understood by me as "No Juventus." Yes, there is some great football being played in the international games, and I, of course, watch them. But, watching Juventus is the highest thing up there (for me), with the exception of the World Cup.
This latest break was especially tough.
A game against Napoli two weeks ago was postponed because of the weather, so this break was all that much longer. Add in the fact that Juventus have been having a tremendous season so far, and one can see how much I was anticipating this game against Palermo.
Oh, and what a game it was.
The team started off slowly in the first 10 minutes, like an old machine gearing up. Once they got all the cobwebs off, the Juventus squad began to impose their will on the Palermo side.
Giorgio Chiellini, who had a solid game (building off of consistently improving, but still oft disappointing, performances in previous games at left back), crossed a ball to Simone Pepe in the 20th minute. Pepe, for his part, dutifully headed the ball into the goal.
Juventus didn't look back from there, though the first half finished without any more goals.
The Turin boys had almost 60 percent possession for the game. Indeed, they also fired 15 shots at the Palermo goal. However, only four of those were on goal, not that many more than Palermo's two on-goal shots.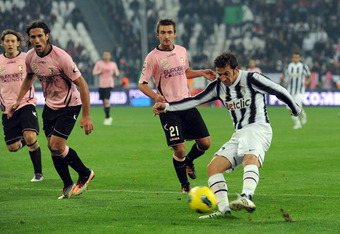 Valerio Pennicino/Getty Images
In the second half, Alessandro Matri scored his fifth goal of the season to put Juventus up 2-0. Then Claudio Marchisio scored his fifth goal of the season, and the Bianconeri were up 3-0.
Interestingly, this game fits in with Palermo's abhorrent performance away from home. They are undefeated while playing at home, and winless on the road. An even five wins at home and five losses (plus one draw) away.
This sort of Dr. Jekyll and Mr. Hyde characteristic came to haunt Palermo today, as they sat by idly while Juventus took control.
While the offense flourished, the defense made a few errors. Luckily for them, the Palermo players didn't fully take advantage of those mistakes.
Twice, Palermo mounted threatening counter attacks on the Juventus goal, with the back four being relatively helpless and spread out. Juventus keeper Gigi Buffon was furious both times, but he managed to limit the damage. It was a set of uncharacteristic errors from one of the top three defenses in Italy.
Speaking of Italy, (former) league leaders Udinese went down 2-0 to Parma. The same Parma that fell 4-0 to Juventus on opening day.
As it stands, Juventus is in first place in goal differential over Lazio. Both Lazio and Juventus have 22 points, although Lazio have also played one more game. The discrepancy in games played will continue until next Saturday, when the two sides play each other.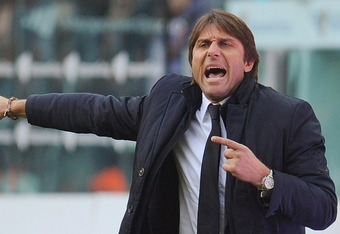 Valerio Pennicino/Getty Images
That Saturday game will prove to be a challenge for Juventus, as they face one of the toughest teams in Italy.
Then, right after, they face Napoli on Tuesday. Napoli are in sixth place, and Juventus will be traveling for both the Lazio and Napoli games.
Manager Antonio Conte has enough depth on his side to handle the short amount of time in between games, but he has proved unwilling  to play certain players.
The reasons for these decisions are mysterious. Some are known and some are, as Donald Rumsfeld would say, "known unknowns." That is, we know that we don't know why Conte does not play some certain players.
That said, things may have changed with the appearance of Fabio Quagliarella today.
Quags was sensational for Juventus last season, before injuring his knee. This year, though, he has barely seen the playing field. Hopefully that will start to change as time moves on, since Quagliarella is a very good striker.
Other disappearances, such as those of Milos Krasic and Eljero Elia, have more understandable reasons.
Elia is a young player, and his transfer came very late in the window. So, he did not have much time to learn Conte's tactics, nor adjust to the Italian league, before games started. He has been practicing with the team for months now, so perhaps Conte is ready to give him a chance.
Or maybe Conte does not think he is fit to play for the team. I hope it is not the latter, as I think Elia is a very talented (and speedy) youngster. Recent unsubstantiated (read: probably false) rumors have him moving to Turkish side Galatasaray.
It wouldn't be the first time Conte shipped off an unwanted player to Turkey. It would be the second, actually, since that's exactly what he did to Reto Ziegler.
In Krasic's case, it's a combination of time off due to a tragedy in the family and poor form. Milos had been struggling this season, and then his father and uncle were in an unfortunate car accident, in which his uncle died.
He played in a game only 48 hours after the accident, but has since not been seen much. Milos needs some time to heal both mentally and in terms of playing form, and in the meantime, Pepe is performing admirably on the right wing.
If Juventus can keep up this current form, the season will continue to be a smooth ride to the Scudetto. However, this team has started seasons off hot and then faded quickly in the post-Calciopoli era.
Last year, the team went on an unbeaten streak for much of the late fall and early winter, but then they fell apart after the January break.
I've already written countless times about how more resolved and team-like this year's edition of Juventus is over previous years' versions. I think they can keep this good form going, though the undefeated streak will probably have to come to an end soon.
The next game against Lazio is a huge one, and a win for Juventus will be yet another sign from this team that they're the best in Italy.
You can follow David Tenenbaum on Twitter: @DTenenbaum