College Basketball: 10 Best Shooting Teams from the 2011-12 Opening Games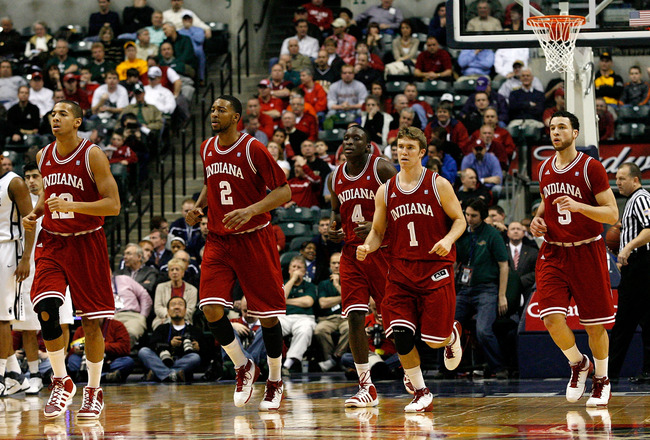 Chris Chambers/Getty Images
Shooting is one of the fundamental skills of basketball.
In the day of SportsCenter slam dunks and alley-oops, some say that it is a lost art.
Borrowing from the words of Lee Corso, "Not so fast, my friend."
Here are the 10 best shooting teams in the country from the early 2011-12 season games.
Let's take a quick look at these squads that know how to put the ball in the hole in lots of different ways.
The only prerequisite for making the list (beyond shooting percentage) is that these teams have played at least two games. One game, especially at this time of the season, is not a big enough sample.
10. St. Bonaventure Bonnies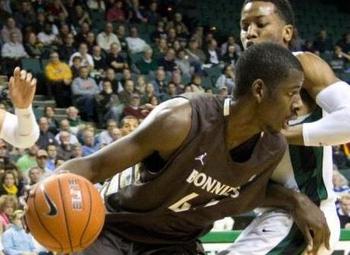 St. Bonaventure has been picked to finish fourth in the Atlantic 10 Preseason poll. But if the Bonnies keep shooting like this, they may challenge Xavier, Temple and St. Louis for the league title.
After two games, head coach Mark Schimdt's crew is dropping it in 53 percent of the time.
Five of the players in their eight-man rotation are at least shooting 50 percent from the floor, with three (Eric Mosley, Demetrius Conger and Charlon Kloof) hitting 70 percent or better.
Senior All-America candidate Andrew Nicholson (pictured) is the Bonnies' lead scorer (21.5 ppg). The 6'9 250 forward is shooting 53.3 percent from the field and 90.9 percent from the line.
9. Tennessee Volunteers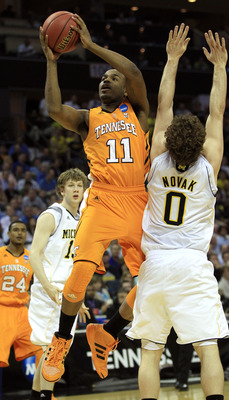 Streeter Lecka/Getty Images
The first games of the "post-Pearl era" have Knoxville buzzing.
Under first-year coach Cuonzo Martin, Tennessee is running a fast-paced pressure defense. As long as they put full effort into their D, the Vols have permission from Martin to shoot at will.
So far, it sounds like a great plan because they are scoring 88.5 points per game and shooting 53 percent from the field.
Trae Golden (pictured) is scoring 23 points per game by hitting a sizzling 60 percent from the field, 83.3 percent from the line and 46.2 percent from beyond the arc.
As a team, the Volunteers are hitting 49.1 percent from downtown (26-for-53).
Sure, it's early, and Tennessee will play tougher competition ahead, but it is nice to have even a little good news around the program, right, Vols fans?
8. North Carolina Tar Heels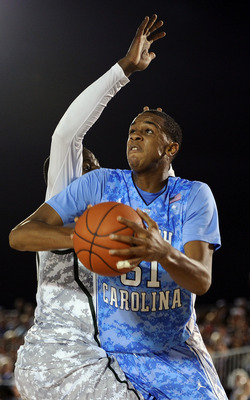 Harry How/Getty Images
When you can pound it inside to future NBA-ers like John Henson (pictured; 66.7 percent) and Tyler Zeller (52.4 percent), how can you do anything but shoot it well (53.3 percent) as a team?
There's no doubt that North Carolina's dominant inside players help the Tar Heels shoot a high percentage. But Roy Williams' perimeter players aren't exactly brick-layers.
Harrison Barnes (52.4 percent) and Dexter Strickland (50 percent), UNC's starting wings, are both hitting at least half of their shots.
P.J. Hairston, freshman sharpshooter, will help spread the defense with his outstanding accuracy from beyond the arc.
Last year, the Tar Heels shot a decent 45 percent from the floor.
UNC's chances of making a serious run to the 2012 NCAA Championship have just improved because of how they are shooting the ball.
7. Texas Tech Red Raiders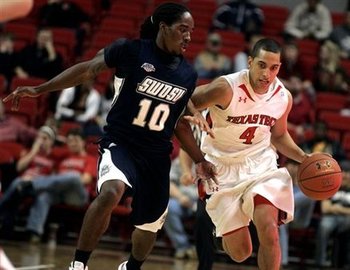 Billy Donovan is coaching again, this time at Texas Tech.
With a nine-player recruiting class, Donovan has almost completely turned over the Red Raiders' roster.
So far, so good.
Tech is hitting 53.4 percent from the field.
Ty Nurse (pictured) knows how to win, bringing a 63-7 record from Midland College (JuCo).
He also is familiar with putting the ball in the basket. He is the Red Raiders' leading scorer (22 ppg), shooting 54.5 percent from the field, 93.3 percent from the stripe, and 42.9 percent from beyond the arc.
6. Georgetown Hoyas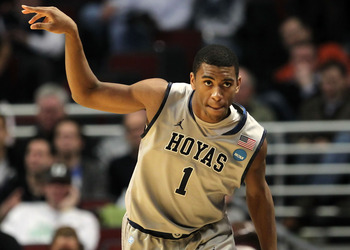 Jamie Squire/Getty Images
Because of John Thompson III's modified Princeton offense, the Georgetown Hoyas are usually a team that shoots a high percentage from the field.
Looks like 2011-12 is no different.
The Hoyas disciplined attack is helping them shoot a first-rate 54.2 percent from the field. Four of Georgetown's nine-player rotation are shooting at least 66.7 percent.
Hollis Thompson, JT3's leading scorer (16 ppg), has hit 12-of-18 from the floor and is 7-for-9 from beyond the arc.
5. Coastal Carolina Chanticleers
When you have coached over a thousand college basketball games like Cliff Ellis has, you probably know what it takes to win. Ellis not only knows how to win, but he has been victorious 614 times going into the 2011-12 season.
Coastal Carolina (of the Big South Conference) has won its first four games this year, already having beaten LSU.
The Chanticleers' 54.3 percent shooting is helping them score 89.5 ppg.
Anthony Raffa (pictured) leads the team in scoring 16.8 ppg, but four other players in their rotation are shooting at least 60 percent from the field.
4. Campbell Fighting Camels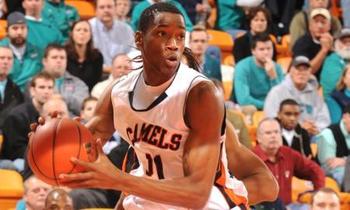 The least-known team on this list is the Campbell Camels.
They, like Coastal Carolina, play in the Big South.
The Camels are shooting 55.1 percent from the field and scoring 84 ppg.
Eric Griffin (pictured) is Campbell's leading scorer, putting up 19.3 ppg and is shooting an unbelievable 73.3 percent from the field (22-of-30).
3. Marquette Golden Eagles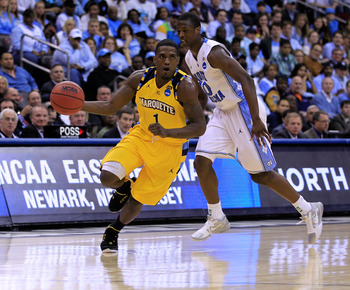 Chris Trotman/Getty Images
It's hard to imagine, but Marquette's top five scorers are all shooting above 50 percent from the field.
I don't care who you are or who you are playing against, that's amazing.
MU may have the best one-two scoring/shooting back-court combos in the country.
Darius Johnson-Odom (pictured; 6' 2" 215 lbs) is Marquette's leading scorer (20 ppg), who is shooting 60 percent from the floor and 46.7 percent from beyond the arc.
Vander Blue, the Golden Eagles' No. 2 scorer (6' 4" 200 lbs; 16.7 ppg) is shooting 68 percent from the field and has hit three-of-five 3-point shots.
This may be Marquette's season to challenge for the Big East title and then...who knows when it comes to March Madness.
2. Kentucky Wildcats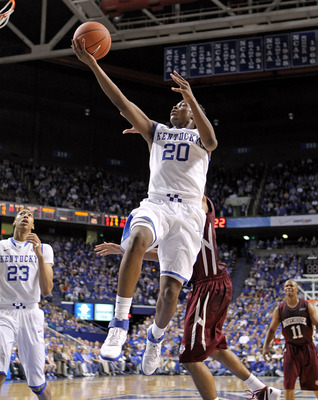 Andy Lyons/Getty Images
Kentucky may be one of the most explosive teams in the country.
They have scorers at every position, players who can put it in the hole from every conceivable angle on the court.
In fact, the Wildcats' top six scorers are shooting above 50 percent, and as a team, they are shooting a 55.9 percent from the field.
Doron Lamb, last year's third option, is now the Cats' leading scorer (16.5 ppg). He is shooting 54.5 percent from the floor and 52.3 percent (11-for-21) from downtown.
The fact that Coach Cal has only had this group together for a matter of a few games is flat-out amazing.
Give this team a full-season together, and we could be looking at the next NCAA Champion.
1. Indiana Hoosiers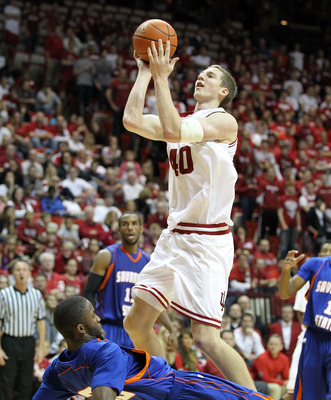 Andy Lyons/Getty Images
There is something very reassuring to see the Indiana Hoosiers at the top of the early-season shooting percentage list.
It means that Tom Crean's long, hard process may be finally heading in the right direction.
The Hoosiers are shooting 57.1 percent from the field, with six players scoring in double figures.
What is so hard to imagine is that nine of their top ten scorers are shooting at least 50 percent. I have never heard of that on any level.
Cody Zeller, the Hoosiers' new center, is Indiana's leading scorer (15 ppg) and is shooting a ridiculous 82.6 percent from the field (19-for-23).
There is almost no possible way that Crean's crew can keep up this torrid pace. But, even if they cool down a little, they have a good chance to become relevant again in the Big Ten.
Keep Reading