Seattle Seahawks vs. St. Louis Rams: Live Score, Video and Analysis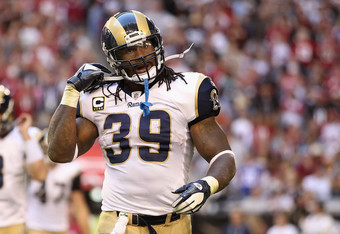 Christian Petersen/Getty Images
The St. Louis Rams host the Seattle Seahawks, as both teams look to pick up a desperately needed win. The Rams (2-7) and Seahawks (3-6) played a "winner take all" game for the NFC West division championship last year in Week 17.
Now both teams would just settle for a win, period!
The Rams scored a first quarter touchdown on a long pass from Sam Bradford to Brandon Lloyd. Seattle, who struggled on their first five possessions, finally got on the board in the second quarter on a Tavaris Jackson touchdown pass to Sidney Rice.
Both offenses have been inept throughout most of the first half. Seattle tacked on a field goal as the half ended to take a 10-7 lead.
Rams' QB Sam Bradford was stripped of the football on a sack, and the Seahawks took advantage of the turnover. After driving down the field, Marshawn Lynch scored on a three yard touchdown run to increase Seattle's advantage to 17-7.
Seattle tacked on a Justin Forsett touchdown run in the fourth quarter to push the lead to 24-7. The Rams' offense is just anemic, and if you keep giving the opposition great field position, they are going to score.
Well, unless you give that field position to the St. Louis Rams. Because they are terrible.
Updated score: Seahawks 24, Rams 7
Enjoy this game recap, courtesy of NFL.com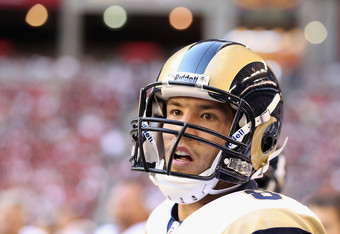 Bradford just got sacked for the fifth time. He fumbled again. Bradford has regressed to the level of talent around him, which is not good.
Somebody named Justin Forsett just scored a 22 yard touchdown run where he looked like Earl Campbell breaking tackles.
24-7, Seattle, and this game is over.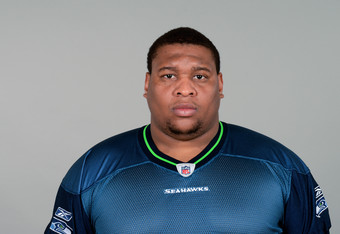 Red Bryant just sacked Sam Bradford. On the next play, Bradford had a pass tipped - how many times have we said that today? - and it was picked off by Red Bryant.
Thanks you, Sam Bradford, for making Red Bryant look like Lawrence Taylor.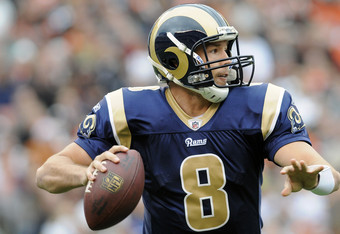 Down 10, under 9 minutes to play, and the Rams throw a six yard pass, a three yard pass, and a three yard pass...
Hold on while I go stab myself in the eye with an ice pick.
What are we doing???
It gets even better. Third and 10, and Bradford throws a 7 yard pass where the guy has absolutely no chances for any YAC. Why even throw that pass? Is Bradford that afraid to make a mistake?
At some point, the Rams are going to have to take some chances if they are going to score any points. The only touchdown the Rams have today was a busted coverage because the DB tripped. Jeeeeez...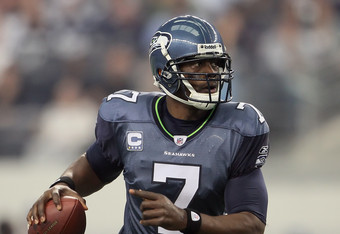 It bears repeating...
Tavaris Jackson is thoroughly outplaying Sam Bradford. I mean, it's not even close.
The Rams' D has harassed Jackson, they've hit him, they've sacked him, they have confused him, and they have forced Jackson into making mistakes.
That's my whole point about Bradford. He is playing too safe. Because despite his mistakes, Jackson has made some good plays also. He has moved the Seahawks offense up and down the field. He has taken chances. He has made plays!!!
It's official: I am selling my Sam Bradford stock. I just don't see Bradford becoming an elite QB unless something major changes in St. Louis.
Sam Bradford is getting booed now. He just threw a ball that hit a defender in the back.
Now Tim Ryan is making excuses for Bradford... he lost Danny Amendola, he lost Greg Salas, he doesn't have any tight ends (OK, I said the last one)... but come on!!! Tim Ryan, I've come to expect more from you, sir!
Bradford is playing terrible, frightened, terrified, afraid to mess up, peeing-down-both-legs-while-his-knees-are-shaking football right now.
Rams go three and out, Seattle football.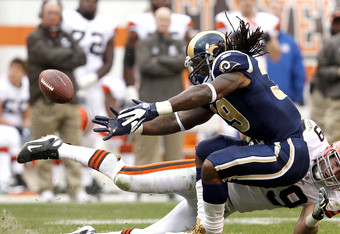 End of the third quarter. Marshawn Lynch is running HARD. It looks like the Rams' D is getting sick of tackling him, which is not a good sign for Rams' fans.
The Rams will receive the punt to start the third quarter, but let's be honest here, the Seahawks could go three and out for the rest of the game and it wouldn't matter. The Rams' offense would have a hard time scoring on Seattle State University, much less the Seattle Seahawks.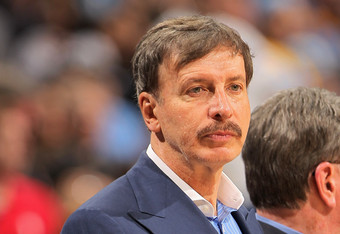 The Rams' offense plays inside a 12 yard box. Nothing ever goes farther than that box. It's short, short, short, short, short...
Of course, that isn't always a bad thing. Keeping it short means that Bradford is less likely to be sacked (a good thing), the Rams' O Line has been ravaged by injuries to make matters even worse in regards to pass protection, and the Rams' receivers (other than Lloyd) can not get open anyway!
So I understand why the Rams play this way, but I just feel like Bradford's growth has been severely stunted by the lack of talent around him and the lack of of any kind of coherent game plan.
Another interesting fact to make note of: In this game, the Rams' tight ends have caught one pass for -1 yards receiving. I know Illinois Mike is out for the year, again, and Lance Kendricks is also banged up. But this is a franchise that has invested heavily in the tight end position during the last two drafts, and there are no results despite that investment.
Somewhere, owner Stan Kroenke is reading this, and he is nodding his head.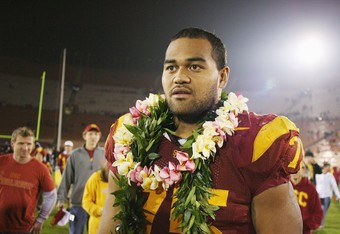 Seattle is marching, marching, marching....
I also like the offensive tackle Matt Kalil out of USC. I just don't trust the offensive lineman we have right now. I think if we move Jason Smith to left guard, Roger Saffold to right tackle, and draft Matt Kalil we might have a really good offensive line for years to come. I like Harvey Dahl right now, but the rest of the Rams' O Line has been awful this season.
Oh yeah, Marshawn Lynch just scored a touchdown for Seattle. 17-7 Seahawks.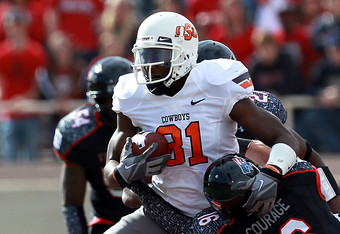 Sam Bradford holds it, holds it, holds it....
Gets sacked, and fumbles the ball. Sam Bradford is playing terrible.
The Rams are going to lose this game. Since that seems likely at this point, let's start talking about next year. Who do you think the Rams should draft? I like Justin Blackmon from Oklahoma State.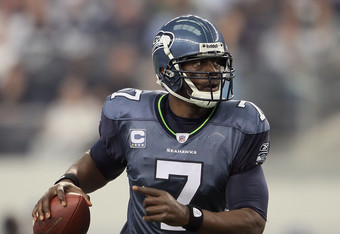 Somebody named Doug Baldwin is just killing the Rams secondary. Meanwhile, Tavaris Jackson continues to outplay Sam Bradford.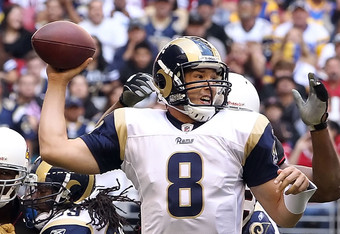 Brandon Gibson is having a nice game. He has four catches now, and he has picked up a couple of nice first down catches.
The Seahawks have absolutely stuffed the run today. I don't understand why we haven't pounded them with the run more, but the few times the Rams have tried to run Seattle has stoned them.
Once again, a drive stalls. The Rams' offense is just awful.
Some halftime thoughts...
The Rams offense is pathetic.
Why are we not giving the ball to Jackson? Hasn't he had a few good games in a row now? That's what I thought...
Sidney Rice sure is making the Rams' secondary look bad. You know who else he is making look bad? Rams' GM Billy Devaney, who chose to sign guys like the immortal Mike Sims-Walker during the offseason instead of Rice.
I mean, come on, a Bradford-Rice-Lloyd trio looks good on paper, right?
Speaking of Bradford, he has to step up. He has to start making throws that we all know he can make. Right now, Bradford looks like a guy who is playing NOT to mess up. You can't ever be successful playing that way. At this point, I'd take a 4 interception game. I'd take a game where he rolled out and threw the ball all over the place. I'd take ANYTHING other than holding the ball, getting sacked, and having passes knocked down at the line of scrimmage. Enough already...
Pete Carrol has made some really, really curious roster moves... a couple of 6'3-6'4 corners, a pair of backup QB's... but the Seahawks have a couple of nice wins over the Giants and the Ravens. That's more than the Rams can say. If Seattle ever gets a QB, they might have a decent football team. I just don't know if Carrol and the 'Hawks are going to lose enough games to snag a Matt Barkley or Landry Jones.
That's all for now. I'll have more in the second half. Right now, I need a refill...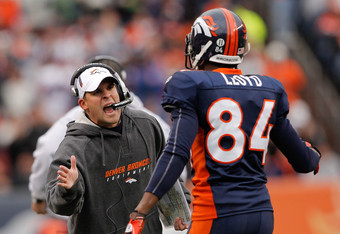 This is just pathetic. The Rams are down 10-7 at the half, and they should be winning about 24-7 right now. It's just pathetic watching the Rams' offense.
So much for the "Josh McDaniels will make Bradford an elite QB" theory.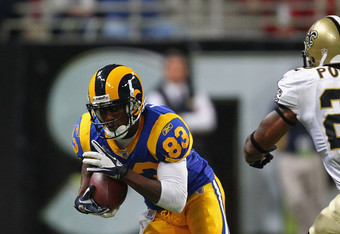 Brandon Lloyd just made an unbelievable catch - a twisting, turning, phenomenal grab along the sideline.
Pete Carrol challenged the call, and it is probably going to get overturned.
The bad part is, if Bradford would have just threw the ball accurately it would have been an easy catch. Bradford is just not playing well.
Right on cue, the call was overturned.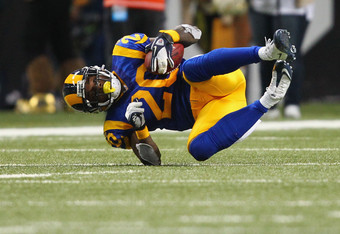 Here is a summary of the Seahawks last drive...
1. Penalty,
2. Sack, and
3. Dropped pass.
Now Sam Bradford, I'm looking you right in the eyes. If you can't do something with this drive, then something is wrong! Come on, man!!!! It's the Seattle Seahawks, and your D is shutting them down!
Do something!!!!!!!!!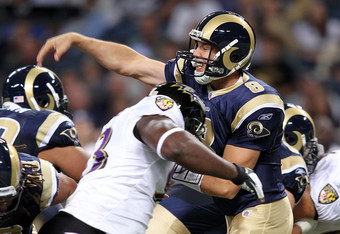 Sam Bradford, again, holds the ball and holds the ball and holds the ball...
And gets sacked. Congratulations Sam. Tavaris Jackson and the Seahawks tied things up, but now you have the sack lead all to yourself again.
Sam Bradford is getting worse. How many games in a row do we have to watch this crap? Get rid of the ball!!!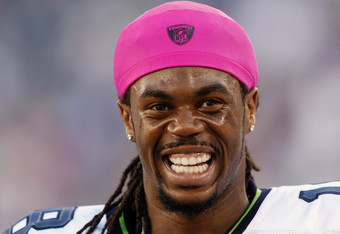 You know, the Seahawks beat the Ravens last week. The Rams' D, playing with their 9th cornerback of the year, looks pretty good against the Seahawks. Chris Long, Robert Quinn, James Laurinaitis, Darian Stewart, and Quintin Mickell are all very good players. Justin King is going to be a very good nickel or dime corner in the NFL.
If the Rams can find just a little help at linebacker and get their regular DB's healthy...
This defensive unit could be pretty good.
Sam Bradford, however, refuses to play like a franchise QB in the making, and allows the Seahawks to hang around.
And as I type that, Seattle ties the score at 7-7 on a bullet throw from Jackson to Sidney Rice.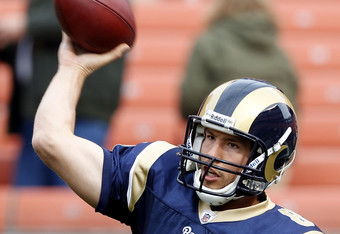 Somebody named Spach for the Rams, he is a backup tight end, just picked up a 15 yard penalty for a personal foul. Can we vote right now to cut this guy? I mean, can we immediately cut him?
Now a false start by #79, the backup, backup O Lineman.
The Rams, according to Tim Ryan, have lost 20% of their roster on the IR this year.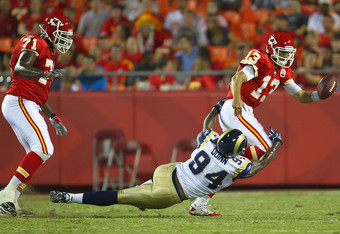 James Hall and Robert Quinn with back-to-back sacks. The Seahawks have now allowed 32 sacks this season, tied for worst in the NFL...
With the St. Louis Rams.
I can't prove this, because we went to commercial break, but I believe with all my heart that Sam Bradford just gave Tavaris Jackson the old "I feel ya' dog" chest pound and point.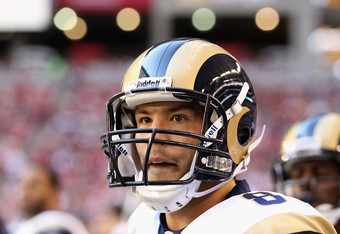 Rams go three and out. Bradford had a pass batted down at the line of scrimmage. Now listen, I watch a lot of football. I think Bradford has way too many passes tipped at the line of scrimmage. He is letting the pass rush just eat him up.
I know, I know, I know... the Rams have allowed more sacks than any team in the NFL.
But come on!!! This guy was the No. 1 overall pick in the draft, and he is supposed to be a superstar. How can he keep playing like this? The Seahawks are playing terrible, uninspired football, and their QB is Tavaris frickin' Jackson!!!
Why let them hang around? Come on Bradford!!!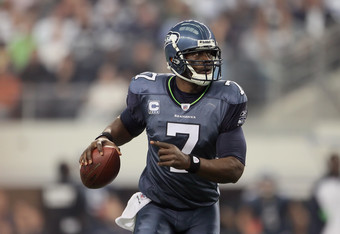 The Rams with a beautiful delayed blitz on 3rd and 7. It confused me, so you know, it probably also confused Tavaris Jackson.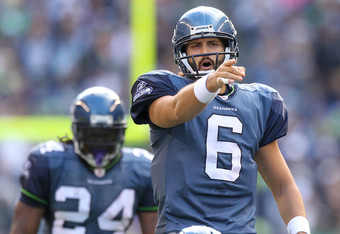 I mean, you traded a second round pick for THIS GUY!!!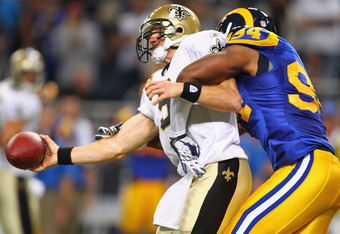 Rams force a punt, and it's blocked by Robert Quinn. I'm loving this ferocious Rams' pass rush, and I get the feeling that this Quinn fella is going to be one heck of a player.
Seahawks fans, feel free to chime in on this one...
What do you think of Pete Carrol? I mean, seriously? You have Tavaris Jackson starting for your team, and you have Charlie "JC" Whitehurst sitting on the bench, a guy you traded a second round draft pick for.
Has their ever been a worse tandem of QB's in the NFL?
This article is
What is the duplicate article?
Why is this article offensive?
Where is this article plagiarized from?
Why is this article poorly edited?

St. Louis Rams: Like this team?