UFC 139: Dan Henderson and Mauricio 'Shogun' Rua Put on an MMA Classic
November 20, 2011
Valerie Macon/Getty Images
You'll probably always remember the event, the date and the city: UFC 139. Nov. 19, 2011. San Jose, Calif.
That's because, as a fan of combat sports, as a follower of the UFC, as a member of the legion of the fastest-growing sport in the world—MMA--what you witnessed at UFC 139 on Nov. 19 in San Jose, Calif., was epic. Classic. Unforgettable.
Dan Henderson vs. Mauricio "Shogun" Rua was not just the "Fight of the Night" and hands down the "Fight of the Year." It may have been the UFC's greatest fight ever—and the UFC has given us plenty of great fights.
Henderson-Rua was MMA's "Thrilla' in Manila," perhaps the most breathtaking and gallant display of boxing between two legends of the sport—Muhammad Ali and Joe Frazier—on Oct. 1, 1975.
Some dates a fight fan just doesn't forget. Nov. 19, 2011 will be one of them.
The card itself was UFC 139. The five-round light heavyweight war between the former UFC champion Rua and the current Strikeforce light heavyweight king was nothing less than a time-capsule classic.
All over the Internet you'll read round-by-round and blow-by-blow accounts of this magnificent fight and its non-stop drama and action. But the fight became a classic because it was two-sided, and not just from the opening bell.
This was 25-minutes of non-stop, back-and-forth, ebb-and-flow, I-can't tweet-fast-enough-how-great-this-fight-is organized mayhem.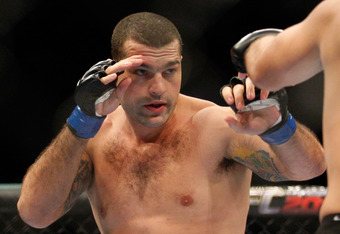 Richard Wolowicz/Getty Images
The first three rounds belonged to the 41-year-old Henderson, who had opportunities in each of them to put his 29-year-old opponent away.
In the first round he sunk in a standing front choke which looked to be a fight-ender. But he couldn't get it, and began blasting away with both hands, landing his powerful right, which rocked Rua several times.
With 90 seconds remaining in the opening frame, Rua's left eye was cut and he looked to be on his way to a first-round loss. Then it started.
Refusing to be put away, Rua launched an overhand right which hurt Hendo. Rua then got the fight to the ground and unleashed hammer fists, looking for an ending of his own. The SRO crowd at the HP Pavilion exploded in noise.
Great fighters find their way out of desperate situations, and Henderson scrambled back to his feet.
The furious pace in the first five minutes had both fighters looking a bit gassed as the second round began, and you could sense they were thinking, "Hey, this is five rounds, I've gotta' conserve energy." But conserve they didn't.
They went right back to work, giving everything inside of themselves. Hendo clearly outworked a gasping Rua in the second, and was now up on the Bleacher Report scorecard, 20-18.
If Henderson was going to end the fight, that time was in the third round. He floored Rua and followed him to the ground. He threw fists and elbows with everything behind them. Referee Josh Rosenthal did a great job in remaining cool and not stopping the building classic.
Hendo looked for limbs. An arm. A leg. An ankle. He couldn't find one against the most-determined opponent he had ever faced. While looking, he almost was submitted himself, falling into a heel hook.
But he pulled out of it and the two were back on their feet throwing bombs. Rua even had Henderson up against the cage taking punches late in the round. Although it was another amazing round, Henderson took it on the strength of his early-round ground-and-pound-and-pound-and-pound.
Hendo now led, 30-27.
Rua was able to get the fight to the ground in the fourth, but Hendo's wrestling superiority—he was a 1992 and 1996 Olympic wrestler for the USA—enabled him to take top position early. By this time, they were both running on fumes. Their gas tanks were both on empty. So, when warriors have nothing left, they fight on heart.
They got back to their feet and exchanged some punches, but you could see they were tottering, engulfed by exhaustion. The fight went back to the ground and now it was Rua, bleeding from his cut eye and from his nose and lumped up all over his face, who was throwing punch after punch.
Rua took this round, and now he pulled within two points on the B/R scorecard, 39-37. He needed to stop Hendo in the fifth for the victory. He didn't come far from getting what he needed.
Hendo had less-than-nothing in the final round. Rua had only a bit more. But they still had their warrior hearts. Rua spent most of the round on Hendo, pounding away between gasps for air. You could make a case than the final round could have been scored 10-8 for Rua, who outworked Hendo for just about all of the 300 seconds of the round.
Had the judges done that, the tally would have been 47-47, as the B/R scorecard had it. But all the judges has it 10-9 for Rua, and he fell one point short of pulling out a draw.
This fight had two winners: Dan Henderson and MMA. It had no loser.
Remember the date—Nov. 19, 2011. Remember the event—UFC 139. Remember the contestants—Dan Henderson and Mauricio "Shogun" Rua. On that date, at that event, they put on a battle we'll be cheering forever.
                                                            ###