UFC 139 Results: The Real Winners and Losers from Shogun vs. Henderson
The HP Pavilion in San Jose, CA played host to the UFC 139 event headlined by the main event between Mauricio "Shogun" Rua and Dan Henderson. The Pride legends did battle in a fight that fans will be talking about for years to come as Henderson barely overcame a late-round surge to defeat Rua by decision.

Coming a week after the first UFC on FOX event, UFC 139 didn't get quite the hype that a typical UFC event does, but as we got closer, people started to realize that it had the potential to be one of the best events of the year. It didn't disappoint.

Like most MMA events, 139 proved again that you don't necessarily have to have been involved in the fight card to have been affected by its outcome. The real winners and losers often don't show up in the record books, and Saturday night was no different as many outsiders were affected.

So with that said, let's take a closer look at UFC 139: Shogun vs. Henderson, as we examine who the real winners and losers really were.
Begin Slideshow

»
Competing in his 44th MMA fight Saturday night, Miguel Torres is considered one of the most experienced veterans fighters in the sport. So it seems a bit odd that he was in such a big need of a win.

He was in San Jose, though, and he got it done by winning a decision over Nick Pace in the preliminary fights. Adding to the success, he also overcame the odds after Pace stepped on the skill at 141 pounds, six pounds over the 135-pound (technically 136-pound) weight limit.

Torres looked good and could be just reaching his prime now at only 30 years old, even though he is very experienced. It was only his second UFC victory and a very important one after losing to Demetrious Johnson at UFC 130.
Competing in his 10th UFC fight, Matt Brown may have needed a win more than anyone else on the card.
Unfortunately, he didn't get the job done. The 30-year-old veteran was unable to get past Seth Baczynski, who submitted him in the second round of their fight.

After a tightly contested first round, Baczynski slapped a guillotine choke on Brown early in the second round, forcing him to tap just 42 seconds in.

Brown has now lost four of his past five fights in the UFC, and could realistically have something to worry about when it comes to keeping his job with the company. If he does make it through this week's cuts, he will almost certainly be fighting for his job in his next fight.
One of the hottest up-and-coming prospects in all of MMA is the 20-year-old former WEC veteran and regular The Ultimate Show guest, Michael McDonald.

McDonald crushed UFC newcomer Alex Soto, knocking him out in just 56 seconds. He caught Soto early with a punch and never let him recover. McDonald pounced with intense fury when he saw Soto in trouble, finishing him off with huge strikes against the cage.

Soto's body was reminiscent of Rashad Evans' when he fought Lyoto Machida, with his knee stuck under him and his body slouched unconsciously up against the fence.

Now 14-1 in his career, Michael McDonald has won seven straight fights and three straight in the UFC. He is making a real case for competing against significantly better competition in his next fight.
After starting his career off in ridiculously impressive fashion, former The Ultimate Fighter winner Ryan Bader had dropped two straight fights after starting his career with 12 straight victories.

Bader's losses came against former and current UFC light heavyweight champions Tito Ortiz and Jon Jones, but he just did not look like the same fighter in 2011 that he did in 2010 and prior to that.

He bounced back Saturday night in a big way, though, in a fight he needed to win against Jason Brilz, knocking him out just 1:17 into the first round.
Bader utilized his trademark huge right hand, connecting with a punch before landing a couple ground-and-pound shots prior to the referee pulling him off.

The victory got Bader back on the winning track and should be an important confidence builder as he heads into 2012, hoping to forget what happened earlier this year.
It looked as if the welterweight division had a new contender just a few months ago when Rick Story had ripped off an impressive six straight victories in the UFC, including one over former No. 1 contender Thiago Alves.

But Story's story took another path in June when he unexpectedly lost to Charlie Brenneman in the June fight that Brenneman took on short notice when Nate Marquardt failed his pre-fight tests. Brenneman took the fight on very late-notice, but got the upset victory by decision.

Story dropped his second-straight fight when he lost to Martin Kampmann at UFC 139.
It was a closely-contested split decision, but Story will need to get back into the win column likely two or three more times before he gets back to the place in the rankings he was at earlier this year.
He finally won a decision!

Martin Kampmann had been flat-out ripped off by the judges in each of his previous two fights against Diego Sanchez and Jake Shields, but was still widely considered one of the top-15 welterweights in the world, even in defeat. He proved why Saturday night in impressive fashion, defeating Rick Story by decision.

The victory was only a split decision, so he has to be doing something that the judges just don't like, but it is great to see Kampmann back in the win column and having some momentum heading into 2012.


(Update: We later found out in the post-fight press conference that all three judges scored the bout for Kampmann and that it was just a mistake in announcing that one judge scored it for Story.)


Former WEC featherweight champion Urijah Faber has been on a roller-coaster ride of a career in the past couple years, winning numerous non-title fights, but failing in both his most recent bantamweight and featherweight title opportunities.
At the HP Pavilion, he got back to being "the old Urijah" when he put on an excellent performance against former WEC bantamweight champion Brian Bowles.

Faber landed a beautiful right-uppercut in the second round, which rocked Bowles. Urijah quickly went to work, eventually getting Bowles on his back where he quickly took mount and applied a picture-perfect mounted guillotine choke. Bowles had no choice but to tap out.

Immediately after the fight, Faber took to the microphone where he called out current UFC bantamweight champion Dominick Cruz, who he lost a close decision to in July.

"Dominick, you can run, but you can't hide, homeboy," Faber shouted to the fans in San Jose.
Former WEC bantamweight champion Brian Bowles became the man to dethrone Miguel Torres from his amazing winning streak and was looking to knock off another top contender in Urijah Faber.
Unfortunately for him, it just wasn't to be as we might've seen the best Urijah Faber in years at UFC 139.

Bowles worked hard and had a decent performance, but was eventually mounted and choked out with a guillotine in the second round.

Bowles was expected to likely control the standup, but could not stop Faber's uppercut.
Cruz-Faber III is coming.

Well, it's not official yet, but it sounds like Dominick Cruz will be fighting Urijah Faber at some point during 2012, making it the third (and very likely final) fight of their trilogy.
Each man has one victory over the other, but Cruz only defeated Faber in July, so it could be argued that Faber needs another victory.

There just aren't many contenders at 135, so Cruz having to fight Faber again so soon is kind of a negative for the bantamweight champion considering he would very likely enjoy fighting a new challenger and not someone who poses as many threats to him as Faber does.
"The Axe Murderer" is back!

The former long-time Pride middleweight champion had struggled in recent fights, including having UFC President Dana White even say that he thinks that Silva should walk away from fighting before he gets "Chuck Liddell'ed."

He earned an impressive knockout victory over the highly skilled and unconventional Cung Le.
He may never be a top contender, but Wanderlei definitely still has "it" and will always put on entertainment for the fans.
Former Strikeforce middleweight champion Cung Le made his UFC debut in his hometown of San Jose, CA, but it didn't go as well as he had hoped.

Le landed some big shots and put on a very entertaining fight, but eventually got caught by the former Pride middleweight champion, who put him away with some heinous-looking knees and finished him with hammer-fists.

The finish appeared to be somewhat controversial, but as Dana White said in the post-fight presser, it wasn't as close as it looked. Cung was out.
Strikeforce light heavyweight champion Dan Henderson made his move back to the UFC, earning an immediate big-time main event against Mauricio "Shogun" Rua.
The fight was just the second five-round non-title fight in UFC history, the first being Leben-Munoz just a few weeks ago, and it was the first one that went the distance.

Henderson nearly finished Shogun numerous times throughout the fight, but was eventually able to win a very close judges' decision (48-47 on all three cards) in what may end up being one of the most important fights of his legendary career.
He may have walked out of the cage with a "loss" on his record, but Mauricio "Shogun" Rua was a winner after competing in one of the most epic battles in the history of the sport...and that is not an exaggeration.

Shogun-Hendo will be remembered for years to come as the five-round war that it was, with each fighter nearly finishing on numerous occasions.

Many believe that Shogun won the fight, but he eventually lost a tight unanimous decision on the judges' scorecards.
This was the second time this has happened to him in recent years, the first being in his first fight with Lyoto Machida.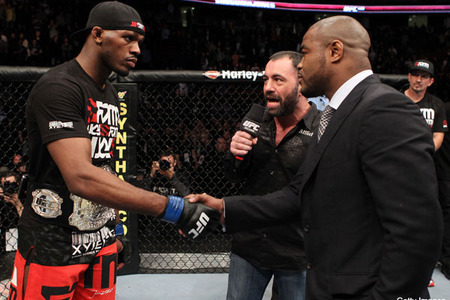 "Whichever one is available first," said Dana White in the post-fight press conference, in regards to which fighter would be the next contender for the UFC light heavyweight championship.

Rashad Evans loses again in this scenario, as it sounds like he may not be the next contender for the title after all. How many times is this going to happen to him?

If Dan Henderson gets the next shot while Rashad is forced to fight again to determine the next No. 1 contender, there is going to have to be some serious investigation into what Evans did to the MMA gods to convince them to screw him over this badly. It's all about timing, but wow...
UFC on FOX was a huge success, so it's hard to say that the event could have been better—but can you imagine if Dan Henderson vs. Shogun would've put the war they had on national television, in front of more than eight million fans?!

Velasquez-dos Santos lasted only about one minute and ended in a dramatic knockout, but the Henderson-Shogun war is one that will go down in the history books as being one of the greatest fights of all time.
If hindsight was reality and we could have chosen which fight would be the main event on FOX after the fact, it would have been great to see Hendo-Shogun on FOX.
Two "fight of the night" winners! That about says it all about this amazing fight card.

It didn't get the kind of recognition that it probably should have, but UFC 139: Shogun vs. Henderson blew away even the loftiest of expectations that it would be an entertaining event.

It seems like I find myself saying this after so many events lately, but truly, this could end up being the event of the year. Every fight on the card was entertaining, from the main event of Henderson and Shogun all the way down the preliminary bouts featuring Tom Lawler and Chris Weidman.

The UFC hit a home run on this event, and although it may not do the best pay-per-view numbers that some of the other fight cards have done in recent months, UFC 139 was as good as it gets.