BCS Rankings: LSU-Alabama Would Be Worst National Championship Ever
November 20, 2011
Kevin C. Cox/Getty Images
With all the BCS madness this past weekend (Clemson, Oklahoma, Oregon and Oklahoma State all went down this past week), it looks as if the SEC's domination of the BCS will continue as LSU and Alabama will be No. 1 and No. 2 in the standings and face off in the National Championship game. 
Fans everywhere outside of SEC territory should be rolling their eyes and praying that either LSU or Alabama loses a game because these two teams would present fans everywhere with a snooze fest. 
Many would think that this rematch between the two dominant teams would result in more scoring since both teams understand the defenses better. Well, not so much. While the defense may be more recognizable, the same goes for the offense. 
Defenses tend to be more flexible when it comes to changing packages and both offenses run through one player. Alabama has Trent Richardson; LSU uses Jordan Jefferson. With this, neither team is going to change their offense too much or else they will be trying to experiment in the biggest game of their careers. 
The defense can change and adapt. The defenses can mix up their base packages and both teams rely on the sheer athleticism to win individual matchup battles on the edge and then stuff the box. As we all saw in the first meeting, defense ruled and special teams were optional. 
Second, neither team brings much spark to their game. Both teams follow Al Davis' maxim of "Just win, baby." They may blow out opponents but they win just as many close, gritty games. Neither team wins the big games with a high-powered offense like Oklahoma State or a Heisman leader such as Andrew Luck.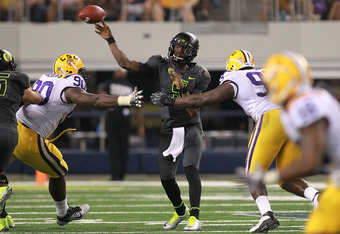 Ronald Martinez/Getty Images
Third, we already saw what the most important unit in this matchup is: special teams. This unit's lack of talent was revealed in the 15 points both kickers pulled wide right or left of the uprights and greatly changed the strategies of both coaches. Furthermore, no one scored a touchdown with these poor performances, so imagine what happens if they are actually good. 
While this may be good for building a program and dynasty, it does not do much for fans waiting for expectations to actually match the game's outcome.
The polls will have LSU-Alabama set up for yet another meeting, this time for a national championship. But please, someone else lose so all fans can be spared from yet another boring, grimy game where kickers are going to determine the outcome.