LSU vs. Ole Miss: Tigers Trounce Rebels to Maintain BCS Perfection
November 20, 2011
Joe Murphy/Getty Images
The question surrounding No. 1 LSU heading into Saturday's game at Ole Miss was not whether or not the Tigers would win to stay on track for the SEC title game and the BCS National Championship, but rather how wide the final margin of victory would be.
The answer? About as wide as the Grand Canyon, or, to be more precise, 52-3.
Les Miles' squad dominated Ole Miss, helmed by lame duck coach Houston Nutt, from start to finish, scoring the first 35 points of the game, with two scores, a Zack Stoudt pick-six punched in by Ron Brooks and a Barry Brunetti fumble returned for a touchdown by linebacker Kevin Minter.
The Rebels, 2-8 overall and winless in conference play, never had so much as a prayer in this one, as they managed just 195 total yards against a Bayou Bengals defense loaded with NFL talent. Meanwhile, LSU had little difficulty running up the score with their stable of running backs, with the Tigers running for 353 yards and four touchdowns on 50 (count 'em) carries.
Quarterbacks Jordan Jefferson and Jarrett Lee combined for just eight throws, completing all of them for 105 yards and a touchdown.
Now, LSU turns its attention to a pivotal, season-ending clash with No. 6 Arkansas in Baton Rouge on Friday. The Razorbacks moved to 6-1 in conference play, beating a Mississippi State squad, 44-17. Whichever team wins the upcoming Battle for the Golden Boot will likely clinch the SEC West title, a spot in the conference championship game and, most importantly, a clear path to the coveted crystal football in New Orleans.
And if you think this game is going to be a walkover for LSU, which topped the same Alabama team that trounced the Hogs in September, think again. Arkansas has come out on top in three of the last four meetings, twice as a big-time underdog. The Hogs nearly annihilated the top-ranked Tigers' title hopes in 2007 with a thrilling 50-48 overtime victory in Baton Rouge and, last year, knocked them out for good with a surprising 31-23 result in Little Rock.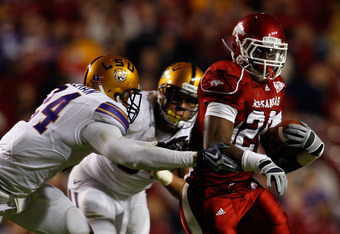 Chris Graythen/Getty Images
Assuming Arkansas moves up a spot or two in the polls, this will mark the first time that these two Southern rivals have met with both teams carrying top-five rankings.
That fact alone shouldn't deter the Tigers from emerging victorious, at least not as much as the play of Arkansas quarterback Tyler Wilson. The junior from Greenwood, Arkansas has emerged as arguably the best quarterback in the SEC and, with the help of a talented receiving corps, will give LSU's star-studded defense, particularly cornerbacks Tyrann Mathieu and Morris Claiborne, their toughest test since the opener against Oregon.
LSU had better bring its A-game against Arkansas. Otherwise, the Hogs won't hesitate to deliver a devastating blow to the Tigers' national title hopes if they're caught crystal-eyed while looking ahead to the national title game.