BCS Rankings: Think We Got Chaos Now? What Happens If LSU Loses?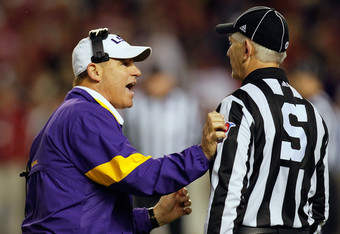 Kevin C. Cox/Getty Images
Right when it appeared the BCS picture was clearing up, the unthinkable happened. Last night Iowa State pulled off an epic upset over Oklahoma State, and now everything is jumbled once again.
No matter how many experts predict what will happen if Oklahoma, Oregon and Alabama win, no one really knows. The voters make up two thirds of the BCS rankings now, and it simply comes down to what they want.
However, there is one more scenario that could lead to an epic BCS meltdown, and that is if the LSU Tigers lose to either Arkansas in the season finale or the Georgia Bulldogs in the SEC championship.
Both teams present a unique challenge for the Tigers. Arkansas will present a high power passing offense that LSU has not yet seen this year. The Tigers will be favored in this game, but if the Razorbacks score early, will LSU's offense be able to match points.
The Bulldogs, on the other hand, have the No. 4 ranked defense in the nation. The Tigers have only faced two defenses with a pulse this season in Mississippi State and Alabama. Against those teams they combined for 28 points or 14 points per game. The Bulldog offense is hit and miss this season, but they have some of the top play makers in the nation.
Anyone who is unbiased would agree that the Tigers are the favorites in those game, but they could lose either of those two games.
If LSU loses to Arkansas, that will leave three teams with a 7-1 conference record. Under the SEC rules, if the two top teams are within five positions of each other, which they will be, the top two teams go to their head-to-head record to decide who will go to the SEC championship.
Should a one loss Alabama team jump an one loss LSU team?
In this scenario, for Arkansas to go to the championship game they will need to jump LSU. For Alabama to go, they will need for LSU to drop below them and Arkansas. For LSU to go to the championship, they will need for Alabama to stay above Arkansas.
It appears that Arkansas would need to blow LSU out, and I am still not sure if that would be enough for the Tigers to be left out of the SEC. Their OOC schedule is so strong it is almost impossible. Consider they will have beaten two of the top four teams in the nation.
In other words, outside of a massacre, LSU is likely in the SEC championship.
Now what happens if they lose to Georgia? First let us look from the perspective of the Tigers having one loss already. This would leave Alabama, Arkansas, Oregon and Oklahoma all with one loss and an argument for the championship game. The problem for Alabama and Arkansas is that they will not have a single high quality win with a two loss Tigers team dropping.
Oregon would almost assuredly get in with the road win at Stanford and 11 straight wins. That would leave Oklahoma and Alabama to battle for the final spot. How will the voters decide? It is hard to say. The Sooners would have the worse loss but the better wins as well. Plus the Sooners would have a conference championship. My gut feeling is that they would take a one-loss SEC team but there is no way of knowing.
Then there is the final scenario. What if LSU beats Arkansas but then falls to Georgia in the SEC championship? Would the voters put a one loss Alabama team in over a one loss LSU team that they were defeated by? With the strength of schedule that LSU has this is unlikely.
How could you punish LSU for playing the extra game and reward Alabama for not making the championship game? The answer is likely that the voters would not and LSU/Oklahoma would face Oregon in the championship game.
Needless to say, the championship week is going to have a bigger impact than people realize. In 2007 we had a similar situation when Georgia went into championship week ranked No.4 in the BCS and LSU ranked No. 7.
LSU went on to face a mediocre Tennessee team while the Bulldogs missed out on the tie breaker. What happened? The Tigers leap frogged Georgia to face Oklahoma in the championship game. Championship games matter.
Either way, there is going to be a great debate ahead, no matter who gets into the championship game.
This article is
What is the duplicate article?
Why is this article offensive?
Where is this article plagiarized from?
Why is this article poorly edited?

LSU Football: Like this team?