BYU Football: Is Football Independence Experiment Nearly Over?
November 19, 2011
Sarah Glenn/Getty Images
Independence for BYU football, in theory, makes sense.
However, amongst the progressively-thinning crowds at LaVell Edwards Stadium, and in Cougar Nation in general, it kinda sucks.
Yeah, it's cool to be free of The Mtn. limitations and to be able to watch the game each week on TV, but what good is that benefit when there's nothing for the team to play for down the stretch?
The 2011 Holy War is over (was more of a squabble than a war). There's no conference title to pursue. Heck, the team has already accepted a bowl bid with two games remaining.
What started off with a bang on Sept. 3 in Mississippi has gradually diminished to a whimper as the team staggers toward the finish line in Hawaii.
Check that. A finish line suggests BYU is racing other schools in pursuit of a prize. As we are all painfully aware, that's not the case.
To a fan—and let's face it, the fans are what keep the program going—BYU joining a conference is more thrilling than the prospect of another season of attempting to milk excitement from the barren cow of independence.
It's pretty sad that the anticipation of BYU football's conference affiliation possibilities has fans more excited than what's actually taking place on the field.
Then again, there is the postseason. The postseason is exciting, right?
Not surprisingly, BYU has accepted an invitation to compete in the Bell Helicopter Armed Forces Bowl at Gerald J. Ford Stadium in Dallas on Dec. 30. The opponent has yet to be determined, but we do know it will be a team from Conference USA.
Yes, Conference USA.
So much for excitement.
Not that BYU has really had thrilling bowl matchups in the recent past. In fact, the school had a string of bowl games against middle-of-the-pack competition from the Pac-10 in the Maaco Bowl Las Vegas from 2005 to 2009.
And two of those were the "benefits" of having won the Mountain West Conference title.
And who could forget the tilt with middle-of-the-pack UTEP from Conference USA in last year's New Mexico Bowl?
The 2007 Vegas Bowl against UCLA turned out to be exciting, but none of the others did.
For awhile, BYU remaining an independent seemed to make sense.
It no longer does. It's time to join a conference.
Which conference? Any will do. Even Conference USA would beat independence from a fan's point of view.
BYU would have been an ideal addition to the Pac-12, but that boat has sailed and the liberal-minded suits of that conference made it clear that payback for supporting California's controversial Proposition 8 is a female dog.
BYU as an institution didn't formally back the anti-same-sex marriage proposition. However, it appears that in the minds of the liberal Pac-12 decision makers, the school is guilty by its association with The Church of Jesus Christ of Latter-day Saints, which owns the school and was one of the initiative's biggest supporters.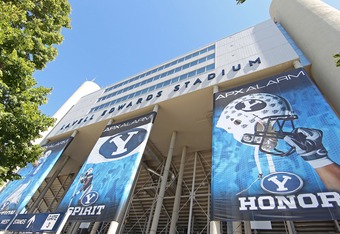 George Frey/Getty Images
The Big 12 makes sense, but those rumors have tapered off in light of the hot-and-heavy pursuit by the Big East. Could there be a last-minute push by the Big 12 to lure BYU to its ranks?
Who knows what's going to happen?
One thing is for sure: BYU fans have little to cheer about as the rest of the country gears up for rivalry weeks and conference championships, a time-honored tradition that disappeared the second the school announced its independence.
Amidst their memories of Holy Wars and conference title chases gone by, BYU fans are left scratching their heads over the anticlimactic atmosphere independence has created for mid-to-late-November, a time that is usually wrought with football excitement.
BYU's football independence was an interesting undertaking—a novelty, even—but the experiment is nearly over. It's time to get back to business in 2012 as a member of a conference.
Follow Lou at Twitter.com/SenorWrite