Los Angeles Kings: What To Do with Willie Mitchell and Dustin Penner
November 19, 2011
Willie Mitchell and Dustin Penner are two significant pieces of the Los Angeles Kings roster, although Penner is significant for all the wrong reasons.
These two players will see their contracts expire at the end of the season, at which point Kings GM Dean Lombardi will have to make a decision regarding their future with the organization.
The 34-year-old Mitchell is in the final year of his deal that will pay him $3.5 million.
The 29-year-old Penner is in the final year of his contract that will see him earn a cool $4.25 million.
Mitchell, a solid defensive defenseman for the Kings, brings a lot to the table that doesn't always show up on the score card.
He's a leader on a team that is still young. What he brings to the locker room would be hard to replace next year.
Mitchell's leadership skills would come in handy for future playoff runs, so it would be in the best interest of the Kings to hold on to him for at least a few more years. He's exactly the kind of defenseman that excels in the playoffs.
One thing to consider is this: would his body be able to handle the rigors of the NHL for much longer? Mitchell has had a tough time staying healthy over the years, but when he does play, he is an asset on the Kings' blue line.
He's a big body and has bailed out goalie Jonathan Quick on a number of occasions.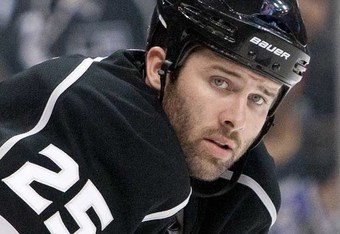 Another issue is the LA's crowded defense corps. LA will certainly have to make room for Slava Voynov, who has earned a spot on the team as a regular next year although he should probably already be a regular.
Not to mention the Kings are suddenly a little short on cap space. Mitchell would have to take a cut from $3.5 million next year, but considering his age, there's little doubt he wouldn't.
Penner has been awful since coming over to Los Angeles from the Edmonton Oilers last season. Brought in to fill the void of a big power forward that can score, he has done everything but that.
He's hurt now, but he hasn't scored a goal this season. Unless he turns everything around, scoring on a regular basis while working his hardest on every shift, he will be looking for work elsewhere next season.
Best case scenario, Lombardi finds another team willing to take a gamble on him this year. Hey, Columbus is desperate, right?