Week 11 Fantasy Rankings: DeMarco Murray and More Shocking Elite Performers
November 19, 2011
Jeff Gross/Getty Images
Players in the NFL like DeMarco Murray deserve your attention and you know it—so why is it so hard to click-and-drag him up to your starting lineup over someone like Chris Johnson?
Whether you choose to believe it or not, there's fantasy gold beyond the top of the ESPN's weekly rankings. Murray, Michael Bush and Damian Williams have all seen the field more because of injuries above them on the depth chart.
Here are three players who will rack up tons of points this weekend.
DeMarco Murray
If you've kept an eye on the Dallas Cowboys lately, you've been able to marvel at this guy's off-the-charts performances.
He's averaged over six yards per carry in the last four games, and he's gone over the century mark in three of those games. If the Cowboys give Murray the ball, they're winning games.
Dallas will get an early lead and unleash Murray on the Washington Redskins.
Michael Bush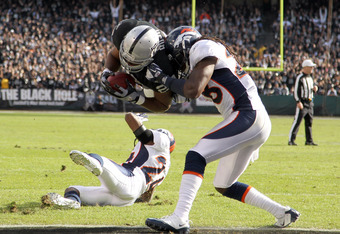 Ezra Shaw/Getty Images
Michael Bush is to Darren McFadden as Michael Turner was to LaDainian Tomlinson in San Diego a few years back. Bush is the most talented backup running back in the league.
With McFadden out for another game, the backup will get another look at the field against the Vikings. The Raiders will build an early lead against the Vikings and Bush will do the dirty work in the second half.
Damian Williams
Grant Halverson/Getty Images
The injury of Kenny Britt has been the birth of Damian Williams. He's the prototypical receiver because of his tall, skinny build.
The thing that makes Williams great is his ability to go up for the ball. The best receivers are the ones who are talented, but are also hard-workers. He's scored a touchdown in three of the last five games.
Start Williams with comfort for the rest of the season.