Oklahoma State Family Stays Strong After Dark Day and Loss to Iowa State
November 19, 2011
Erich Schlegel/Getty Images
Oklahoma State lost to Iowa State on Friday night 37-31. The devastating loss most likely ended the Cowboys shot at it's first national championship and maybe even the Heisman hopes of QB Brandon Weeden.
As much as they lost on the field, it seems irrelevant compared to the loss off the field.
Ten years after the tragic plane crash that killed 10 members of the Oklahoma State family in Colorado, the Orange and Black are trying to come to grasps with yet another tragedy.
Oklahoma State fans, students, athletes and staff were given the news on Friday that they lost four more members of their family in a plane crash in Arkansas. Among the four lost were the Oklahoma State women's basketball head coach Kurt Budke and assistant coach Miranda Serna.
The plane's pilot, former state Sen. Olin Branstetter, and his wife Paula were also lost in the crash.
The unfortunate news, along with a short week of practice leading up to the Friday night contest in Ames, Iowa likely had plenty to do with the outcome of the Cowboys loss to Iowa State.
I'm by no means an Oklahoma State fan, but in Oklahoma there is a certain pride we all have for all that is Oklahoman. From the Dust Bowl to the Oklahoma City Bombing to the plane crash in Colorado, Oklahomans have always been know for perseverance.
Oklahomans pull together and take care of each-other in times of need. This time will be no different.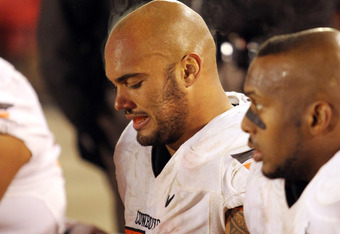 Reese Strickland/Getty Images
Every Sooner's fan has friends and family who wear the orange and black. And come Bedlam time, it isn't pretty. But, in God's country we are all family. Sooners are praying for Cowboys and Cowboys are leaning on Sooners.
It wasn't just the BCS ramifications that had Oklahoma fans pulling for the Cowboys to come through on the football field on Friday night. Perhaps the only other people outside of Stillwater that were disappointed in the outcome were those watching in Norman.
Twitter and Facebook have been flooded with supportive and comforting words for the Oklahoma State family. The following passage has been posted on the Facebook status' of many of my OSU friends and family. It's origin and author are unknown, but I doubt recognition matters to them.
Orange is that day that you moved into the dorms as a freshman w/ lines for the elevator. It's meeting those friends that would stick with you for life. It's remembering those dorm buildings, even though they may not be there anymore.

It's wearing orange the Friday before the first game & every Friday after that. It's KURT BUDKE, MIRANDA SERNA, Barry Sanders, John Smith, Garth Brooks, Mike Gundy, ...Eddie Sutton… it's you and me.
Orange is putting your arm around the shoulder of the stranger next to you to sing the Alma Mater. It's making the switch to saying "Power" instead of "Orange." It's remembering Lewis Field & admiring Boone Pickens Stadium. It's knowing that it's left hand up to make an "S."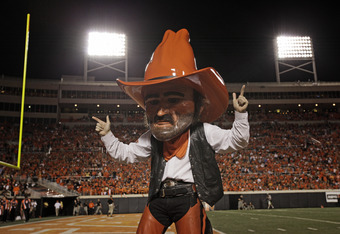 Brett Deering/Getty Images
Orange is when it's good for a Cowboy First Down and Ten. Orange is Pistols Firing – Touchdown Oklahoma State. It's "...O-K-L-A-H-O-M-A Oklahoma STATE" no matter where you are when the state song is played.
It's the big smile on your face when you walk past the orange fountain. It's going back to the place you worked in college & remembering it as the best job you ever had even though it paid the least. It's a cabinet full of Joe's cups.
Orange is knowing that it's time to go home when you hear "New York, New York" or "Shoulda Been a Cowboy."
Orange is the one you tried to let down easy & the one you'll never forget. Orange is wanting to get out of Stillwater for four years & spending the rest of your life wanting to go back.
Proud and Immortal,
Bright shines your name.
Oklahoma State,
We herald your fame.
Ever you'll find us,
Loyal and true.
To our Alma Mater
O – S – U!!!!
Make no mistake about it, Oklahoma fans want nothing more than to beat the Cowboys in Stillwater in two weeks. But, for at least one night, there may have been a few Sooner fans wearing orange Friday night.