Minnesota-Duluth begins their 2010 title defense.
November 19, 2011
After 11 weeks of football, the 2011 Division II Playoffs get underway on Saturday, November 19 on campus sites across the nation.
The 2011 season has been a year of surprises, upsets and shockers, and the playoffs promise to continue that trend. For the first time in recent memory, there is no clear-cut favorite in the field of 24, nor does the field contain some of the perennial powers we're used to seeing in November.
Both Grand Valley State and Valdosta have missed the playoffs—something that hasn't happened since the 1999 season. Valdosta State had made nine of the last 11 playoff fields, while Grand Valley State saw its Division II-record 10 year streak come to an end in 2011.
In each of the four "Super Regions," six teams are selected, with the top two seed receiving first-round byes. The team with the higher seed will host the playoff games until the national semifinal round, when the selection committee will meet again to reseed the teams.
In each region, the winner of the (6) vs. (3) game will meet the region's top seed in round two, while the winner of the (4) vs. (5) contest will meet the second seed in the region.
This season, the semifinal round will be between the champions of Super Regions Two and Four and Super Regions One and Three.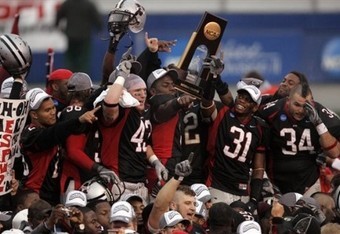 Perennial power houses Valdosta State (pictured) and Grand Valley State were not selected to the 2011 playoff field of 24 teams.
The NCAA Division II Football National Championship is set for December 17 at the traditional site of Braly Municipal Stadium in Florence, Alabama.
Click here for the NCAA's interactive Division II Football Championship bracket.
Round One:
Super Region One
(6) Concord (7-3) at (3) Kutztown (10-1)
(5) California (9-2) at (4) Elizabeth City (8-3)
(2) New Haven (10-1) bye
(1) Winston-Salem (11-0) bye
Super Region Two
(6) Albany State (8-3) at (3) North Greenville (9-2)
(5) North Alabama (8-2) at (4) West Alabama (8-3)
(2) Mars Hill (8-2)
(1) Delta State (9-2)
Super Region Three
(6) Wayne State (8-3) at (3) St. Cloud State (9-2)
(5) Saginaw Valley State (7-3) at (4) Minnesota-Duluth (9-2)
(2) Nebraska-Kearney (10-1) bye
(1) Colorado State-Pueblo (11-0) bye
Super Region Four
(6) Abilene Christian (8-2) at (3) Washburn (9-2)
(5) Northwest Missouri State (9-2) at (4) Missouri Western (9-2)
(2) Pittsburg State (10-1)
(1) Midwestern State (11-0)
Like the new article format? Send us feedback!