BCS Rankings: Alabama, Oregon Benefit Most from Oklahoma State Loss
November 19, 2011
Brett Deering/Getty Images
 Did that really just happen? Did we just witness Iowa State knocking off an undefeated Oklahoma State team in a game filled with raw emotion?
Some may have said coming into Friday night's meeting that the Cowboys would not have had their heads straight after receiving the tragic news that OK State's women's basketball coach and an assistant coach were in a fatal plane crash.
Others may have flocked to the thought that Oklahoma State would use those feelings to stir up more fan and BCS conviction and really prove their No. 2 ranking against the Cyclones on the football field.
Until the end of the regular season meeting against the Oklahoma Sooners, this team was supposedly cruising towards a BCS championship game berth and, possibly, a Heisman Trophy. Now, they will be lucky to be BCS bowl eligible.
What we just witnessed was what makes college football such a beautiful form of parity and contention.
At any moment, under any night lights, a team with nothing to lose can step up and sabotage a team's hopes and chances which have proven righteous throughout the season.
Iowa State was that team. Oklahoma State has fallen.
There are still BCS repercussions to take into consideration after this serious ranking shakeup, and there are some teams whose players' smiles are shining brighter than others.
No. 3 Alabama Crimson Tide and Trent Richardson's Heisman hopes
The Alabama Crimson Tide football team would have undoubtedly been out of the race had Oklahoma State ended the season undefeated.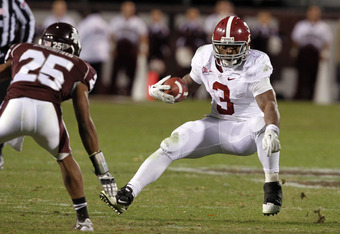 Butch Dill/Getty Images
After falling to LSU—like only 40 percent of the world had predicted—losing at home had ultimately hurt the Tide more than an LSU away loss would have hurt the Tigers. The Cowboys were geared to rightfully swoop in and snatch away a position in the BCS championship game. But, that is over and done with.
Alabama will most definitely be revealed as the No.2 team in the nation if they are able to steamroll Georgia Southern in Saturday's afternoon matchup. Alabama may just get the rematch they were gunning for after failing to score a single touchdown against the Tigers a short while ago.
It is something that the once proclaimed "Game of the Century" deserves; the fans were given a short synopsis of a defensive battleground with offensive casualties. Not good enough.
On the other hand, this loss gives some hope to running back Trent Richardson recapturing some sort of lead in the Heisman polls. Andrew Luck's performance against the Oregon Ducks immediately drew criticism, leaving the polls wide open to lights out players like Cowboys quarterback Brandon Weeden to come in for the taking.
Richardson being on the second-best team in the country is the best positioning possible. Heisman voters usually go for the best player on the best team, and since LSU cornerback Tyrann Mathieu is no longer in serious contention, it is only right that Richardson starts priming his acceptance speech and a three-piece suit putting Mark Ingram's acceptance to shame.
No. 4 Oregon Ducks and LaMichael James' Heisman hopes
Here is another team that fell at the cleats of LSU's powerful defense and stable offense. LaMichael James was halted in his strides earlier against the Tigers, but just may get the opportunity to face them once again in the Ducks' second straight BCS championship berth. It would be interesting to see with all of Oregon's pieces stacked in place.
A lot of the mistakes made in Oregon's season opener against LSU were made by replacements due to injury. The high-powered, speedy Ducks are taking steps to create another stir in the BCS rankings after their latest beating of the NCAA's golden child Andrew Luck and the Stanford Cardinal.
If Oregon can push past the USC Trojans Saturday, only time and the performances of the BCS teams ranked in front of them will tell their chances of being able to compete for that glass football. Second chances do not come easy, but I am self-assured the Ducks would not make light of this one.
LaMichael James, who was beat out for the Heisman last year by former Auburn QB Cam Newton, would have a second chance as well. He has been the centerpiece of Oregon's successes and the primary reason Oregon remains in contention for the BCS championship..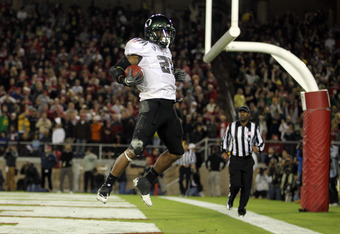 Ezra Shaw/Getty Images
A lot of mistakes have been made on the part of those ranked ahead of Oregon and and Chip Kelly's sometimes unorthodox offense. If James plays at a high level against a USC defense that exposed Stanford's offensive line, then he could be running his way straight into intimate Heisman conversations.
Oklahoma State was faced with a challenge Friday night, and even if the Cowboys had walked away victorious, the questions would have hung from what was drawn as a high ceiling beforehand. Weeden's three picks and sometimes ridiculous accuracy put a rain cloud over his Heisman chances.
Collectively, however, the Oklahoma State Cowboys suffered a blow that will be virtually impossible to recover from.
Anything is possible. NCAA has become the amateur league where amazing happens. Sorry, NBA—someone has to take your place.
Follow Klaibourne on Twitter @nyhlaablack