NFL Week 11 Fantasy Football Rankings: Anquan Boldin and WRs to Watch for
November 19, 2011
Rob Carr/Getty Images
Wide receiver—a dime-a-dozen commodity in fantasy football, but one that can quietly push you to the top of your league if you choose wisely and keep your NFL ear to the ground.
Starting any (or all) of these three pass-catchers will do wonders to boost you past your buddies and into key bragging rights territory.
Anquan Boldin, Baltimore Ravens
Say what you want about Joe Flacco as a quarterback or the Ravens offense as a reliable offense, but there's no denying that Anquan Boldin is still a top-tier fantasy option. He gets a ton of love from Flacco, a notion born from the fact that he's been the seventh-most targeted receiver in the NFL this season.
Boldin will have more room to roam on Sunday against the Bengals now that star corner Leon Hall is out for the season with a torn Achilles. Surely, Flacco will have to throw early and often to soften up a Cincinnati defense that ranks second in the NFL against the run, and who better to throw to than Boldin?
Dwayne Bowe, Kansas City Chiefs
I know, I know, Matt Cassel won't play on Monday night after injuring his hand against the Broncos, and for all we know, Tyler Palko, who's had the "privilege" of bouncing between the NFL, the CFL and the UFL in the span of a single season in his career, probably stinks.
But, realistically, the Chiefs are going to give up points to Patriots early and often and, as such, will call on Palko to throw the ball with reckless abandon just to keep KC in the game. Bowe is far and away the Chiefs' best receiver and, with New England's secondary being as bad as it is, he should have no trouble making himself available to Palko whenever and wherever he's needed.
Denarius Moore, Oakland Raiders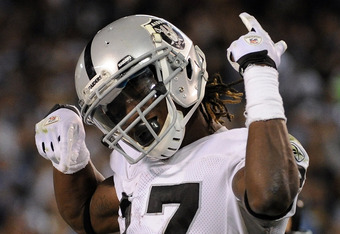 Harry How/Getty Images
Is it just me or did Carson Palmer and Denarius Moore show off some intriguing on-field chemistry last week against the Chargers? It certainly helps that Palmer, rusty and aging as he may be, still has a cannon for an arm and that Moore has plenty of blinding speed to boot.
While probability and reality would suggest that Moore isn't likely to duplicate his 123-yard, two-touchdown performance in back-to-back games, he will have the benefit of operating against the Vikings' vulnerable pass defense, which just so happens to be the second-friendliest in the league for opposing wide receivers.