Friday Night Smackdown, Rapid Response: Mark Henry Has Got to Go
November 19, 2011
The moment Smackdown began, Mark Henry was not a happy camper, brutalizing Daniel Bryan backstage and then dragging him out in front of the WWE fans. Bryan gave a very empty attempt to try to fight back, and Mark Henry then dismantled him some more. Then the monotone "World's Strongest Man" took the mic and gave an ill-faded attempt to give a promo for his match this weekend against The Big Show.
I know this is nothing new, but he is boring, which is why he was a mid-carder (a really big mid-carder) years ago and it wasn't until recently when his "popularity peaked." He did however, convey a clear message that "One of us is getting carried out of the arena, and it wasn't going to be him," making the match a little more intriguing, but the very fact that he has the title and shouldn't will give me motivation in rooting for The Big Show in a large way.
Sin Cara then came out and put on an impressive acrobatic performance, but he could not get the job done against Dolph Ziggler. It was entertaining but nothing too out of the ordinary, that was until after the match when Dolph Ziggler had a few choice words for Sin Cara, in which he took offense to and another brawl ensued. Jack Swagger naturally came out to Dolph's aide and put a beatdown on Sin Cara, but it wasn't long until Mason Ryan appeared to help Sin Cara. 
Let me say that I really like this Mason Ryan guy. He showed his raw power tonight in an impromptu match set up by Smackdown GM Theodore Long against Jack Swagger. Ryan handled Swagger by throwing him up in the air at one point like a rag doll, finishing the match off with a full nelson and a slam to boot.
We then cut backstage where we saw Zach Ryder looking to get a petition signed for his shot at the U.S. Championship against Dolph Ziggler. The Big Show interrupted and got the news that Henry made a statement on Daniel Bryan, and then Big Show went on a manhunt for Henry.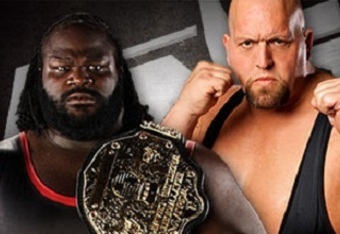 I don't want to even mention the terrible, shameless plug for WWE '12 (which I am excited for)  with Theodore Long, so I won't. Just trust me.
Christian then made his presence on crutches and a neck brace and started complaining to the WWE universe about a lack of respect, which is  "par for the course." And naturally, Michael Cole agreed with him, making his character even more annoying, begging the question when is he going to stop with the wasted hot air that comes out of his mouth? Or better yet, when will JR make his triumphant return?
I didn't think that anyone could give a worse promo in my life than Mark Henry until I saw Derek Bateman. Granted, he only talked for about two minutes, but I still needed to go splash some cold water in my face to wake myself up. Bateman went head to head with Ted DiBiase and he did not have a prayer against DiBiase in a decisive victory. 
The Big Show came out to the ring and made it known to the fans that he was not going to let the WWE fans down and gave his rebuttal that he was not the one that was going to be carried out of the arena this time, flashing back to Money in the Bank four months ago where he was taken out on a stretcher due to a broken ankle, saying it has been his inspiration. Show, we are all behind you. I am tired of seeing Mark Henry's mug. I never have liked him and never will. The Show excited the crowd with a few shouts to the fans off the mic, he threw some fake punches on TV and was off on his way to Survivor Series.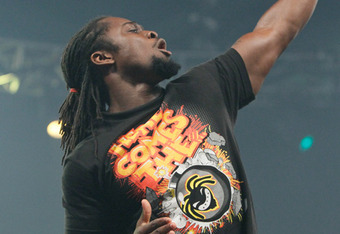 Kofi Kingston then graced us with his presence and his wonderful theme music and his charismatic taunts and gestures, clearly putting him in my top three favorite people on Smackdown. He fought a tough battle against Hunico. Hunico was in control much of the match, but the enthusiastic Kingston pushed aside adversity, swinging and missing on the Trouble in Paradise but connecting with possibly the most flashy WWE signature move with the S.O.S. 
Following the match, the Divas came out (sorry to those of you that enjoy the Divas matches), and while they are very good-looking, they are also irrelevant and nothing more than eye candy to this WWE fan. That being said, this time-filler, as well as a recap of The Rock and John Cena happenings, provided me with time to watch one of the best How I Met You Mother episodes out there ("The Third Wheel," very funny, check it out).
The time for the finale came, which was a tag team match that previewed the 10-man elimination tag match with Randy Orton and Sheamus vs. Wade Barrett and Cody Rhodes. Christian of course came out and made his presence known by whacking Sheamus with a crutch and, much to my chagrin, ending the match in a DQ. Of course, it didn't  end there there. Shamus took the crutch and broke it into pieces over Cody Rhodes' back (reason No. 457 the WWE still amazes me). Randy Orton finished the feud off with an RKO, the two shared some high fives and fist pumps and my television and I parted ways for the night from the SyFy channel.
Tonight did leave me ready and excited for Survivor series. There are a lot of unanswered questions that remain, and I am bitter that the battles for the major titles matches will be overshadowed by the Rock. I love the Rock, he has been my hero since age eight, but right now he is throwing a wrench into the momentum of CM Punk and Alberto Del Rio, or even Henry and The Big Show.  But I am so ready for every single one of the matches this weekend (except the Divas match, but I have already made my disdain clear.)
I can't wait to see where the two brands' storylines go. Bring on Survivor Series!!