UConn Basketball: 5 Huskies Not Named Jeremy Lamb Key to Repeat
Harry How/Getty Images
Jeremy Lamb is the No. 1 key to UConn's quest to win the 2012 NCAA tournament. That's no secret. ESPN and other sports media outlets discussed his importance to the Huskies all offseason.
However, a team can't win a championship by relying solely on one player.
Fortunately for the 2011 national champions, the Huskies have several talented players who could help the team repeat.
Excluding Lamb, who are the Huskies who will be key to a repeat?
DeAndre Daniels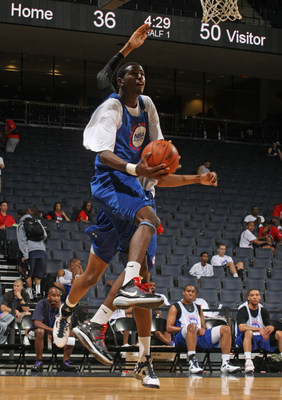 Photo: Nation of Blue
ESPN's scouting report on DeAndre Daniels solely talked about his offense, so we shouldn't be surprised by his 9.3 ppg through three games.
However, his defense has been impressive thus far. He swatted three shots in each of his first two games, and he is averaging two blocks per game.
If Daniels can be an effective offensive complement to Jeremy Lamb on the wing while playing decent defense, UConn will have an even better chance of repeating as national champions.
Alex Oriakhi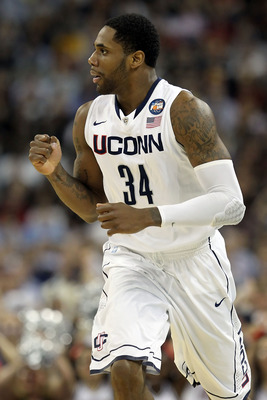 Ronald Martinez/Getty Images
On paper, UConn has one of the most formidable frontcourts in college basketball.
Alex Oriakhi is the foundation of that frontcourt—he's the veteran who knows the necessary effort to capture a championship.
For last season's tournament winner, Oriakhi averaged 9.6 points and 8.7 rebounds per game. The Huskies will need him to replicate the effort he exerted—they cannot afford for him to slack off just because Andre Drummond is looming on the other side of the post.
Andre Drummond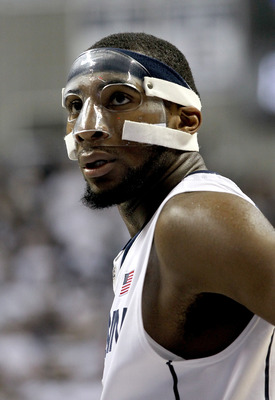 Jim Rogash/Getty Images
Andre Drummond has his work cut out for him on offense, but he's been the defensive beast scouts said he'd be. His 7.7 rebounds and 2.7 blocks in 19 minutes per game convey his defensive prowess.
He'll need to be more effective on offense—40 percent from the floor and 23.1 percent from the charity stripe won't cut it—but as long as he is dominant on defense, UConn could repeat.
Tyler Olander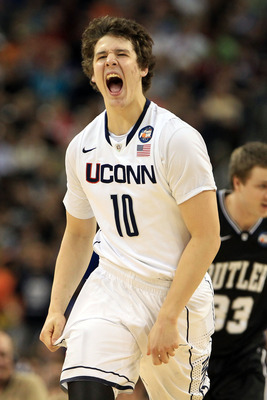 Streeter Lecka/Getty Images
Tyler Olander's inclusion on this list might come as a surprise to some, but he could be the factor that elevates UConn's frontcourt to No. 1 status.
Olander is averaging 8.3 points, 8.3 rebounds and two blocks in 30.7 minutes per game—way above his averages from 2010-11.
If UConn's frontcourt can be a three-headed monster—Alex Oriakhi, Andre Drummond and Olander—UConn will have a distinct advantage against almost any opponent.
The Huskies need their sophomore forward to maintain his current level of play.
Shabazz Napier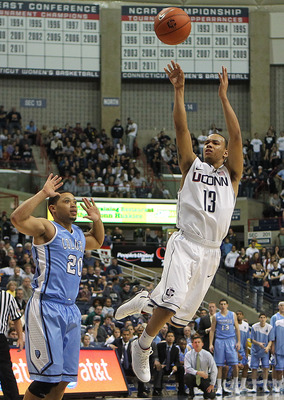 Jim Rogash/Getty Images
Shabazz Napier averaged a respectable 1.8 turnovers per game as a freshman, but he wasn't the primary ballhandler. Through three games, he has turned the ball over eight times.
Wagner's defense shouldn't induce six turnovers from a UConn point guard, but it did for Napier.
His decision-making will be critical to UConn's championship aspirations.
Last season, Napier was an erratic shooter—37 percent from the floor and 32.6 percent from deep. Three games is a small sample size, but it appears the floor general has improved his shot. He is currently shooting 51.6 percent from the field and 43.8 percent from long range.
If Napier is a legitimate threat to score from anywhere on the floor while also distributing effectively, the Huskies will be even more of a formidable threat.
Keep Reading

UConn Basketball: Like this team?