Tiger Woods and Joe Paterno: Fallen Idols in Perspective
November 18, 2011
Rob Carr/Getty Images
When the mighty tumble, we are flabbergasted, fascinated and fixated.
In recent years the sports world has been the source of some of the most phenomenal falls from grace in memory, and, I'll admit it, the travails of a Pete Rose and a Tonya Harding or of an O.J. Simpson and a Michael Vick keep me interested as much as their sports themselves.
And I'm still waiting for the other shoe to drop for Lance Armstrong and Barry Bonds as well as a few others. After all, it's biblical: "Pride goes before destruction, a haughty spirit before a fall" (Proverbs, 16:18).
Why am I like this? Because I'm human. But I'm hopefully not quite as bad a human as the famous line from Gore Vidal: "It's not enough to succeed; others must fail." No, I don't wish for anyone to be disgraced for my personal amusement or satisfaction. American icons have done that on their own very well over the years, thank you, by their own actions and behavior.
In Joe Paterno's case we can call it inaction. Young boys, it appears, were allegedly molested, sodomized and raped by a man he was close to, Jerry Sandusky. Paterno was admittedly aware of at least one incident that was shocking and heinous, and he fulfilled his legal obligations by passing the buck. Now, we will wait to learn more about how he failed in his moral responsibilities to ensure the crimes were put to an end.
Tiger Woods on the other hand only failed himself and his family. "Thou shalt not commit adultery" is one of the Ten Commandments, and in some parts of the world you still pay for its violation with your life, but not in America.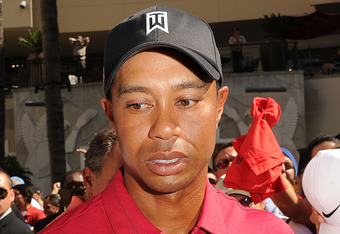 Jason Merritt/Getty Images
Woods was admired for his accomplishments as a golfer and, it's true, his importance to the well being of his sport is perhaps unprecedented. But his actions were personal transgressions and he has paid for them.
Tiger Woods blew up his carefully cultivated and curated image but he owed us, the public, no explanation or apology. It was a private matter between man and wife and yes, initially, I wanted to know everything that happened. However, as the women he was involved with came forward, some with the intention of profiting from their revelations, I became less and less interested.
Woods destroyed his marriage, but one hopes he's still a loving father to his children. Although they may be scarred from their father's conduct, it cannot be seen on the same scale as how the Penn State scandal has affected the kids involved. Their final number will probably never be known by anyone but Jerry Sandusky.
The evidence against Sandusky appears overwhelming, and the complicity by Penn State in apparently turning a blind eye in the face of evil is unconscionable. But what blinds the eye? I'm not one who normally uses religion to make my points but I will this time. There's a prayer I heard over and over growing up, and part of it goes: "May the day come when superstition no longer enslaves the mind nor idolatry blinds the eye."
What happened at Penn State can be explained almost completely by the statue of Joe Paterno outside of Beaver Stadium. When you erect a monument to the dead, that's tribute and remembrance. When you do so for the living, that's worship and foolishness.
By all accounts, Paterno did not think he was a god, but it's obvious others at Penn State basically did.
He was essentially the god of Nittany Lion football, and Beaver Stadium is the temple. A few years ago when administrators, his alleged superiors, wanted him to resign, he refused and they retreated. When the Sandusky crimes were brought to their attention they were blinded to what needed to be done.
Was it because of Paterno, football or money? It doesn't matter. The idol that still stands outside their Lions' den had the power to break their moral compass.
The statue of Joe Paterno needs to be removed, and if there's one of Tiger Woods or Mike Krzyzewski or any other athlete or coach still both alive and active, they need to go, too.