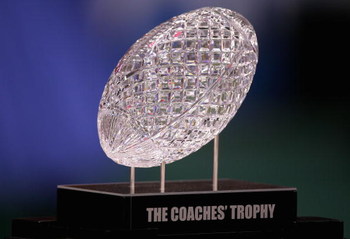 The 2008-09 college football season has seen the emergence of some of the most dynamic players to play the game. It has seen it's share of upsets and blowouts, big plays and blown calls.
The Heisman Trophy went to Sam Bradford, quarterback from Oklahoma, who beat out Colt McCoy and reigning Heisman winner Tim Tebow (pictured).
But now it's bowl season, and everybody has their opinions, so here's my say on the 34 bowl games coming up.
*If there are any comments on my picks or analysis, feel free to drop a line or two.
EagleBank Bowl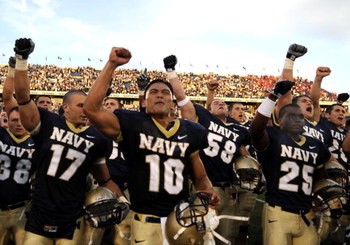 Navy (8-4) vs. Wake Forest (7-5)
This game seems to be a toss-up to me. Navy won the meeting between the two earlier in the season, 24-17. If the Midshipmen can keep Riley Skinner and the Demon Deacons offense under 20 points, they have a great chance to win. Wake Forest is 2-18 when scoring less than 20 points in a game since 2001.
Navy wins 23-20
New Mexico Bowl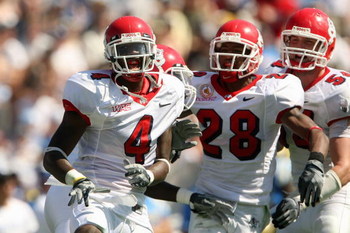 Fresno State (7-5) vs. Colorado State (6-6)
The Bulldogs of Fresno State are coming off an embarrassing 61-10 loss to Boise State in the season finale, and will look to take out some anger on the Rams. The differential between Colorado State's points for and against is too big a margin.
Hey, if the Bulldogs can put up 50, they're almost assured a win. Fresno State is 10-0 since 2001 when scoring 50 or more.
Fresno State wins 34-17
MagicJack.com St. Petersburg Bowl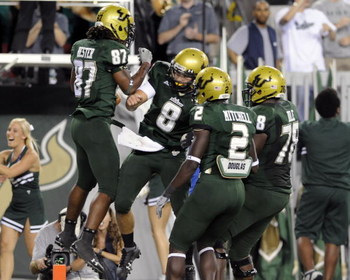 South Florida (7-5) vs. Memphis (6-6)
Well, South Florida definitely has home-field advantage in this one. Its campus isn't located far away from Tropicana Field, the site of the game, and that might play a big factor. The Bulls have lost five of their last seven, and this is Memphis' fifth bowl in six seasons. If the Bulls' tough run defense can shut down Curtis Steele (and his 1,175 rushing yards), I think they have this one locked up.
South Florida wins 28-10
Pioneer Las Vegas Bowl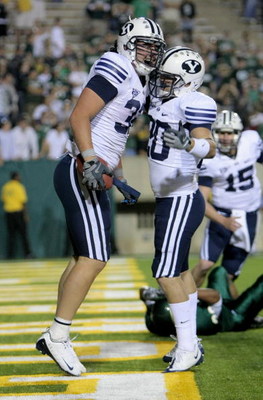 BYU (10-2) vs. Arizona (7-5)
BYU has played in the Las Vegas bowl the last four years and has won it the past four years. This will be a high-octane game between the Cougars and Wildcats, as both teams rank in the top 20 in points. Big boy, Harvey Unga, could have a big day running the ball for BYU with his 239-pound frame.
BYU wins 47-41
R+L Carriers New Orleans Bowl
Troy (8-4) vs. Southern Miss (6-6)
The Southern Miss Golden Eagles played their hearts out to make it to a bowl game. Troy is much bigger inside than Southern Miss, but the Golden Eagles skill players are putting up gaudy numbers. DeAndre Brown leads all freshman receivers in yards this season, and quarterback Austin Davis has a rating of 127.11.
Southern Miss wins 30-26
San Diego County Credit Union Poinsettia Bowl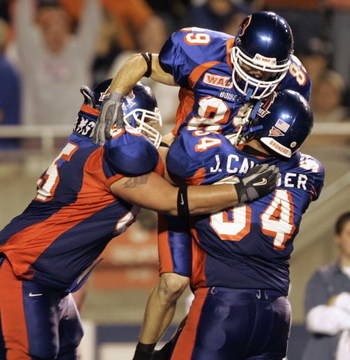 Boise State (12-0) vs. TCU (10-2)
This is going to be one of the best bowl games, featuring Boise State's high-powered offense versus TCU's stingy defense. Both teams have easily scored over 400 points on the season and both have not allowed more than 200.
Ian Johnson has had a bit of a disappointing season, after a great junior year. Boise State has gotten no respect for being undefeated. No matter what their strength of schedule is, if they take out the Horned Frogs, expect some love for the Broncos.
Boise State wins 19-13
Sheraton Hawaii Bowl
Notre Dame (6-6) vs. Hawaii (7-6)
Hawaii needs to put up at least 20 points to have a praying chance versus the Fighting Irish. The Warriors are 1-16 when scoring less than 20 points since 2001. A place where Hawaii needs to excel is the offensive line, which has been wishy-washy throughout the season.
If Jimmy Clausen throws minimal interceptions and can keep Hawaii under 20, I think the Fighting Irish will take this back to the mainland.
Notre Dame wins 23-16
Motor City Bowl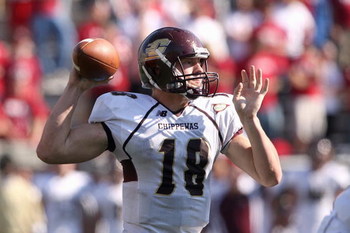 Central Michigan (8-4) vs. Florida Atlantic (6-6)
Dan LeFevour, who leads the Chippewas is passing yards and rushing, will tear the Florida Atlantic defense apart. It's that simple. The Owls do have a good quarterback of their own in Rusty Smith, who has led the Sun Belt in passing the last two seasons.
I can't see any of Florida Atlantic's defensive backs being able to stop sophomore sensation Antonio Brown on the deep ball. Brown made 82 receptions for close to 1,000 yards on the season.
Central Michigan wins 53-20
Meineke Car Care Bowl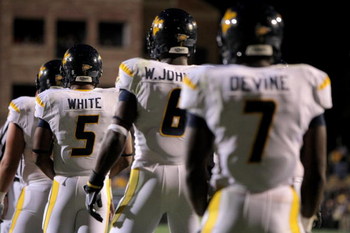 North Carolina (8-4) vs. West Virginia (8-4)
North Carolina has come out of nowhere this season and beaten two, good Big East teams, Rutgers and Connecticut. The Mountaineers are coming off five straight New Years Day bowls, and the Tar Heels will look to disappoint Pat White in his final college game. It will be tough, though, as White has rushed for eight touchdowns this season and thrown for six.
West Virginia wins 27-20
Champs Sports Bowl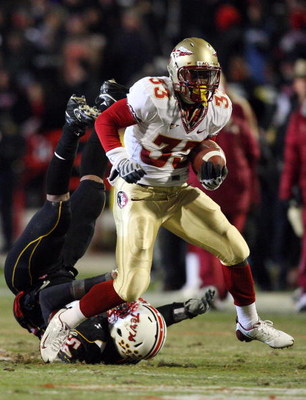 Florida State (8-4) vs. Wisconsin (7-5)
If there was ever a game that would be packed with running plays, it would be this one. Florida State has leaned on Antone Smith and Jermaine Thomas in the backfield, as the duo has combined for 17 touchdowns.
The Badgers have handed it off to P.J. Hill and John Clay, who combined for 21 touchdowns. This game is being played in Orlando, so the Seminoles will have a fan base.
Florida State wins 17-16
Emerald Bowl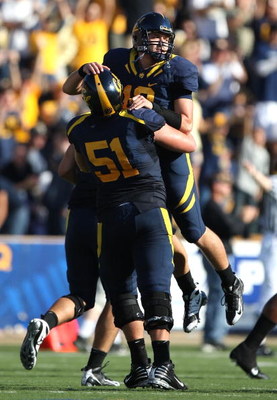 California (8-4) vs. Miami (7-5)
Miami can win if it puts up over 30 points, as it is 44-1 since 2001 when scoring 30 or more. But the Hurricanes will have to shut down Cal's Jahvid Best, who averaged eight yards a carry this season to go with his 1,394 yards.
To answer Best, Miami freshman quarterback Jacory Harris will need to show up (the other part of Miami's dual-QB system, Robert Marve, was suspended for academic reasons).
California wins 26-20
Independence Bowl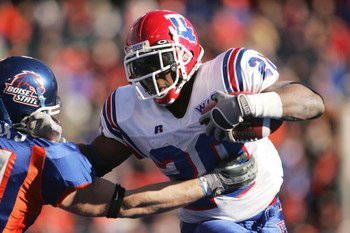 Louisiana Tech (7-5) vs. Northern Illinois (6-6)
Probably the bowl game everybody is overlooking, and I don't blame them. Neither of these teams rank in the top 100 in passing yards. I expect this to be a low-scoring, close game. And in games that are decided by seven points or less, the Bulldogs of Louisiana Tech are 12-4 the past seven seasons.
Louisiana Tech wins 16-14
Papajohns.com Bowl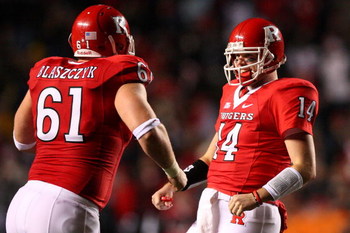 Rutgers (7-5) vs. N.C. State (6-6)
The Rutgers Scarlet Knights were 1-5 to start the season, but averaged 46 points and had a minimal win margin of 29 in the last five games. Meanwhile, N.C. State beat two ranked teams in its last four games to reach the bowl season.
Rutgers quarterback Mike Teel threw for 3,099 yards, 23 touchdowns, and 12 picks with a 148.92 rating, so if the Wolfpack wants a chance it will have to stop him.
Rutgers wins 33-21
Valero Alamo Bowl
Missouri (9-4) vs. Northwestern (9-3)
Remember that Chase Daniel guy, yeah that guy who was predicted to win the Heisman this season? Well, him and his Missouri Tigers are taking on the Big Ten's surprise team, the Northwestern Wildcats. Missouri has put up big offensive numbers this season, averaging 43.2 points a game. Little Tyrell Sutton could have a big game for Northwestern, too.
Missouri wins 39-17
Roady's Humanitarian Bowl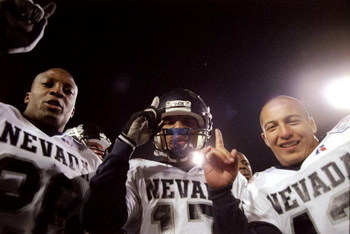 Nevada (7-5) vs. Maryland (7-5)
Each of these teams has offensive weapons. Nevada has Vai Taua and Colin Kaepernick, who combined for 5,014 total yards this season and 49 touchdowns. The Terrapins have wide receiver Darrius Heyward-Bey, who at 6'3" is one of the best threats in college football. Heyward-Bey caught 11 balls for 101 yards and a touchdown versus a good Wake Forest defense earlier in the season.
Nevada wins 44-28
Texas Bowl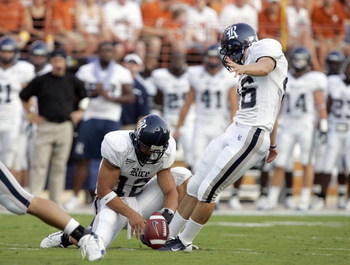 Rice (9-3) vs. Western Michigan (9-3)
Both the Owls and the Broncos are 6-0 at home at 3-3 on the road, so there is no real telling who will win there, except that the game is in Houston (where Rice is located).
A very weak pass defense from Western Michigan might open the door for Jarrett Dillard and James Casey, who both averaged over 100 receiving yards, to have a big day. Broncos quarterback Tim Hiller threw for 34 touchdowns this season and just eight interceptions.
Rice wins 27-24
Pacific Life Holiday Bowl
Oklahoma State (9-3) vs. Oregon (9-3)
You want offense? Watch this game between the Cowboys of Oklahoma State and the Ducks of Oregon. Both teams rank in the top 10 in points scored this season with nearly 41 points a game. Oregon's rushing tandem of Jeremiah Johnson and LaGarrette Blount teamed up for 18 touchdowns and seven yards a carry. Both teams are 14-0 over the past seven seasons when putting up 50. Expect the score to be up there.
Oklahoma State wins 58-45
Bell Helicopter Armed Forces Bowl
Air Force (8-4) vs. Houston (7-5)
Houston leads the nation in total yards and passing yards per game, while Air Force ranks 82nd and 118th in those categories. Case Keenum has straight-up torn apart defenses this season for the Cougars. Keenum has put up 4,768 yards, 43 touchdowns, and a 161.41 rating while throwing 10 interceptions. He hasn't thrown for less then 317 yards in a game, and will probably need to be held below that for Air Force to have a chance.
Houston wins 34-24
Sun Bowl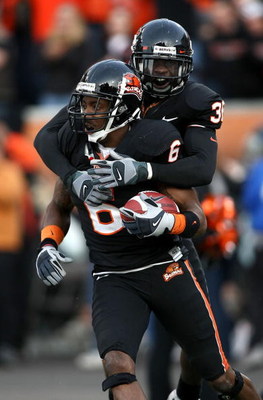 Pittsburgh (9-3) vs. Oregon State (8-4)
These two teams are very evenly matched. Similar records, stats by position, both middle-of-the-pack team stats-wise, and both only have two conference losses.
This is the definition of a toss-up, but the Beavers do have the advantage at wide receiver with Sammie Stroughter, who caught 64 passes for 952 yards to go with seven touchdowns.
Oregon State wins 28-27
Gaylord Hotels Music City Bowl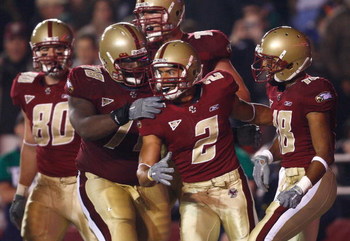 Boston College (9-4) vs. Vanderbilt (6-6)
Yes, Boston College is still a good team without Matt Ryan. The Commodores are a little more desperate than the Eagles, since Vandy hasn't won a bowl game since way back in 1955 in the Gator Bowl. Boston College is 38-1 when scoring more then 30 since 2001.
Neither offense is great and neither team has any standout or "wow" players. My question is, how did a 9-4 team get a 6-6 team?
Boston College wins 31-13
Insight Bowl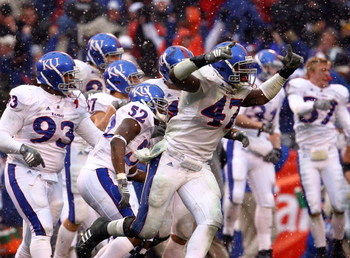 Minnesota (7-5) vs. Kansas (7-5)
The Minnesota Gophers started out hot and then cooled as the season went on. They look to bounce back after falling in their final four games of the season, including a 55-0 loss to Iowa. Eric Decker, "Mr. Everything" for Minnesota, led the team with over 1,000 total yards, fumbling the ball not once.
The Kansas passing attack led by Todd Reesing was ranked seventh in the nation with nearly 320 yards a game. Reesing's favorite target, Dezmon Briscoe, caught 78 passes for 1,206 yards and 12 touchdowns.
Kansas wins 27-14
Chick-Fil-A Bowl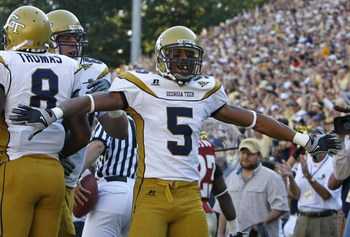 Georgia Tech (9-3) vs. LSU (7-5)
This LSU team is nothing like what the Tigers were a year ago. Just 7-5 after winning a national championship last season, they might not even win this. Georgia Tech is a strong all-around team that ranks third in the nation in rushing with Jonathon Dwyer carring most of the load. Dwyer has 1,328 yards and 12 touchdowns.
The Tigers' quarterback is no Jamarcus Russell or Matt Flynn—Jarrett Lee has thrown for 14 touchdowns this season, but also 16 picks.
Georgia Tech wins 27-25
Outback Bowl
Iowa (8-4) vs. South Carolina (7-5)
Iowa won five of its final six games to make it to its first January bowl game since 2002. With a great differential in points and points given up, the Hawkeyes will turn to running back Shonn Greene in this game. Greene rushed for 1,729 yards and 17 touchdowns this season.
South Carolina had a rough two final games, losing to Clemson and Florida, and its chances will depend on which Gamecock team shows up.
Iowa wins 24-20
Capital One Bowl
Georgia (9-3) vs. Michigan State (9-3)
Two very talented running backs will participate in this game. For Michigan State it's Javon Ringer who carried the ball 340 times this season for 1,590 yards and 21 touchdowns.
On Georgia's side of the ball, it is Knowshon Moreno, a dominating sophomore who accumulated 1,338 yards to go along with 16 touchdowns. But Georgia also has standout quarterback Matt Stafford, who threw for 3,209 yards. Whoever gets the better push will likely win. But we'll have to see.
Georgia wins 34-28
Gator Bowl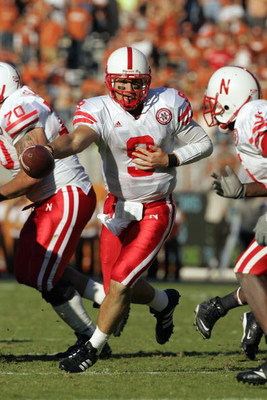 Clemson (7-5) vs. Nebraska (8-4)
This should be a good all-around game. Nebraska has one of the better offenses in all of college football, ranking in the top 37 in all big offensive categories.
But it won't be a walk in the park for the Cornhuskers, Clemson has two nice duos at the skill positions. At running back, C.J. Spiller and James Davis combined for 18 touchdowns; and at wide receiver, Aaron Kelly and Jacoby Ford combined for over 110 receptions and about a 10-yard average per catch.
Nebraska wins 30-17
Rose Bowl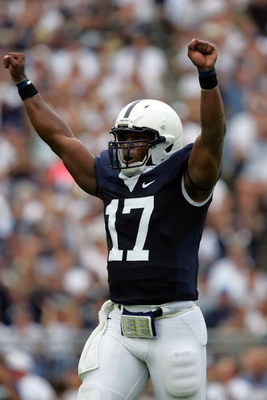 USC (11-1) vs. Penn State (11-1)
Maybe the most intriguing game of any this bowl season. It is pretty much a home game for the Trojans, as the game is played in Pasadena, Calif. USC has won eight straight versus Big Ten teams by an average of nearly 25 points. Penn State played hard all season to win the Big Ten, despite Ohio State, Michigan State, Iowa, and Northwestern applying pressure.
Each team has its own list of stars. The Nittany Lions will need big games from Daryll Clark, who threw just four picks all season, and wide receiver Deon Butler, who had seven touchdowns and a 16.6 average.
Penn State wins 24-20
Orange Bowl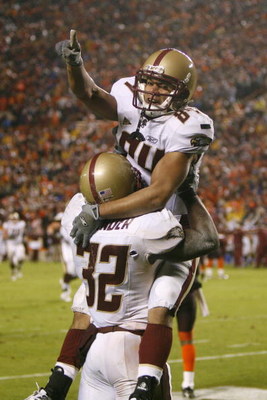 Cincinnati (11-2) vs. Virginia Tech (9-4)
Both of these teams were undefeated at home this season, but none of that matters now, as the game is played in Miami. Cincinnati has used five quarterbacks due to injuries, including Tony Pike who had a rating of 141 and threw for 18 touchdowns. The Hokies are a rush-minded team with only five passing touchdowns.
But the quarterbacks for Virginia Tech have been phenomenal. Tyrod Taylor and Sean Glennon have such distinct differences, it's great. Taylor is the scrambler and Glennon the pocket-passing type of quarterback.
Virginia Tech wins 25-13
Cotton Bowl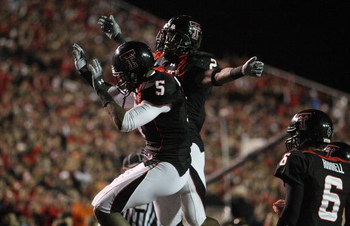 Texas Tech (11-1) vs. Missisippi (8-4)
How did Texas Tech get this matchup? After just losing to No. 2 Oklahoma, the Red Raiders get the Cotton Bowl versus Ole Miss. Texas Tech ranked second in passing yards this season and fourth in total yards and points. With Graham Harrell running the show with 41 touchdown passes and just seven interceptions, it's easy to see why the Red Raiders are so good. Oh yeah, he throws to Michael Crabtree, who has won the Nation's Best Receiver award two years straight and caught 18 touchdown passes this season. Ole Miss will turn to Jevan Snead to run the show with his 142 passer rating.
Texas Tech wins 50-17
Autozone Liberty Bowl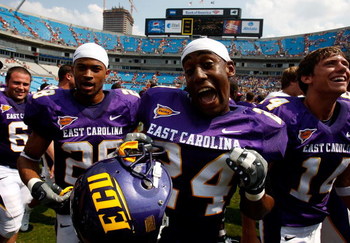 East Carolina (9-4) vs. Kentucky (6-6)
East Carolina started the season 5-0 and had people wondering. But after a tough middle part of the season, it finished with a win versus Tulsa to end. The Wildcats lost four of their final five and look to bounce back against a stingy Pirates defense.
East Carolina had five picks in the final game of the season and Kentucky quarterback, Mike Hartline, has thrown seven this season. So if the Wildcats want a shot, Hartline will have to precise with the ball.
East Carolina wins 34-24
Sugar Bowl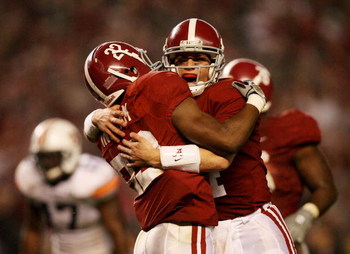 Alabama (12-1) vs. Utah (12-0)
The Crimson Tide feel as if they should be playing in the BCS championship game and will come out trying to prove that to the world. Don't be so fast though. Utah has completely dominated this season, going undefeated and ranking 15th in points scored. Utes quarterback, Brian Johnson has a rating of nearly 150 and has thrown 24 touchdown passes to lead the dynamic offense.
For Alabama, a good group at running back may win the game. Glen Coffee and Mike Ingram combined for 22 touchdowns and over 2,000 yards rushing.
Alabama wins 33-27
International Bowl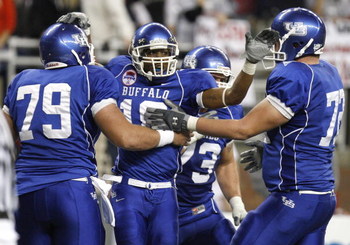 Conneticut (7-5) vs. Buffalo (8-5)
Maybe the least interesting January bowl game in a while. This game that is being played in Canada pits bowl newbie Buffalo and Uconn, which had a decent season.
The Bulls have 3,000-plus-yards passer Drew Willy and 1,300-plus-yards rusher James Starks. But the Huskies have the nation's leading rusher, Donald Brown, who ran for 1,822 yards and 17 touchdowns. But, while the Huskies didn't score a whole lot, their defense kept them in games, only giving up 237 points on the season.
Buffalo wins 13-10
Fiesta Bowl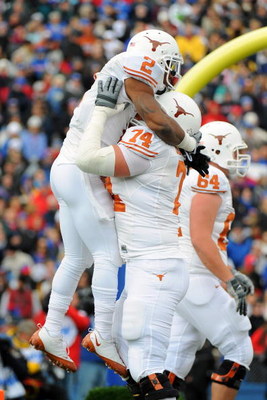 Texas (11-1) vs. Ohio State (10-2)
The Longhorns also believe that they deserved to be in the championship game. With Colt McCoy taking the reins, Texas ranked fifth in points scored this season. McCoy had close to 4,000 total yards to go with 42 total touchdowns. Beanie Wells was hurt for a few weeks for the Buckeyes, but needs to have an A+ game to deal with this Texas defense. Wells ran for close to 1,100 yards and eight touchdowns.
If Ohio State wants to win, it would help to put up 30 or more; since 2001, it is 47-0 when scoring 30 points in a game.
Texas wins 31-20
GMAC Bowl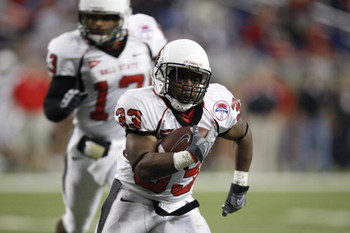 Ball State (12-1) vs. Tulsa (10-3)
Ball State, so close to an undefeated season, is looking for its first bowl win ever and Tulsa is looking to win its second straight GMAC Bowl.
The Golden Hurricanes are ranked as one of the best offenses in the nation behind quarterback David Johnson. Johnson did throw five picks in the final game of the season, but tossed 43 touchdowns overall.
For Ball State, MiQuale Lewis has been a key to success. Lewis has rushed for 1,701 yards and 22 touchdowns.
Ball State wins 20-16
BCS National Championship Game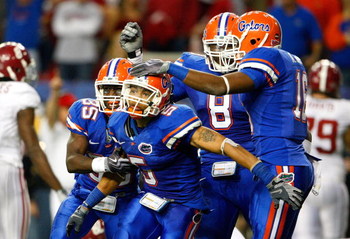 Oklahoma (12-1) vs. Florida (12-1)
The granddaddy of them all. This will be a shootout between two great offenses.
Oklahoma has scored 61 points or more in its final five games of the season and Florida has averaged 45 this season. Sam Bradford, Oklahoma's quarterback and Heisman winner, looks to add a national championship trophy to his resume. Bradford's 68.3 percent completion rating and 48 touchdowns to six interceptions won him the hardware.
Don't forget about Tim Tebow and the Florida Gators, though. Tebow threw just two picks all season and had 41 total touchdowns. Florida wide receiver Percy Harvin should be ready to go, but Oklahoma has lost starting running back DeMarco Murray and defensive tackle DeMarcus Granger for the game.
Florida wins 44-38
Keep Reading