MLB Trade Rumors: John Danks Trade Must Bring Chicago White Sox High Prospect
November 18, 2011
Ed Zurga/Getty Images
John Danks has surfaced in trade rumors. At most, Chicago White Sox general manager Kenny Williams is ready to deal one of their surest starting pitchers—"surest" being loosely defined for a rotation like that of the White Sox.
At the very least, Williams is making rounds with other general managers at the general manager meetings in Milwaukee.
Telling what Kenny Williams' words truly mean is difficult; he tends to keep his true intentions quiet.
White Sox fans can take what they want from what Williams has said recently. On Sunday, the Chicago Tribune quoted Williams saying, "First of all, the climate for teams giving up young pitching hasn't been sunny in a few years. Secondly, it seems like every year, time we sit down and people worry about the pitching."
If Williams expects people to take anything from that, it seems like he's trying to relearn how to trade for prospects. On the other hand, Williams might have been saying that he thought the White Sox were on the cusp of landing the next Jeremy Hellickson.
One would hope that he's not making another Jake Peavy-type trade.
That possibility would be ruled out by his statement on Wednesday. Williams told the Chicago Tribune that he's open to trading Danks, saying, "I'm not ruling anything out."
A few teams are expressing interest in Danks, including the Cincinnati Reds, New York Yankees and Texas Rangers.  
While Williams is happy that teams are interested, he said he's particular about what he wants. He indicated to the Chicago Tribune that he wants good young pitchers, saying, "We're more open to making a deal that takes us a little younger, take us a step back and live to fight another day if we can get what we've identified as types of targets a deal."
That seems to mean that Williams wants to deal for a prospect.  If Williams intends that he wants a left-handed pitching prospect, he's on target.  At the very least, Williams wants someone who can replace his value.
If that's the case, then Williams seems to be on the right track. He needs a high left-handed pitching prospect who can replace Danks in 2013 at the latest. Without Danks and Mark Buehrle, the White Sox rotation looks shoddy.
The rotation would start out with Gavin Floyd, who has one season with an ERA better than 4.00. Then comes Phil Humber, who has pitched one season as a starter, and first-time starter Chris Sale, followed by Jake Peavy and probably Zach Stewart.
Of the aforementioned interested parties, the Yankees are worth a look. Manny Banuelos, the No. 4 prospect and No. 41 Baseball America prospect overall, posted a 3.75 ERA with 125 strikeouts in 129.2 innings between Double-A and Triple-A in 2011.
Hector Noesi, the No. 7 Yankees prospect, finally hit the major leagues after more than five years in the minors. He posted a 4.45 ERA in 56.1 innings pitched across 30 games. 
The Rangers' young left-handers don't seem promising. Michael Kirkman, the No. 4 Rangers prospect entering 2011, seems to have topped out after seven minor league seasons. He didn't hit Double-A until 2009, had a 5.05 ERA at Triple-A Round Rock last season.
Martin Perez, the No. 1 Rangers prospect and No. 24 Baseball America prospect overall, posted a 6.43 ERA at Triple-A Round Rock.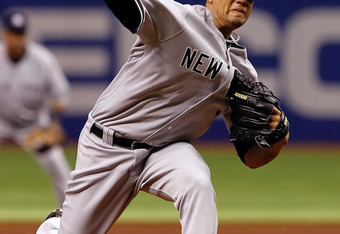 J. Meric/Getty Images
Danks could probably smell the stink from his Round Rock, Texas home if Williams called him on it.
The Reds have good arms. Daniel Carcino, the No. 6 Reds prospect according to Baseball America, posted a 3.42 ERA with 156 strikeouts in 139.1 innings at Single-A Dayton.
Williams would want to take a long look at Carcino.
Robert Stephenson may also be worth a hard look. The Reds picked him 27th overall in the draft this June, and began his last season at Alhambra High School with two no-hitters. However, like other players drafted out of high school, Stephenson could use extra grooming.
Perhaps the best picks out of this group are Carcino and Banuelos. Both seem to be decent bets to perform well. Banuelos is a bit more likely to be ready soon.
Either way, Williams needs a good young arm; the rotation isn't a sure thing.  Also, the White Sox minor league system, which is among the worst, doesn't have the arms that will step up. Williams needs to look outward.
Williams might want to be careful about making the right deal. The White Sox would lose a great number of innings if they trade Danks. He needs to make a deal to fortify the rotation for the future if he's planning to trade Danks.