Jim Boeheim Defends Syracuse Assistant Bernie Fine in Child Molestation Inquiry
November 17, 2011
Jim McIsaac/Getty Images
Long-time Syracuse assistant basketball coach Bernie Fine is being investigated on allegations of child molestation, the Syracuse Police Department confirmed to The (Syracuse) Post-Standard on Thursday night. Fine, 65, has been an assistant for the Orange since 1976. 
Another alleged victim has come forth with similar accusations against Fine.
"The alleged victim, Bobby Davis, now 39, told Outside the Lines that Fine molested him beginning in 1983 shortly before Davis entered the seventh grade. Davis, the team's ball boy for six years beginning in 1984, said the abuse occurred at Fine's home, at the Syracuse basketball facilities, and on road trips, including the 1987 Final Four."
The report continued that Davis:
"was Fine's constant companion at all those places. He said that Boeheim would come into Fine's room, and see Davis lying on the Fine's bed, but never asked him any questions.

"Davis said sexual contact with Fine continued until he was around 27."
Davis reiterated to ESPN that he never told Boeheim about the alleged abuse.
Additionally, a second person, a relative of Davis's, has also come forth and admitted to having been molested by Fine around the same time.
The Syracuse Police have stressed to ESPN, however, that they are "in the early stages of the investigation." 
In response, the University and athletic department put Fine on administrative leave late Thursday.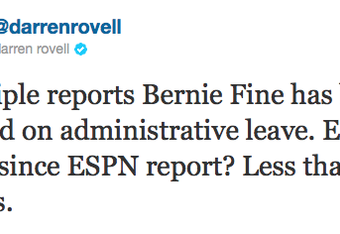 There is obvious interest in and noise being made about these egregious allegations due to the obvious connections to the situation currently playing out at Penn State with former assistant football coach Jerry Sandusky and the eventual firing of legendary long-time head coach Joe Paterno.
Much like the allegations against Sandusky in Happy Valley, there is some important history to consider.
According to the Post-Standard, Davis first came forth with the allegations in 2003 and the newspaper investigated them. But without a second witness or source to corroborate Davis's claims, the paper did not publish a story on the matter. 
Now a second alleged victim of Fine's has come forth, "inspired to finally talk after seeing news coverage of the Sandusky case," according to ESPN, and that has led to both the Post-Standard and ESPN pursuing and publishing their stories. Similarly, that has led to the reopening of the case by the Syracuse Police.
A statement issued Thursday on behalf of the University also dealt with the history of the accusations:
"In 2005, Syracuse University was contacted by an adult male who told us that he had reported to the Syracuse City Police that he had been subjected to inappropriate contact by an associate men's basketball coach. The alleged activity took place in the 1980's and 1990's. We were informed by the complainant that the Syracuse City Police had declined to pursue the matter because the statute of limitations had expired.

"On hearing of the allegations in 2005, the University immediately launched its own comprehensive investigation through its legal counsel. That nearly four-month long investigation included a number of interviews with people the complainant said would support his claims. All of those identified by the complainant denied any knowledge of wrongful conduct by the associate coach. The associate coach also vehemently denied the allegations.

"Syracuse University takes any allegation of this sort extremely seriously and has zero tolerance for abuse of any kind. If any evidence or corroboration of the allegations had surfaced, we would have terminated the associated coach and reported it to the police immediately. We understand that the Syracuse City Police has now reopened the case, and Syracuse University will cooperate fully. We are steadfastly committed ensuring that SU remains a safe place for every member of our campus community."
So although there are plenty of obvious similarities to the Penn State situation, there are several differences with the claims against Fine, at least on the surface.
It seems as if this abuse was originally reported eight years ago by one person, not multiple victims. And in this case, it appears as if a full investigation has been carried out by both the university and local police force without any corroborating evidence or testimony. 
There remain plenty of questions to be asked, however:
Is the accuser believable? Is his story believable?
In the wake of the Jerry Sandusky allegations and the apparent subsequent cover-up, anything is possible.
Still, it's worth reiterating that neither of the original investigations by the newspaper or police force turned up any evidence to support the allegations against Fine.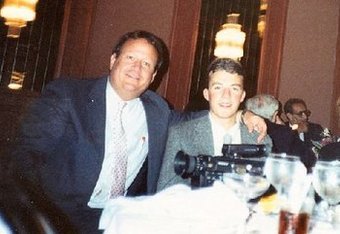 Another tidbit of interest from the Post-Standard report?
"Davis said he broke off all contact with Fine in 2001 because, Davis said, Fine grabbed him by the neck at Manley Field House and demanded repayment of a $5,000 loan he'd given him — a debt Davis admits he never paid."
Was the original police investigation a fair one? 
You'd like to have faith in the system, and frankly, there's little reason not to.
Still, it's a bit fishy that the Syracuse police chief at the time of the initial inquiry was Dennis Duval, a former Syracuse basketball player. Duval, who retired in 2004, played at Syracuse from 1971 to 1974, before Fine or Boeheim became coaches for the Orange. This issue will certainly get more play in the coming days.
If there was an improper relationship, how much did Boeheim know about it?
The allegations from Davis mention that Boeheim saw him lying on the bed in Fine's hotel room. But Fine, at the time, was considered to be a "father figure" to Davis, according to ESPN, as the child had no father living with him and his mother. 
Boeheim issued a statement late Thursday night stating that:
"This matter was fully investigated by the University in 2005 and it was determined that the allegations were unfounded. I have known Bernie Fine for more than 40 years. I have never seen or witnessed anything to suggest that he would been involved in any of the activities alleged. Had I seen or suspected anything, I would have taken action. Bernie has my full support."
Boeheim and Syracuse will presumably do their parts to aid the police investigation going forward, but the details of Boeheim's knowledge and understanding of the relationship between Fine and Davis will certainly be rehashed and reconsidered as the investigation continues.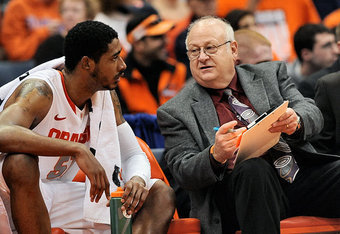 Could (and should) Fine and even Boeheim, the legendary coach, lose their jobs in a fashion similar to Paterno? 
Sure, it could definitely happen, especially with the sports world on edge with the situation in Happy Valley playing out before our eyes.
But there remain far more questions than answers. And that's why we need to allow some time for the new investigation to run its course.
I agree that Syracuse did the right thing by putting Fine on administrative leave. If there is found to be further legitimacy to the allegations, Fine should be fired immediately.
If he is found to have done anything inappropriate to even one young child, he should rot in prison.
If Boeheim or anyone at the university knew details of the abuse and swept them under the rug, they deserve a similar fate. 
Even if they had an inkling that something inappropriate was going on between Fine and Davis or another young ball boy, you could make a solid case for them losing their jobs, Boeheim included.
There is still much to play out, many leads to be investigated, many questions to be answered.
But if the Penn State situation is any indication, I'm afraid that it's likely to get a lot worse for the people at Syracuse.