Chelsea vs. Liverpool: Fernando Torres Will Have Tough Time vs. His Old Club
November 18, 2011
Laurence Griffiths/Getty Images
Fernando Torres has been an abject failure by just about every measure since his British-record £50 million transfer from Liverpool to Chelsea—a fact that isn't likely to change as his current club welcomes his old club to Stamford Bridge for a pivotal English Premier League clash on Sunday.
Torres' play with the Blues has been nothing short of abysmal, as he's totaled just five goals and five assists in 30 total appearances since moving to London from Merseyside, where he spent three-and-a-half seasons.
The theories behind El Nino's decline have been as numerous as that very decline as has been mysterious, though his form has improved to an extent since Juan Mata arrived in the midfield from Valencia.
That Iberian connection, though, between Torres, Mata and first-year Chelsea boss Andre Villas-Boas, won't be enough to get the star Spanish striker on the proper side of the ledger against the Reds. Kenny Dalglish's side sports one of the stingiest defenses the EPL has to offer, having surrendered more than one goal in a match on just one occasion—in a 4-0 loss to Tottenham—this season. Those numbers shouldn't come as too much of a surprise, as the Reds have also allowed the fewest shots on goal (38) of anyone in the EPL.
What's more, Dalglish's defence figures to improve this weekend, thanks in large part to the return of Jamie Carragher to proper fitness.
Of course, the Reds have struggled to put the ball through to the net themselves, though that should do little to detract from their ability to keep their back line clean, so long as their ineptitude in attack doesn't result in the Blues possessing the ball for an inordinate amount of time.
If Liverpool's defense holds up, with Carragher, Martin Skrtel and Jose Enrique providing protection for Pepe Reina, then Torres will have a torrid time finding much of any scoring opportunity on Sunday, even if that's when the goals tend to come.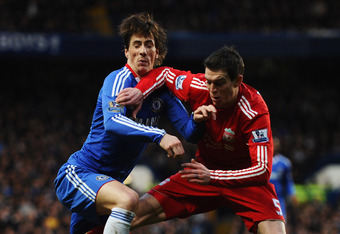 Laurence Griffiths/Getty Images
And if the physical pressure of the Reds' back line isn't enough to bring Torres down, the emotional burden of trying to keep his side near the top of the table against his old club just might.
The Blues have notched 22 points through 11 matches, putting them nine points behind first-place Manchester City and just three points ahead of Liverpool. Hence, all eyes will be on Fernando to stick it to the Reds once more, if for no other reason than the most important one—to help his own team win.
The eyes (and feet) of Liverpool's defenders should be plenty to take Torres out of the action. Whether it's enough to steal three points at Stamford Bridge is another story entirely, though neutralizing Torres would certainly help in that regard.