Phoenix Suns' Draft Woes During the Past Decade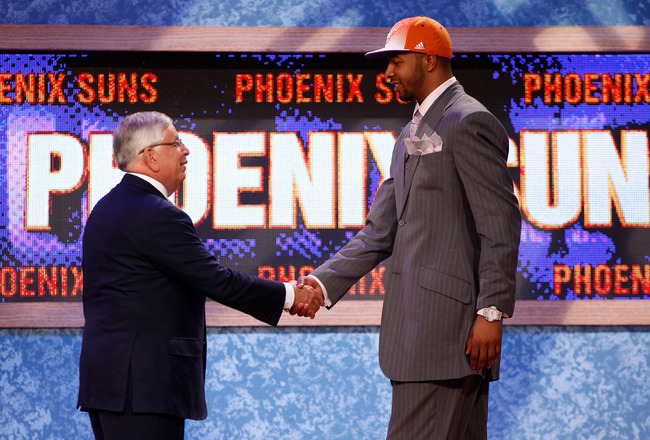 Mike Stobe/Getty Images
As a lifelong Phoenix Suns fan, I have lived through the disappointment of cheering for a terrible team, the heartache of coming so close to championships with nothing to show for it (special thanks to Tim Donaghy, Robert Horry and David Stern), and the sheer frustration of having poor drafts year after year.
Ignoring the 2002 draft choice of eventual Rookie of the Year Award winner Amar'e Stoudemire (I still remember a radio announcer calling him "Ah-Mar" Stoudemire), I will delve into the Suns' decade of draft blunders.
2000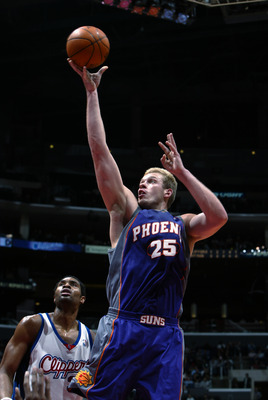 Jeff Gross/Getty Images
The Suns drafted Andre the Giant lookalike Iakovos "Jake" Tsakalidis in the year 2000. Tsakalidis would spend the next three seasons with the Suns; all of this time was spent by fans wondering how you get the nickname "Jake" from a name like Iakovos…
Anyway, Tsakalidis spent just seven years in the NBA, his best statistical season was with the Suns in 2001-02, sporting these stats: 7.3 points per game, 5.5 rebounds per game, and 2.9 fouls per game.
2001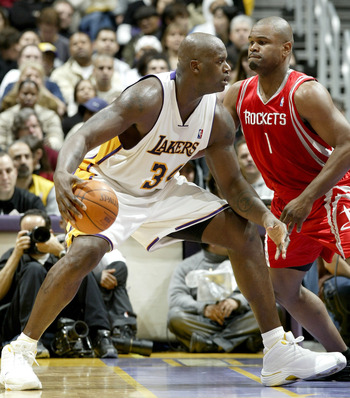 Alton Ford trying to hold his ground against Shaquille O'Neal.
Lisa Blumenfeld/Getty Images
The Suns drafted Alton Ford out of the University of Houston with the 50th overall pick. Ford lasted just 73 total games in the NBA.
I met this guy at a Fiddlesticks in Phoenix. He was walking around with a posse of women, and because I'm a diehard fan, I recognized the Suns bench warmer and got his autograph.
How much do you think that thing is worth today? How about a dollar? A nickel? Hell, I probably couldn't give that autograph away.
2003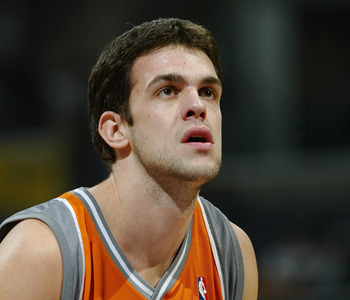 Doug Pensinger/Getty Images
Seventeenth overall pick: Zarko Cabarkapa. Cabarkapa seemed like a solid up-and-coming European swingman.
Unfortunately for Cabarkapa and Suns fans, during a game in his rookie season, Zarko attempted a dunk in a blowout game. Notorious NBA thug Danny Fortson committed a heinous foul on Zarko by crashing him to the court, breaking Cabarkapa's wrist.
He was never the same after that.
2004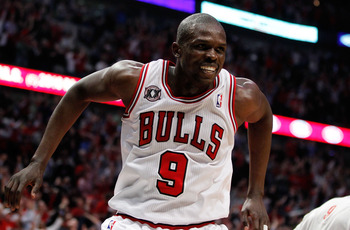 Gregory Shamus/Getty Images
With the seven pick in the 2004 NBA draft, the Phoenix Suns select: Luol Deng out of Duke University. Great draft pick right?
It would have been had the Suns not traded Deng to the Chicago Bulls for a future first-round pick, and the rights to Jackson Vroman… Jackson Vroman… I'm going to let that sink in.
2005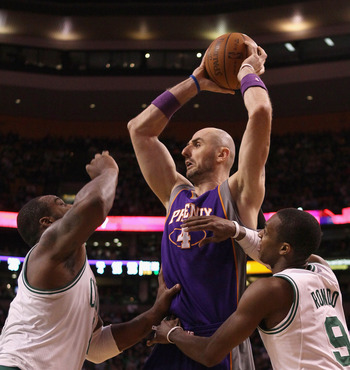 Elsa/Getty Images
This was actually a great draft year for the Suns...or, at least it would have been had either of the picks ended up playing for Phoenix in 2005. The Suns drafted eventual Slam Dunk Champion and fan favorite Nate Robinson with the 21st overall pick, but traded him along with Quentin "Q" Richardson to the New York Knicks for Kurt Thomas and the rights to Dijon Thompson.
In my opinion, one of the worst trades in Suns history. This also became one of the team's many attempts to destroy their identity as a run-and-gun team in an effort to morph into the San Antonio Spurs.
The Suns also drafted Marcin Gortat with the 57th overall pick in 2005, but traded him to the Orlando Magic for cash considerations. Really? Cash considerations? Only the cheapest ownership in the league could have made such a dumb trade.
Ironically, the Suns were able to re-acquire "the best backup center in basketball" and dump Hedo Turkoglu's grisly contract in the same move years later.
2006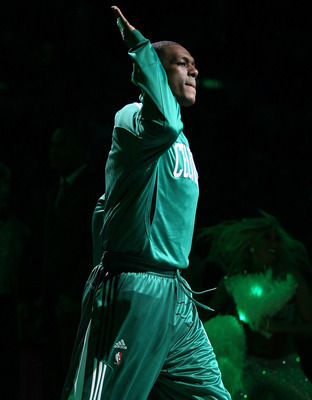 Suns fans can only wonder what would have been had they kept Rajon Rondo.
Elsa/Getty Images
The most painful draft year for me personally. The now superstar point guard Rajon Rondo was drafted with the 21st overall pick, and promptly traded to the Boston Celtics for a future pick and cash. I'll use this time to quote a portion of Bill Simmons' book, The Book of Basketball (if you are a basketball fan, and haven't read this book yet, do so):
"A few weeks later, (the Suns) gave Marcus Banks $24 million. Would you rather have a potential up-and-comer like Rondo for cheap money or a proven turd like Banks for five times as much?"
I could not have said it better.
Nonetheless, it was somewhat of a blessing for Rondo that he got traded from the Suns. As a basketball fan I'm glad that he got to develop on the Celtics and become a superstar talent because I truly enjoy watching him play.
Rondo would have been miserable on the Suns, warming the bench while Steve Nash got 90 percent of the playing time. However, it eats me up inside knowing that Rondo could have been a member of the Suns.
Phoenix also drafted guard Sergio Rodriguez five picks later, and guess what? They traded him.
On a positive note, at least the Suns didn't keep Rodriguez and trade Rondo, but this draft still stings.
2007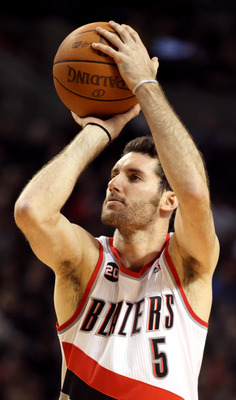 Tom Hauck/Getty Images
Ho hum, the Suns draft Rudy Fernandez, a sharpshooting guard who really could have helped spread the floor for their great offense, but alas they make yet another boneheaded trade sending Fernandez and James Jones to the Portland Trail Blazers.
Instead of keeping Fernandez, the Suns decided to hang onto stink picks Alando Tucker and D.J. Strawberry, who were eventually moved elsewhere.
2008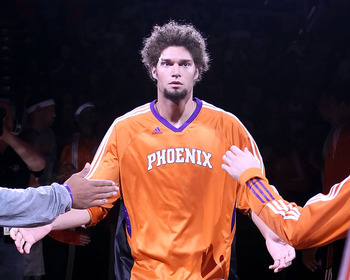 Christian Petersen/Getty Images
With the 15th pick of the draft the Phoenix Suns start their trend of taking the less talented sibling in each draft for three of the next four years.
After Brook Lopez went off the board at No. 10 to the New Jersey Nets, the Suns draft his twin brother Robin. Initially Robin seemed like a great draft pick, a defensive 7-footer who could work on developing his game on the offensive end.
Recently however, Lopez has not been able to log productive minutes on the court. This may be due to his recurring back injury or just a lack of confidence, either way he's been a disappointment. (Robin has also had issues with his anger).
The Suns receive honorable mention in this draft for trading second-round draft pick Malik Hairston to the Spurs for Goran Dragić. "The Dragon" provided me with one of the most memorable moments as a Suns fan, scoring 23 points in the fourth quarter (26 points total) against the Spurs in Game 3 of the Western Conference Semifinals, a series the Suns eventually swept from their long time rivals.
2009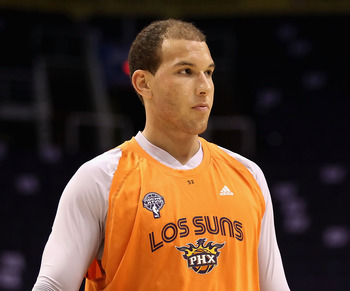 Wait, that's not Blake!
Christian Petersen/Getty Images
The 14th overall pick, forward Earl Clark never got enough playing time in Phoenix and was shipped off to Orlando as part of the Gortat trade, only time will tell what kind of player Clark will become.
Additional, the Suns continued doing what they do better than any other team in the league, drafting less talented siblings of players in the same draft class. With the 48th overall pick the Suns selected Taylor Griffin.
Oh wait…Blake Griffin is the one with all the talent? And he got drafted first overall? No way. Welcome to life as a Suns fan.
2010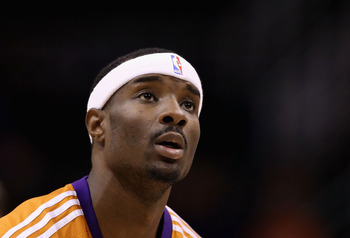 Christian Petersen/Getty Images
Because the Suns only had a second-round pick in 2010, they drafted Gani Lawal, who was meant to be a gritty rebounder for the Suns.
But Lawal tore his ACL in his knee and missed the entire season; joining Cabarkapa on the list of Suns who missed games in their rookie year due to injury.
Update: Lawal has been released by the Suns. Yet another stellar draft pick.
2011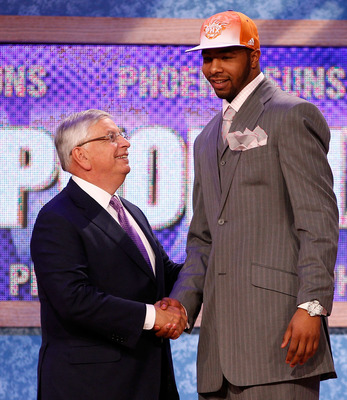 Mike Stobe/Getty Images
Again with the less talented brother, Markieff Morris. As I watched this draft I was texting a buddy of mine and we both agreed to take Marcus Morris (2010-11 Big 12 Conference Player of the Year), and I jokingly sent a text that we would draft Markieff, just to keep up the trend, at least I know my team's strengths.
If you're a fan you know the story. Despite his brother Marcus being on the board at pick No. 13, the Suns decided to draft his brother, who many believe to be a lesser talent. The lockout is preventing Suns fans from seeing what Morris will be at the NBA level, but maybe the lockout will give Suns management time to reflect on some of the awful decisions they've made over the past decade.
Keep Reading

Phoenix Suns: Like this team?