Glasgow Celtic Land in UEFA Dock for Supporters' Offensive Chanting
November 17, 2011
Illicit chanting or football banter?
Sectarian/Political or Offensive?
It's the question that has split Scotland in two over the past week or so after a section of Celtic "supporters" were reported by Strathclyde Police whilst singing their songs during the recent Europa Cup match against Rennes at Celtic Park.
The Strathclyde Police match commander that night notified the UEFA delegate about offensive chants made by some fans during this match.
Just to be clear, Celtic's rivals Rangers have already been investigated and fined by UEFA over sectarian singing, so this isn't a witch hunt aimed at just one side of the old firm.
This is a genuine problem that has blighted Scottish football for years, and for any fan to deny it happens must either be deaf or part of the singing parties that join in when the songs are started and are oblivious to the offence they are causing.
Celtic's Green Brigade have been blamed for much of the offensive behaviour that takes part within the Celtic ranks and—although they bring some much needed atmosphere to the stadium bowl—most of their actions are seen as anti-football related, with the majority of Celtic supporters agreeing that there is no place for their behaviour within Celtic Park.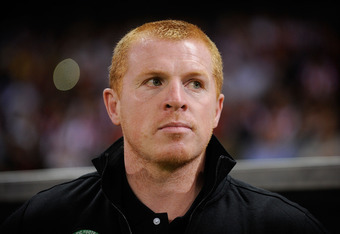 Denis Doyle/Getty Images
Songs glorifying the IRA have no place in football, no place in our society and need to be eradicated.
Only last month, Celtic's chief executive Peter Lawwell urged this section of the club's supporters to stop singing pro-IRA songs when addressing the annual general meeting at Celtic Park.
"Chants glorifying the Provisional IRA​ are totally unacceptable," Lawwell said. "It is an embarrassment to the club; we don't want it, we don't need it."
As featured on the bbcscotland website, Lawwell said the club did not want to be associated with unacceptable chanting.
"One, it is wrong, and it is an embarrassment to the club and embarrassment to the majority of supporters," he said.
"We were inundated by complaints from our own fans after the game at Tynecastle [on 2 October].
"We have dealt with it at Celtic Park and we will do all we can to make sure it doesn't happen home or away."
For Scottish football to be accepted as a forward-thinking, modern sports-orientated environment that is seen as a tolerant society, no form of offensive behaviour should be acceptable.
Racism, sectarianism, sexism or nationalism are not subjects that should be discussed or glamorised at a football ground. Ours is a multinational, multi-race, multi-religion country and any sort of chant that would offend players, fans, officials or police should not be tolerated.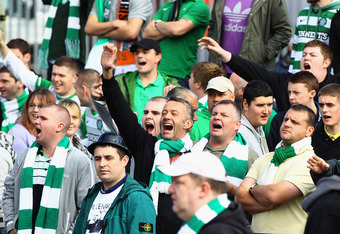 Jeff J Mitchell/Getty Images
The instance mentioned above has been passed off as "political" chants by the supporters involved, with the fan groups claiming that Rangers are sectarian whereas the Celtic fans singing the offensive nonsense are "political."
This "political" stance is rubbish and the majority of Celtic fans know it.
They are fed up with this offensive singing, they are fed up with the "we are being picked on" claims and they are fed up with being made out to be "paranoid" with every decision that is aimed at them.
Celtic boss Neil Lennon​ spoke to the Scottish Sun asking the fans to stop.
"It's important that we put a general message out that these chants have no place around our club. To be honest, we are better than that as a club and we always have been, we just don't need it.
"We are and always have been a club open to all and we do not have issues around sectarianism.
"We have our own values and traditions but they do not include these chants.
"We don't want them at matches and they MUST stop."
Read Neil Lennon's full interview here: http://www.thescottishsun.co.uk/
The Celtic fans involved have been quick to point fingers, but for all the wrong reasons.
Like the Rangers fans before them that were criticised and fined for this behaviour, they seem more intent on who the people that pointed the finger at them were, when the more important and bigger issue should be looking at themselves for their vulgar behaviour.
They seem to be missing the point: it's not who pointed the finger, it's the reason why the finger was pointed in the first place that should bother them. If they think that this reprehensible behaviour is acceptable in today's society, there is no hope for any of us.
UEFA will meet on December 8th in Nyon to decide if there is even a case to answer against Celtic.
Until then, the "banter" between both sides of the Old Firm fans will continue with both sets claiming that each one is worse than the other.
Marc Roseblade is a Contributor for Bleacher Report & Not Just Scottish Football. All quotes are obtained first-hand unless otherwise stated.