NASCAR Sprint Cup at Homestead: Why This Season Has Been a Success for Dale Jr.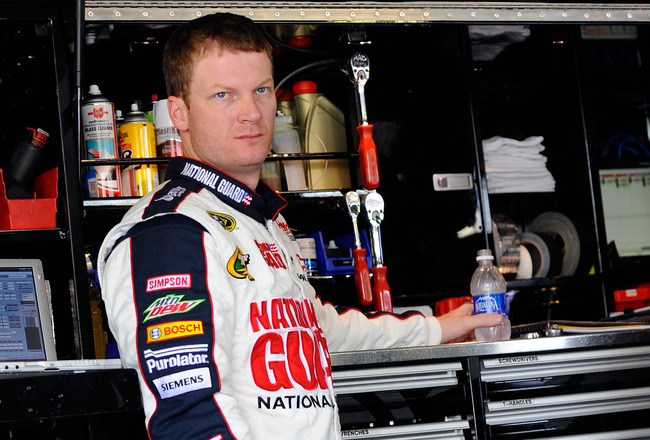 Jason Smith/Getty Images
Dale Earnhardt Jr.'s 2011 campaign would not be considered successful by only by a handful of drivers. A winless season by Jimmie Johnson, Kevin Harvick and Kyle Busch would probably be regarded as a failure.
Perhaps one or two other drivers are in that ilk, but it is a rather short list.
Unfortunately, Dale Earnhardt Jr. was unable to break his more than 100-race winless streak during the course of 2011, but his season, overall, should be dubbed a significant success.
There were several events and developments in 2011 that point towards Dale Jr.'s 2012 season to be even better.
Here are a few of them:
He Made the Chase!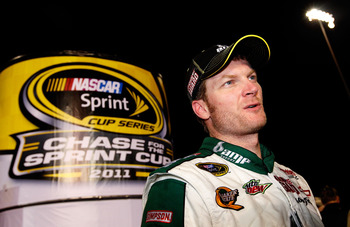 Tom Pennington/Getty Images
After a two-year hiatus from competitive participation in the last 10 races of the season, Dale Jr. raced with enough consistency to emerge as the only Chase driver to not win a race all season.
It may sound antithetical, but to make the Chase without winning and finish seventh overall is a fairly impressive accomplishment. It signifies that the driver, team and crew chief are able to perform consistently over a long period of time.
Though he never drove to Victory Lane in 2011, making the Chase is the higher goal of every driver and team.
It would be a much weaker argument to consider Dale Jr.'s season a success without him competing in the Chase for the Sprint Cup.
His Chase Performance Has Been Fairly Strong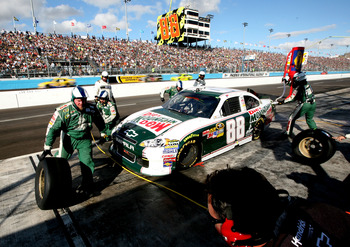 Jerry Markland/Getty Images
While he has not been overly impressive in the course of the Chase cycle, he still has a very, very strong chance to finish in seventh place overall in 2011.
After two years of failure, this should be considered quite a successful rebound. Truthfully, after the Homestead race, he could end up in 11th place because the standings are so close.
Either way, he proved that he could be competitive once more with the best in the business.
His single top five and two top-10 finishes in the 2011 Chase can be considered a moderate success.
He Pushed Jimmie Johnson to a Win
Jerry Markland/Getty Images
After this victory at Talladega, Jimmie Johnson handed Dale Earnhardt Jr. the checkered flag as a token of thanks and appreciation for helping him win.
This may have felt like a hollow victory, but it says something about the character Dale Earnhardt Jr. Although he probably deserved the win more, he was not so desperate to win that his team came second.
This is the mark of character. To maintain it, even in periods of famine, is a success in and of itself.
Dale Jr. will be reimbursed for this good deed at some point in the future.
The arc of the moral universe is long, but it bends toward justice.—Martin Luther King, Jr.
Steady Improvement from 2009 to 2011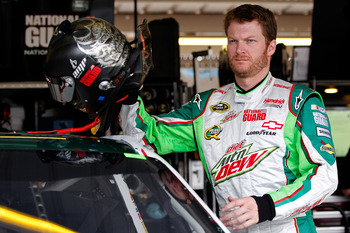 Geoff Burke/Getty Images
2009 and 2010 were huge disappointments for Dale Earnhardt Jr. He missed the Chase both of these years and, worse, failed to finish inside the top 20 in the final points standings both times.
Here are his results:
2009: 25th place overall with two top five and five top 10 finishes. He also had nine finishes of 35th or worse.
2010: 21st place overall with three top five and eight top-10 finishes. He also had five finishes of 30th or worse.
In 2011, Earnhardt Jr. was able to improve once again. He has four top five finishes, 12 top-10 finishes and only one finish of 30th or worse.
The stronger and continual results over a three-year period, coupled with his finishing 10th overall in the points, smells of the pungent odor of success.
He and His Crew Chief Work Well Together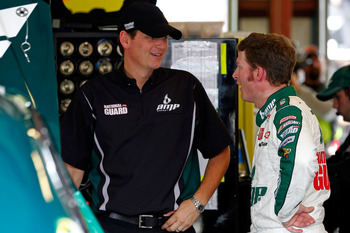 Geoff Burke/Getty Images
The combination of Earnhardt Jr. as a driver and newly added crew chief Steve Letarte paid dividends in 2011.
There is still ample room for improvement in 2012, but Letarte's leadership not only seems to have helped Dale Earnhardt Jr. as a driver, but the physical results speak for themselves (see last slide).
Finding a solid tandem to run the No. 88 National Guard Chevrolet should be deemed success for both Earnhardt Jr. as a driver and Hendrick Motorsports as an organization.
Expectations Were Exceeded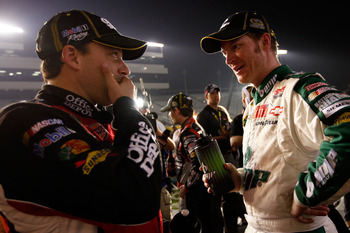 Chris Graythen/Getty Images
After two extremely disappointing seasons in a row, 2011 almost certainly had to have lower expectations for Dale Earnhardt Jr. This includes the media, the fans and the team itself.
It seems that a plethora of hope has gathered around Earnhardt Jr. based on his previous poor performances. Many hoped he would win a race. Many hoped he would make the Chase. Many, too, hoped the pairing of him and Steve Letarte would make a difference.
As for concrete expectations, they were seemingly less optimistic. There did not seem to be an overwhelming confidence that he would make the Chase.
Yet, after the 10th race at Darlington in 2011, he was in fourth place. This undoubtedly far surpassed most reasonable expectations. After the 20th race, he had fallen to 10th place overall.
This appeared to create a sense that, though it was a good season while it lasted, Earnhardt Jr. was getting ready to disappoint once again.
Over the next six races, Earnhardt Jr. defended that 10th position, which was crucial because without a win, he could not fall back on a "wild card" 11th or 12th place.
The Positives Outweighed the Negatives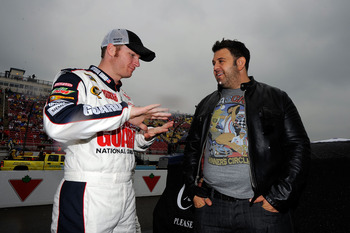 Jason Smith/Getty Images
Finally, the net result of all of these positive factors adds up to a successful season.
The one negative feature was that Earnhardt Jr. did not score a win. Although this is the ultimate goal of a driver and team, it seems like a small blight within the context of his last three years in NASCAR.
He will get that win, eventually. More importantly, No. 88 has had a solid, successful season on which to build. If his past progress follows, he will reach new heights in 2012.
Keep Reading