Marcus Thornton & Jimmer Fredette: Who Should Start for the Sacramento Kings?
November 17, 2011
Jonathan Daniel/Getty Images
After coming over in a trade last season from New Orleans, second year guard Marcus Thornton was the most impressive player in the final two months for Sacramento. And yet with the Kings' acquisition of Jimmer Fredette with the 10th overall selection in the 2011 draft, Thornton is quickly becoming written off.
Thornton, a 6'3" guard out of LSU, averaged 20.3 points, 4.2 rebounds and shot 45 percent from the field and 36 percent from downtown after being acquired by Sacramento. He played tough defense, averaged 1.7 steals for the Kings and was certainly the Kings most inspired player as the season came to a close.
His play aside, he was an inspiration on the court for another reason. Sacramento had some difficult times last season jelling as a team, and struggled to find an offense that worked around young stars Tyreke Evans and DeMarcus Cousins.
While the Kings have a bit of an exaggerated reputation as a team full of ball hogs, Thornton was anything but. He visibly worked to fit in with both Evans and Cousins and you could really see team chemistry building around the end of the season.
Now Thornton is a free agent and cannot re-sign with the team until the lockout is lifted, but all signs point to a mutual desire for Thornton to remain in Sacramento.
But with the acquisition of Fredette, an exceptionally popular guard out of BYU, fans have forgotten about Thornton and have penciled in Fredette as the future guard to start alongside Evans. Some fans even argue that the drafting of Fredette should lead to the jettison of Thornton in a sign and trade.
Jimmer's arrival should absolutely not signal the end of Thornton's time in Sacramento. While fan expectations for Fredette are sky-high, with Thornton, the Kings know they have an excellent well-rounded shooting guard who plays well with the current Kings roster.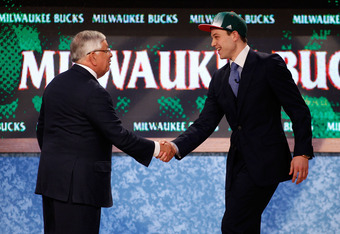 Mike Stobe/Getty Images
Fredette could become a star, or he could become a excellent bench spark plug—my personal bet is on the second. But even if Fredette does become a star, there isn't any reason to swap Thornton until the Kings know what Fredette can become. Even if Fredette proves to be a full-time starting star, Sacramento should consider keeping Thornton to fill the role as bench scorer.
The drafting of Fredette should not signal any lack of faith in Thornton. What it should signal is that the Kings know they needed to bolster up their guard depth. Now with Evans, Fredette and presumably Thornton, the Kings have three strong young talents to work with.
As for who should start next season, until Fredette proves better than Thornton, he should not deserve to start.
While Fredette is a great shooter, he has plenty to work on before he's truly NBA ready. He must become a much more consistent defender than he was in college and prove he can handle being a third or even fourth option.
Thornton has already proven he can be an excellent third option. Until Jimmer proves likewise, the starting job should be Thornton's for the immediate future.
No matter who starts for Sacramento, both players will have plenty of opportunity to prove their skills and make their marks for the Kings.
But most importantly, the fact that the Kings have Fredette does not and should not signal the end of Thornton's time in Sacramento. Trading Thornton at this point in his (and Fredette's) career would be a horrible move for the Kings to make.