NHLPA Player of the Week: Nikolai Khabibulin
November 17, 2011
NEED TO KNOW
All the talk in Edmonton is on the young dynamic players they have accumulated over the past few seasons who are now all in the line-up and helping the Oilers to a somewhat surprising start to the 2011-12 season.
But aside from the fact that no one really picked the Oilers to be in the position they are in early on in 2011-12, Nikolai Khabibulin has to be the biggest, if not the most welcome, surprise in Edmonton so far as we move into the second month of the season.
The Russian-born goaltender is back in full-form, providing the poise, ability and skills that long-ago earned him the name "The Bulin Wall." With seven wins and two OT losses in nine starts, a run that includes two shutouts and has seen Nikolai post a minuscule 0.98 GAA, there is no question that while Taylor Hall and Ryan Nugent-Hopkins have been garnering the front page attention, it is Khabibulin who has propelled the team to their spot in the standings.
After a couple of seasons which saw Nikolai struggle through injuries and play below his usual standards, he seems to have once again found his groove and is ready to help lead the young, talented Oilers against the rest of the Western Conference elite.
- Nikolai has been incredible early in the 2011-12 season, leading the Oilers to seven wins in his nine starts
- He has only conceded nine goals this season and is currently sporting an outstanding 0.98 GAA and a .964 save percentage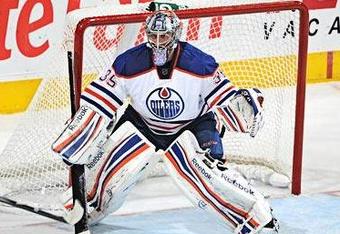 BIOGRAPHY
- Born in Sverdlosk, USSR (now Russia) on January 13, 1973
- Drafted in the 9th round, 204th  overall, in the 1992 NHL Entry Draft by the Winnipeg Jets
- Helped lead the 2004 Tampa Bay Lightning to a Stanley Cup championship
- Has appeared in four NHL All-Star games (1998, 1999, 2002, 2003)
- Has spent time in Winnipeg, Phoenix, Tampa Bay, Chicago and Edmonton over the course of his NHL career
- Played with AK Bars Kazan of the Russian Super League during the 2004-05 NHL owners lockout
- Has tasted success on the international stage with Russia, including winning a Gold medal at the 1992 Albertville Olympics and a Bronze at the 2002 Salt Lake City games, a tournament where he was named as the top goaltender