Montreal Canadiens: Habs Will Soon Be Forced to Deal with Logjam on Defense
November 17, 2011
Richard Wolowicz/Getty Images
As it stands, after the Montreal Canadiens' utter dominance of the Carolina Hurricanes, there are not many concerns regarding the team.
Fans are reveling in the best game that their team played, nearly a full 60-minute performance, save for a few minutes of garbage time. Carey Price got his first shutout of the season, there were three effective forward lines and the inexperienced defense—including call-up Frederic St-Denis—did what they had to do and limited the Hurricanes to just 25 shots.
Alexei Emelin, who has frequented the press box as a healthy scratch, showed his coach what kind of player he can be. He led the team with seven hits and seven blocked shots and was, by far, the Habs most physical player.
To think that he wouldn't have even played had Hal Gill and Jaroslav Spacek been game-ready...
Emelin brings an aspect that none of his counterparts on the defensive corps do.
Although Rafael Diaz has been a pleasant surprise and Yannick Weber has excelled playing in his natural position, neither has any bit of physicality.
In today's NHL, it isn't necessary to exhibit excessive force, even if you are a blue-liner. An offensive-minded D-man is more revered than a bruiser.
The thing is, the Habs only seem to have those puck movers. Josh Gorges plays positionally, but is, by no means, a physical threat. The same can be said for Jaroslav Spacek. P.K. Subban will throw the occasional big hit, but there is a limit.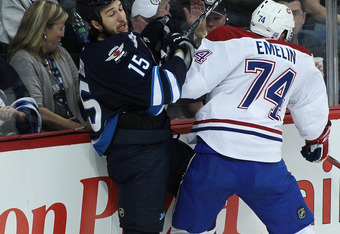 Marianne Helm/Getty Images
So what will happen when Gill, Spacek, Andrei Markov and Chris Campoli come back?
If Emelin plays the kind of game he did whenever he gets the opportunity to crack the lineup, you have to assume that he will be getting more and more chances to play.
I'm sure given the choice, Weber would prefer to play defense over forward. That said, I'm also sure that he'd rather be in the lineup than not play at all.
There is a chance that Chris Campoli may be on the move after a few games played. He was, after all, signed as a back-up plan while Markov was on the mend. In all probability, Markov will take to the ice before Campoli, so we'll see what happens. I suppose that with the injury history of this team, it wouldn't hurt to keep as many defensemen around as possible.
Diaz will probably be shipped down to the Hamilton Bulldogs. As impressive as he has been, he fills a role that the Canadiens have an abundance of at the moment. He will be a reliable call-up and a great player in the future.
It's quite the logjam and I'm curious to see how Pierre Gauthier and Habs' management will handle it.
Jason is on Twitter: Follow @jhytel