Detroit Red Wings: Draft Experts or the Luckiest Team in the NHL?
November 17, 2011
Ezra Shaw/Getty Images
Ryan Barnes ended up playing a grand total of seven games in the AHL with the Hamilton Bulldogs, failing to get on the scoresheet even once and racking up nine PIMs in the games in which he featured. Unable to really make his mark as a professional, Barnes turned his hand to coaching and has worked around the minor leagues and at junior level, both as a coach and an assistant coach.
Andrei Maximenko's record is slightly more impressive, but not by much. He played a total of 158 games in Russia for several teams, netting 29 goals and 20 assists over the course of his career—but only 15 of those appearances, and only one of those points (an assist) were made in Russia's premier hockey division. The majority of his time was spent playing in Russia's second tier of ice hockey, first with Krylja Sovetov, then with Saratov Kristall, Almetyevsk Neftyanik and finally Klin Titan in 2006/2007.
In short, hardly the sort of players you'd write home about. So why are we talking about them? Well, it could be as a reminder that for every talented player drafted by an NHL team, there's someone who fails to make the grade and live up to their promise and who ends up toiling in the minor leagues for a brief spell before retiring and getting a real job. But that's not what we're going for here.
What's interesting about these two players is that in 1998 and 1999, Barnes and Maximenko were drafted by the Detroit Red Wings ahead of Pavel Datsyuk and Henrik Zetterberg, respectively—arguably the best two-way hockey players in the sport at the moment.
This in itself is nothing special. Yes, it's interesting to note how the fortunes of these players could vary so greatly given the way they were ranked at the time of the draft, but that's life, and more significantly, that's hockey. That's just the way it works.
But what is interesting here is that almost every time you switch on a Wings game, whether it's on FS Detroit, another regional station or one of the national networks, you'll hear a reference to their drafting expertise in picking up Zetterberg and Datsyuk when no one else was interested. "They knew back then, how good they were going to be," they'll say. "And that's why they picked them. They had a better eye for talent than the other teams."

Did they really?
In 1998, aside from Barnes, the Wings also drafted Tomek Valtonen, Jake McCracken, Brent Hobday, Carl Steen and Adam deLeeuw before they picked Datsyuk with their second pick in the sixth round, 171st overall (the Wings also picked Jiri Fischer with their first round pick in the draft, but as Fischer was a genuinely talented player whose career was halted by health problems, he isn't particularly relevant here).
The following June, in the 1999 NHL Entry Draft, the Wings had to wait until the fourth round before making their first selection, and opted for Jari Tolsa, Maximenko and Kent McDonell before finally making Zetterberg a Red Wing with the 210th overall pick in the draft in the seventh round.
If they really had known at the time of how good Zetterberg and Datsyuk were going to be—in fact, if they had even had the slightest inkling—they wouldn't have waited that long to pick them. They wouldn't have put themselves through the agony of worrying each round whether or not they were going to get their man; they would have snapped them up as soon as they got the chance.
Obviously, quite often market value dictates how a team operates in the draft. If a player isn't expected to go that early, and he isn't particularly highly rated by other teams, a team might well wait until later on before selecting him, going for more highly rated players in earlier rounds and ending up with the best of both worlds.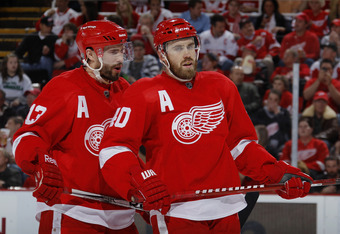 Gregory Shamus/Getty Images
But really, when you look at the players the Red Wings drafted both in 1998 and 1999—none of whom managed to forge anything like a successful career in the NHL—you start to get the feeling that it wasn't planned. In reality, they had no idea how good either Zetterberg or Datsyuk were going to turn out to be. It was just plain luck.
What would have happened had one of the other NHL teams who had the opportunity before the Red Wings—and let's face it, plenty did—had taken a chance on either Pav or Hank?

For Red Wings fans, the scenario doesn't even bear thinking about. It's reasonable to suggest that had the Wings missed out on either one of these players, the whole past decade could have been so different, with no Stanley Cups, no record-breaking consecutive playoff appearances and basically no success.

In fact, it should be the sort of thing that makes fans wake up suddenly in the middle of the night, panicking just thinking about how terrifyingly lax they were about drafting two players who would go on to be so pivotal for the team over the course of the next 10 years.
This isn't to say that the Red Wings and GM Ken Holland don't deserve a little bit of credit for drafting Datsysuk and Zetterberg. We need to be fair. Even if they didn't pick them early, even if they picked a whole host of rubbish before them and even if they came dangerously close to losing them altogether, they did what no other team did: they picked them. And there isn't a single GM today who won't regret not having picked up on at least one of those two players when it would have been so easy to do so.
And again, this doesn't take anything away from the way in which the whole Wings organisation has helped these players develop. They might not have turned into the quality forwards they are today without the guidance of the coaching staff and the management.
But to say that it was all part of a long-term strategy? I just don't buy it. Not when the rest of the players drafted over the course of the two years were of such a bad standard, even allowing for the hit-and-miss nature of drafting in the NHL.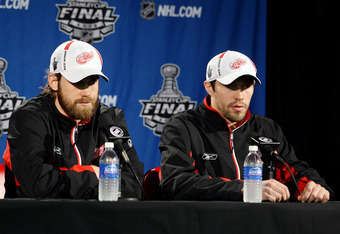 Bruce Bennett/Getty Images
They drafted the players at the time because they were aware of them, and because they'd done their homework, making sure they had covered every angle. But to draft them behind players, from whom you can't pick even one who's gone on to succeed in the NHL, that's not good planning.

For both years, they got their draft almost entirely wrong, picking poor player after poor player until almost by chance they happened to come across a talented prospect, thus vindicating what was otherwise a very poorly thought out process. 
So bear this in mind next time you hear a commentator talking about how well the Red Wings draft. When they start praising their foresight in picking up Zetterberg and Datsyuk at such a late stage when no one else would give them a chance, just remember the players they picked before them and how their careers turned out.
Think about how easily they could have ended up with neither player, and how different the 12 or 13 years since could have been.
Sometimes it's got nothing to do with planning.
It's often just down to luck.