Oklahoma State Football: Why Cowboys Are the Best Team in Country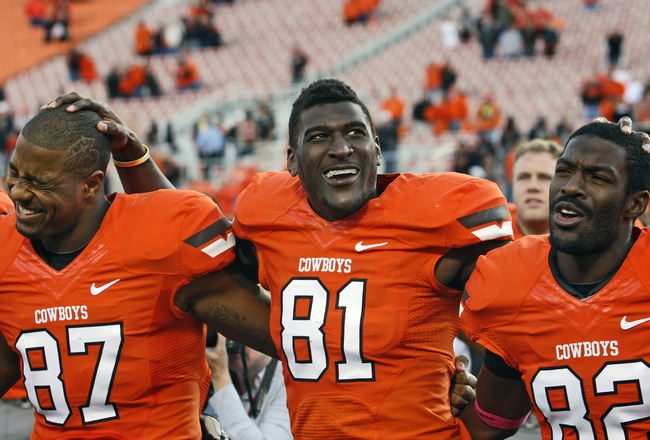 Brett Deering/Getty Images
For the first time in the program's history, the Oklahoma State Cowboys have a legitimate claim as the best team in the nation.
They're sitting pretty at 10-0 and are in control of their own destiny as they move towards a shot at the national title.
The formula is simple, win out and they're in. It's not going to be an easy road, as they still have a season-ending game against the Oklahoma Sooners, but it's definitely doable for these Cowboys.
Just what makes this team the best in the nation? Read on to find out.
5) Quinn Sharp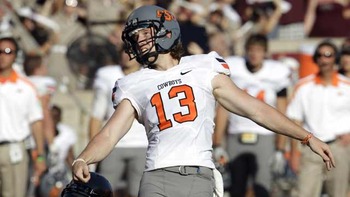 Special teams is one aspect of the game that a lot people forget about until their kicker misses a 30-yard field goal that could've given them a last-second "W."
Luckily for the Cowboys, they have Quinn Sharp, special teams player extraordinaire. He's Oklahoma State's punter and kicker, and he's one of the best at both positions.
He's currently leading the nation in average yards per punt (47.6), and he owns the fourth best field-goal percentage (88.9 percent). Add to that his 65 extra points made, and you get the kicker with the most points scored.
I can't think of any other player in the nation who fills both kicker roles as well as Sharp does. He scores points just as fast the rest of the Cowboys offense, and in the rare instances they can't get in the end zone, he pins opposing teams deep in their own territory.
4) Joseph Randle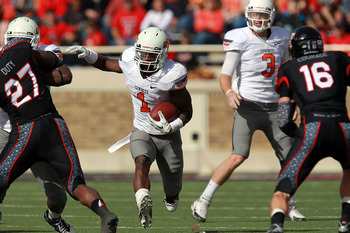 Ronald Martinez/Getty Images
LaMichael James and Trent Richardson are great running backs who do everything for their teams, but no one has been more dangerous than Joseph Randle over the last four games.
Randle has 14 total touchdowns over his last four games, and it doesn't look like he's slowing down anytime soon.
To put that in perspective, Richardson has seven scores over that same period and James only has four.
Richardson is probably the better pro prospect, and James is one of the most electrifying players I've ever seen, but Randle is putting on a running back clinic for the Cowboys.
The good news for OK State is that he's only a sophomore, so they can expect to see him continue his dominance for at least another year. Considering that he already has 23 scores as a sophomore, it's almost scary to think about how good he might become.
3) Ball-Hawking Defense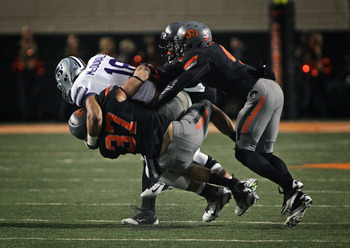 Brett Deering/Getty Images
The Cowboys don't have the dominant defense of an LSU or Alabama, but they are effective in their own way.
Oklahoma State gives up way too many yards to be considering a truly elite defense; however, they have a knack for locking teams down in the red zone and forcing turnovers.
OK State's defense forces the most turnovers in the nation. They've forced opposing teams into 34 total turnovers (15 forced fumbles, 19 INTs) and seem to do so at the most opportune times.
The Cowboys do give up 26.3 points per game, a far cry from LSU's 10.7 or 'Bama's 7.1.
The general argument is that SEC's offenses are terrible, which leads to inflated numbers, and the Big 12's defenses are terrible, leading to, you guessed it, inflated numbers.
However, I'm not going to go down that road. The Cowboys haven't seen a defense anywhere close to as good as LSU's and the Tigers haven't seen an offense with the firepower the Cowboys bring.
Both teams numbers are somewhat inflated due to their conferences, but that doesn't mean that either team doesn't have great offensive and defensive units.
2) Justin Blackmon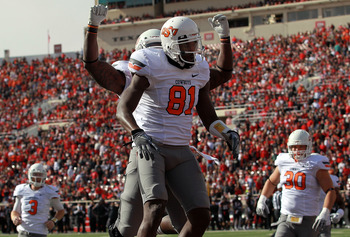 Ronald Martinez/Getty Images
For two years straight, Justin Blackmon has been the best wide receiver in the nation.
His numbers are otherworldly and those will only improve with three games left in, most likely, his final year at Oklahoma State.
He's the biggest reason the Cowboys offense is as potent as it is because his amazing talents give Brandon Weeden the most reliable target in the nation.
Even when he's covered, he still makes an impact by drawing multiple defenders and leaving his teammates wide open.
The Texas Tech Red Raiders were so focused on him last weekend that other receivers were routinely left wide open for touchdowns. On one play in the first half, Josh Stewart scored a 27-yard touchdown and there wasn't a Tech player within 15 yards of him.
Ever since OU lost Ryan Broyles, no other team in the BCS Top 10 has a player who can keep up Justin Blackmon.
He's just that good and gives the Cowboys a huge advantage as they move toward the national championship.
1) Brandon Weeden
Ronald Martinez/Getty Images
At 28 years old, it's unlikely that Brandon Weeden is going to be a high NFL draft pick or a Pro Bowler anytime soon.
That said, his veteran presence is one thing that most teams in the BCS Top 10 don't have. Obviously, no other team has a QB who's anywhere close to as old as Weeden, but most of those quarterbacks also don't have the poise and leadership Weeden possesses.
LSU's Jarrett Lee is nowhere near as efficient as the old gunslinger, AJ McCarron is practically a baby compared to Weeden and Landry Jones' play has been known to drop off drastically when pressured.
Darron Thomas is only completing 60 percent of his passes to Weeden's 73 percent, and doesn't bring near as much to the passing game as the old man.
The only player I would take over Weeden in a pressure situation is Andrew Luck. Weeden might not have the NFL future of some of the guys I've listed, but his veteran presence goes a long way when Oklahoma State is pressured.
Look no further than his insanely efficient play in the Cowboys comeback win against Texas A&M. He dominated that second half and showed the nation that he will never falter under pressure.
Keep Reading

Oklahoma State Football: Like this team?