Breakdown of Each of the Strengths and Weaknesses of New York Knicks Starters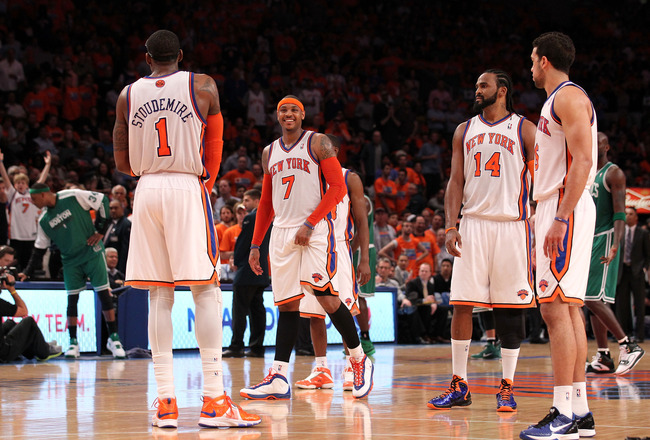 Nick Laham/Getty Images
The NBA labor negotiations don't look good at all. Games through December 15th have officially been cancelled—that's already one quarter of the season—leaving about 60 or so games still alive on the current schedule.
But now, even the possibility of a 50-game season, which fans would have gleefully accepted, is quickly slipping away, thanks to David Stern's rigid stance in the face of upcoming union-instigated legal wrangling.
To start, the National Basketball Players Association (NBPA) filed a "disclaimer of interest" after rejecting the owners' final proposal on Monday. That instantly dissolves the association without having to go to a union-wide vote on decertification, which could take up to two months.
Now de-unionized, players can sue, and that's what they're doing. Carmelo Anthony and Chauncey Billups, for example, are two of the players filing a class-action antitrust lawsuit against the NBA in California.
Things are bleak, but there's still time. The lockout-shortened 50-game 1998-99 (read: 1999) season got underway in February. So, there's still a chance fans will be rewarded for their patience with a stuffed, adrenaline-filled schedule. In that case, Chauncey will be able to recoup a good portion of the $14-plus million the 35-year-old is due this year. Same for Carmelo and his $18.5.
But Stern and the owners, on the surface at least, and outside Stern's iron communication curtain, stand as one in their resolve and are "prepared to lock out the players for two years to get everything" they want. (ESPN.com)
Two years would spell the end of Chauncey Billups' Knicks career, but for now, and if the season emerges from its lockout cocoon late this winter, he will be an absolutely critical (and well-rested) piece of the Knicks' playoff puzzle.
Let's cross our fingers and take a look at Chauncey Billups and the Knicks' starting five, and their strengths and weaknesses.
Toney Douglas (Sixth Man)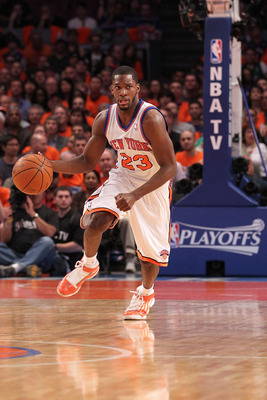 Nick Laham/Getty Images
Before running down the starters, let's take a look at the Knicks' sixth man, Toney Douglas, who stepped in at shooting guard for Chauncey Billups throughout that first round against the Celtics.
Strengths: Toney Douglas found his way into 81 games last season, averaging over 24 minutes a contest. He's a double threat. While Douglas is penned in as point guard, he can also surprise opponents with the hot hand, which effectively makes him a second shooting guard. His offensive output compares favorably to the Knicks' Landry Fields "shooting guard" numbers, surpassing the soon to be sophomore's PPG, points per 36 minutes and three-pointer totals. Douglas' defense for the position is also quite satisfactory, sporting "OK" numbers in steals (1.6 per 36) and above-average numbers in rebounds (4.5 per 36).
Weaknesses: It seems a bit like Douglas is out of position, but where to put him and his small (6'1") stature? Nowhere else really. His skills allow him to spell the shooting guard position. At the point, though, Douglas needs to pass more and also be more discerning about shot selection. His assist totals need to rise and his field goal attempts, fall.
Landry Fields (SG)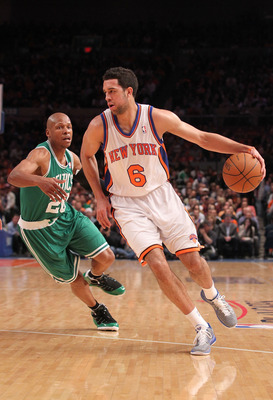 Nick Laham/Getty Images
One of the biggest surprises of the 2010 NBA Draft, booed second-round pick Landry Fields made an immediate and thorough impact as a rookie.
Strengths: His size (6'7") is an advantage at the shooting guard position, creating mismatches for opposing defenses, and contributes to his high rebound totals: a strong 7.5 per 36 minutes. Fields is rigidly successful following the chart off the ball and has a quick, accurate (50 percent) release.
Weaknesses: Rookie Fields started 81 games, averaging 31 minutes a game. That is a big transition from the college game. Fatigue took its toll. Landry hit the skids around game 65 and was a complete non-factor in April, including the playoffs where he scored seven points and pulled down just five boards in the four games against the Boston Celtics. Conditioning needs to be Fields' primary focus this offseason.
Chauncey Billups (PG)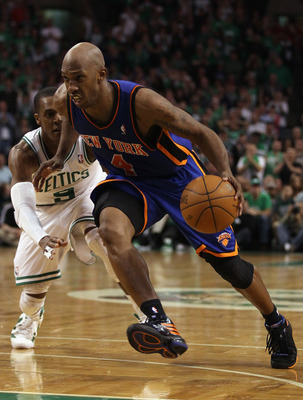 Elsa/Getty Images
Billups has a lot to offer and quickly made the fans forget they briefly considered him the "throw-in" in the Carmelo Anthony trade. Once Billups went down at the end of Game 1, it was over.
Strengths: Calm, smart, veteran leadership is at the top of this list, followed closely by his floor general skills. Billups has been around and has won it all. He's Mr. Big Shot, so you feel totally comfortable with the game in his hand. He scores more than your average point guard (about 19 points per 36), which is a nice bonus.
Weaknesses: He's old, and this season showed it more than ever. The injuries are frequent—he hit the bench three times with knee and thigh issues, including the aforementioned and damning absence from the postseason. Billups' defense is meek, but that's not really his job, or coach Mike D'Antoni's concern.
Ronny Turiaf (C)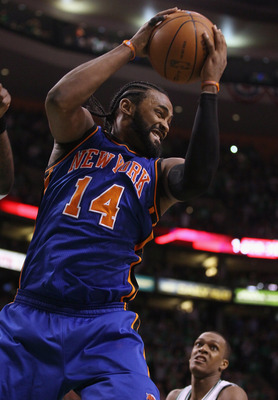 Elsa/Getty Images
Ronny Turiaf is the odd-man out in the Knicks' starting five, and another player who plays a bit out of position. He's a fan favorite in part due to his aggressive and "caring" play. It matters with Turiaf. Problem is, he's just not that great.
Strengths: Turiaf is best at defense. Behind Stoudemire, he's the second-best blocker on the team (at only 6'10") and a consistent rebounder. He definitely takes defenses off their game and causes turnovers, whether they hit his stat sheet or not.
Weaknesses: Turiaf has a good shooting percentage (around 63 percent), but that's because much of his scoring is off offensive rebounds or from right under the glass. There's little outside, or even 10-foot game. Injuries nagged him all season.
Amar'e Stoudemire (PF)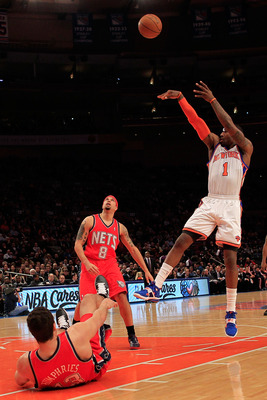 Chris Trotman/Getty Images
Many fans still claim Amar'e Stoudemire to be the main man on the Knicks. In some ways he is, but that's a bit emotional. Carmelo Anthony's 42 in Game 2 really showed what he could do. Fact is Stoudemire couldn't stay on the floor at the most important time of the season.
Strengths: Stoudemire is a complete player, and recently became moreso than Anthony. That's because STAT really stepped up his D this year. Where Anthony often foregoes that side of the ball, Stoudemire is consistently active. He's the best defender on the team and led the team in rebounds (over eight a game) and blocks—by a lot. But hold on—he led the team in points, too, scored 25 a game over the year and shot a very efficient 50 percent from the floor—not necessarily near the basket either. STAT is deadly from mid-range.
Weaknesses: Injury is suddenly a concern—and not the microfracture injury. What is it with STAT's back injury that essentially KO'd him from the playoffs—but also continues to nag him to this day? What impact is that going to have over the course of next season? Hopefully, the longer layoff will be to Stoudemire's advantage. There are still issues, too, in meshing his game with Anthony's. They don't feed off each other at all—both working off the other players. He turns the ball over and fouls an awful lot, too.
Carmelo Anthony (SF)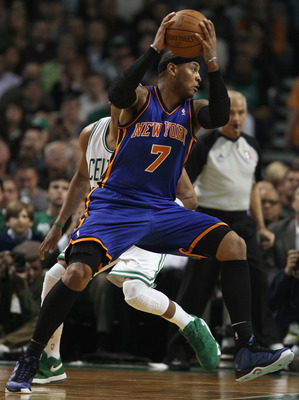 Elsa/Getty Images
Stoudemire might be the anchor and heart of the Knicks, but Carmelo Anthony is the team's true superstar, and he showed it, taking over a handful of games down the stretch and in the playoffs, too.
Strengths: Anthony pretty much does it all on the offensive side of the ball. He is one of the best pure shooters in the league and you have more than a little confidence with him taking the last shot. He's proven he can almost win without Stoudemire on the floor.
Weaknesses: And the reason why I say "almost" is the lack of defense. Sure Carmelo can score 42 in a playoff game, but can't win because there just isn't enough on the defensive side. Anthony also tries to do too much, an erratic player at times. This sometimes leads to unnecessary turnovers. He needs to stop taking the world on his shoulders and pass the ball around. If only his and Stoudemire's punch were more symbiotic
Keep Reading

New York Knicks: Like this team?