WWE and CM Punk: Filling an NBA Void
November 17, 2011
I hold true that there is a distinct difference between the NBA lockout and the NFL lockout, and that is this: If the NFL lockout had reached the regular season, people like me and millions of others would be curled up in the fetal position sucking our thumbs hoping and wishing that our beloved NFL would return to us in due time.
The thing about the NBA is that, while yes, an emptiness is present, I think the entertainment available in the middle of the week is enough so that we can control our NBA depression. One of the ways that yours truly has coped with the absence of Derrick Rose layups and LeBron James dunks is by tuning in to the WWE.
I have to preface this by saying that I am not completely in touch with all the storylines happening in the WWE right now. I am most familiar with the Rock and John Cena storyline, which won my viewership in the first place, as I am a college student who grew up watching the later federation days. (I will argue forever that the Triple H and Cactus Jack Hell in the Cell match is still one of the greatest matches ever.)
Even with my sporadic viewership, I have managed to keep in touch with the company. I could at least tell you at any given time who the WWE Championship belonged to.
But in all of this, I missed something extremely important: CM Punk. Lost in the shuffle of a busy summer, I missed the emergence of a personality that the WWE has so desperately needed.
This is not to say I didn't know who CM Punk was. I am a proud Chicagoan and was drawn from the very beginning to that fact that CM Punk is "Chicago Made." When I first saw him, I thought, "This guy has what it takes to be a star." His ring presence was great, and I always thought he would be a bang-up heel comparable to the Cerebral Assassin, Triple H, in my days of the WWF. Punk saw the bigger picture, though.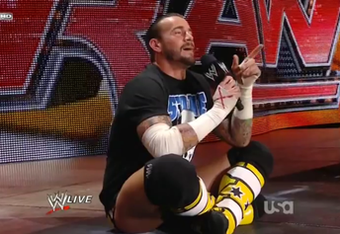 After listening to an interview with Bill Simmons on the B.S. Report before SummerSlam in July (which I listened to in its entirety last night), I gained an immense amount of respect for Punk and the sport. As many of you are aware, Punk had no idea what direction he was going to take. He thought that he was done with his wrestling career, stating we would be sitting on his couch the next day if he did in fact retire.
It wasn't until after the legendary Money in the Bank match (which now is on my short list of greatest matches) that he knew he was coming back to the WWE. Simmons (and I) thought that most definitely he knew what his fate was when he made his unprecedented rant about "the establishment" on June 27. 
All of this leads to my point major point. I am going to be 100 percent honest: I hate the way that WWE has dealt with John Cena. I will give credit where credit is due by saying he kept the industry afloat, and for that you have to thank him.
But I cannot stand his WWE persona. The greatest thing about guys like the Rock and Stone Cold Steve Austin was that you could see snippets of their real-life character come out in the ring and on the microphone. I will contend that John Cena is as fake as they come.
WWE missed an entire demographic of guys like myself and hundreds of thousands of others with Cena's PG-rated character, who became annoying and drawn out. In the entertainment business, if you aren't edgy then you are doing something wrong (watch any sitcom, and compare it to an old one like Cheers or The Brady Bunch). For as long as the WWE has embraced John Cena, that's how long we have been missing a guy to change the sport for better.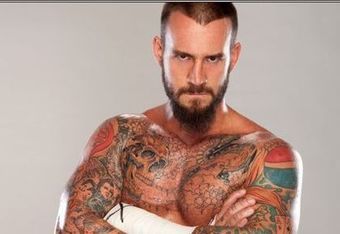 CM Punk has the exact personality that woke up and will continue to wake up many WWE fans that were dormant for so long. I have to tip my cap to the WWE, because what they did was perfect in the past couple of weeks.
The hook to get people watching was the Rock (still and forever the People's Champ), and whether or not it was planned, they got you to take a look at this CM Punk guy. And folks, I am on board with the WWE and CM Punk as much as I was back in the years where you couldn't turn me away from television because of its entertainment value.
This leads me to Survivor Series. I was all jacked to hear that the Rock would be in the ring, albeit in a tag-team match. I was going to sit and watch the whole pay per view because of it.
Now, while that match will be entertaining, and I hope the pair shuts The Miz up, this match is no longer my focus. I cannot wait to see what CM Punk does this Sunday.
I don't know much about this Alberto Del Rio guy besides the fact that he has his own ring announcer, (which is actually funny in its own right) and he is the WWE champion. As it stands right now, I am not sure if CM Punk winning the Championship is the best thing for business, but after being so unexcited for years, and while there still are some changes that need to be made (GET LAURINAITIS THE HECK OUT!), I have finally reached the point where I can get excited and be in one guy's corner.
Just for the heck of it, I am going to throw some predictions out there because I am so ready for this Sunday:
Diva's Championship: Beth Phoenix vs. Eve
Irrelevant, don't care.
Team Orton vs. Team Barrett
Team Orton should win, but Team Barrett will find a way to win while someone distracts the referee.
World Heavyweight Championship: Big Show vs. Mark Henry
I hope to God that Big Show wins, because Mark Henry is and has always been unbearable. Unfortunately, Henry will keep the title.
U.S. Championship: John Morrison vs. Dolph Ziggler
This match would be super cool if Vicki Guerrero wasn't so annoying... that being said, John Morrison is going to fall on some good times here.
John Cena and the Rock vs. Awesome Truth
Awesome Truth will win, because Cena and the Rock will end up fighting each other.
WWE Championship: CM Punk (my dude) vs. Alberto Del Rio
I am still up in the air with the way that the WWE wants to deal with this, making it such a great match to watch. My heart says Punk, but my gut says Del Rio... and unfortunately my gut is usually right. Del Rio will win this one.