Big East Expansion: Demands BYU Should Make Before Joining
November 17, 2011
George Frey/Getty Images
The Big East Conference is making a strong push to add BYU, and talk surrounding this push has increased in the past few days.  The national perception of the situation is that BYU holds all the cards here, and can get the Big East to agree to demands that the Big XII wouldn't accommodate.
These demands include a number of guaranteed nationally televised games each year, the ability to keep at least part of the school's current television contract with ESPN, no Sunday play (that one is non-negotiable) and the ability to leave the non-football sports in the WCC.
Those demands aside, here are several demands that BYU should make before joining the Big East Conference, in order to secure the best possible future for itself. 
After all, blindly trusting a conference didn't work out so well for the Cougars when they helped to form the Mountain West Conference, which ended up regularly lying to and mistreating BYU.
Making the Cougars' Membership Contingent on AQ Status
It has been widely speculated that the Big East's auto-bid to the BCS bowls could be in danger, or that AQ bids could be scrapped all together.  The only reason BYU is even considering a move to the Big East in the first place is because of BCS access.  As it currently stands, the Cougars have to go undefeated to have any shot at a BCS bowl. 
The Big East's AQ bid is pretty much the only thing the Big East can offer BYU that the Cougars don't already have.  If that goes away, BYU is stuck in a situation inferior to its current status as an independent, where it doesn't have to share revenue and has a pretty good television deal with ESPN.
BYU should demand that they have in writing an option to leave the conference with no financial penalties or time constraints, if the Big East loses its AQ status or if AQ bids get scrapped altogether.  That way, the Cougars don't get stuck in a no-win situation if the BCS system changes in the next few years.
Requiring the Other Conference Members to Sign Lengthy Contracts
It's no guarantee that the ACC, Big 10, Big XII and SEC will stay put at their current membership numbers, and could expand even more in the near future.  When that happens, several of the Big East members would be prime candidates (Rutgers, Louisville, Cincinnati, possibly UConn). 
That would pretty much completely cripple the conference, and BYU would be once again stuck in a no-win situation.  So, the Cougars should demand that all of the current Big East schools sign over their media rights to the conference for a lengthy period of time, such as 15 or 20 years.
The Cougars should also push for a hefty exit fee, one that would make leaving the Big East not a viable option for the other schools.
Having Veto Power Over Future Membership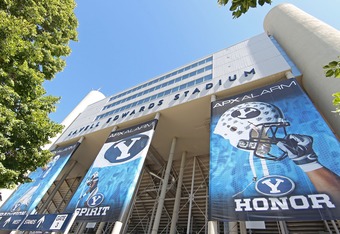 George Frey/Getty Images
It has been rumored that the Big East may possibly try to expand past 12 teams.  When that happens, several of the candidates could be schools that BYU is not too keen on.
One of the schools that has already been mentioned as a possible Big East expansion candidate is San Diego State.  BYU is all too familiar with the Aztecs from their Mountain West and WAC days. 
San Diego State has been a particularly unpleasant conference-mate, as the fans are well-known for being incredibly bigoted and showing a complete lack of respect towards BYU.  It also surfaced that San Diego State's administration tried to sabotage BYU's Big XII prospects earlier this year. 
BYU probably doesn't want to be in a conference with San Diego State again, as well as schools like New Mexico and UNLV that exhibited similar problems towards BYU.  So, BYU should demand that it have the right to veto the addition of schools that have treated the Cougars horribly in the past.
It probably seems like a lot of these demands are incredibly self-serving for BYU, and are not in the best interests of the other Big East institutions.  In all honesty, that's entirely correct.
However, conference expansion is all about schools looking out for their best interests.  These three extra demands would secure BYU's best interests for the foreseeable future.