Prince Fielder and San Francisco Giants: How and Why It Might Happen
November 17, 2011
Jamie Squire/Getty Images
The hot stove is cooking and players are already on the move. After years of speculation, Jonathan Sanchez is no longer going to be wearing a San Francisco Giants uniform after his trade to the Kansas City Royals. Melky Cabrera, meanwhile, will serve as a short term solution for the Giants in center field while they await the development of Gary Brown.
Before I expand upon the absurd notion that Prince Fielder will be coming to the San Francisco Giants, I want to go on record and state that I, like virtually all other sports writers, do not believe that Fielder will be wearing orange and black next season. That being said, there is a chance.
Earlier this week, MLB.com reported that Jose Reyes and Albert Pujols had both traveled to the Miami Marlins, who seem hell-bent on procuring a name star to attract people to their new stadium. While no actual figures have been announced thus far, it is hard for me to believe that Albert Pujols will sign with anybody other than the St. Louis Cardinals. I also believe that Jose Reyes will be suiting up for the New York Mets for the foreseeable future. But why is this?
It all comes down to payroll, folks. Here is a list of the top 10 MLB team payrolls in 2011 as reported by USA Today (figures are approximated to the nearest million):
New York Yankees: $203 million
Philadelphia Phillies: $173 million
Boston Red Sox: $162 million
Los Angeles Angels: $139 million
Chicago White Sox: $128 million
Chicago Cubs: $125 million
New York Mets: $119 million
San Francisco Giants: $118 million
Minnesota Twins: $113 million
Detroit Tigers: $106 million
If you are surprised by some of these names (and some absences), you are not alone. Where are the Atlanta Braves (15th)? Where are the Los Angeles Dodgers (12th)? And where are Albert Pujols' World Series Champion St. Louis Cardinals (11th)?
Of the teams above, you might notice that the field becomes much more competitive after the Boston Red Sox and especially after the Los Angeles Angels. All four of those teams are over-budgeted and therefore do not have the necessary disposable income (LAA) or do not require shortstop or first base talent (NYY).
We know that St. Louis will make every conceivable effort to re-sign Albert Pujols, especially now that the organization is flush with cash following its unlikely playoff run to a World Series victory. I believe St. Louis will succeed in doing so, but will ultimately spend most of its additional revenue on the first baseman.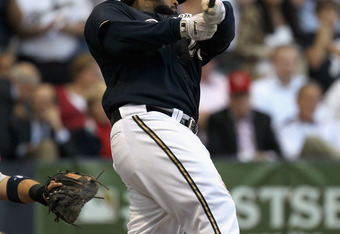 Jonathan Daniel/Getty Images
So now we are down to two marquee free agents: Jose Reyes and Prince Fielder.
The New York Yankees don't need a shortstop. They have Derek Jeter, and Jeter will not be going anywhere next season. Fans would not want to see Jeter share time with Reyes, and I find it extremely unlikely that either player would be particularly keen on this prospect either. The Philadelphia Phillies could make a push for Reyes, but doing so would increase their payroll to New York Yankee levels, especially considering their recent signing of Jonathan Papelbon.
I believe that the Phillies will re-sign Jimmy Rollins, although the organization seems fine with doing everything possible to purchase a championship. The Red Sox picked up Marco Scutaro's option. The Angels are in way over their head with overpriced contracts. That leaves the two Chicago teams ahead of the Mets, and I predict that the Mets will prevail in a bidding war amongst teams with comparable salaries.
So that leaves Prince Fielder. Personally, I think that Prince Fielder will play for one of two teams next season: The Milwaukee Brewers or the Chicago Cubs. I think that Theo Epstein, moneyballer though he is, understands the implications of signing a big-name free agent: A commitment to victory. But signing Michael Cuddyer (sorry, sir) just won't cut it. Epstein will need to sign a free agent of Reyes' or Fielder's standing. The Cubs have Starlin Castro, so there really is no need for Reyes. Therefore, he will go for Prince Fielder.
End of story, right? Well, not so fast. While Epstein almost always gets his man, one might want to take into consideration the fact that Prince Fielder has connections to Florida. He went to high school in Melbourne, which is about three hours away from the Miami Marlins' new stadium. Perhaps the Marlins will pursue Fielder and get caught up in a bidding war with Epstein.
What does this have to do with the Giants? Admittedly, not much. My assignment this week was to write an article about how Prince Fielder might end up as a San Francisco Giant, but virtually all evidence points to the fact that it will not happen.
Point to the glut of first basemen already on the roster (Aubrey Huff, Brandon Belt, Brett Pill). Point to the organization's lack of pursuit of a big-name free agent since Barry Zito. Point to Brian Sabean's (admirable) goal of keeping the pitching staff intact. Point to the mortgage on AT&T Park, the change in ownership, the lack of money due to dead-weight contracts (Rowand is still owed, and Zito will be making Cliff Lee money next year). All of these things say, "No Prince Fielder."
But the Giants are a relatively financially well-off team and have recently won a championship. Maybe Fielder wants to win a championship. If he does, the Chicago Cubs do not seem like a legitimate short-term option, and neither do the Miami Marlins. But the San Francisco Giants, with their pitching rotation, fanbase and commitment to winning…
Anything can happen.